Midwestern springtime is heralded by the return of birdsong and sunshine, but warmer temperatures also mark new growth cycles for invasive – and sometimes stinky – plant species.
The Bradford pear tree, a cultivar of the Callery pear tree, is easily identifiable by the tightly-bunched white flowers it produces in early spring. And, if you've ever come within smelling distance of the tree, you've noticed the blooms' strong, sometimes pungent odor.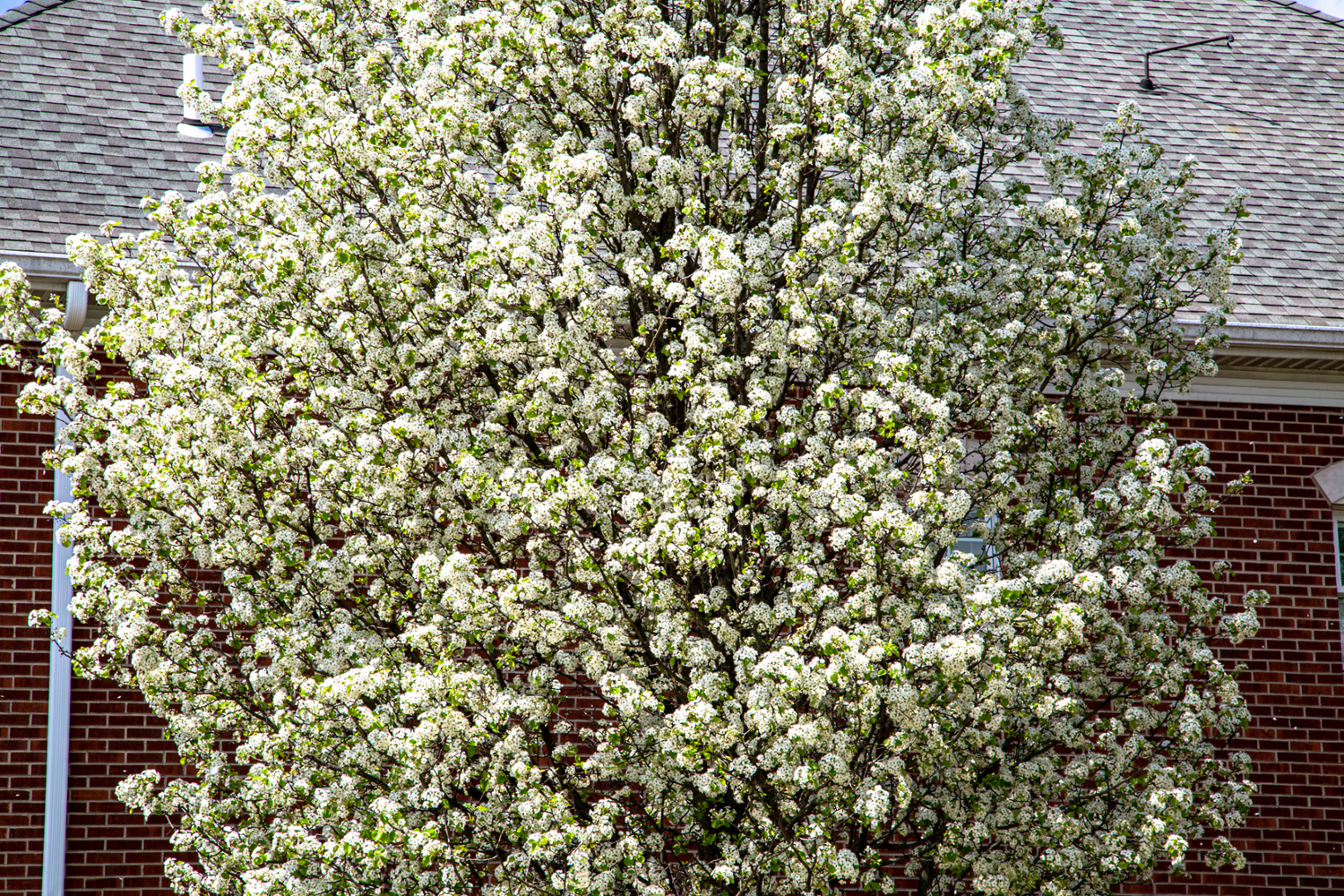 In Bloomington, the Bradford pear is the second-most common species in public parks and along streets, according to a 2019 city tree inventory. The town has 1,270 Bradford pear trees.
While all trees provide environmental benefits, the Bradford pear has fallen out of favor with local and state officials for several reasons.
"These trees, the Callery pear, will grow up and out-compete the understory," said Megan Abraham, Indiana's director of entomology and plant pathology. "And then, they are weak trees, so they'll start breaking in bad weather. Once they get to a certain height, maybe about 30 years old, they'll break in half or split down the middle."
FROM 2017: DNR Encourages Public Not To Plant Bradford Pear Trees
Abraham says the Bradford pear's ability to grow so quickly is what initially made it an attractive tree to city planners and landscapers in the mid-1900s, when it was first cultivated from Callery pear trees brought to the United States from China.
By themselves, Callery pear trees are sterile, meaning that they cannot self-pollinate and reproduce. But cross-pollination between multiple cultivars over time has produced fertile seeds. They are spread widely and quickly by hungry birds and easily crowd out native species.
And that's a problem.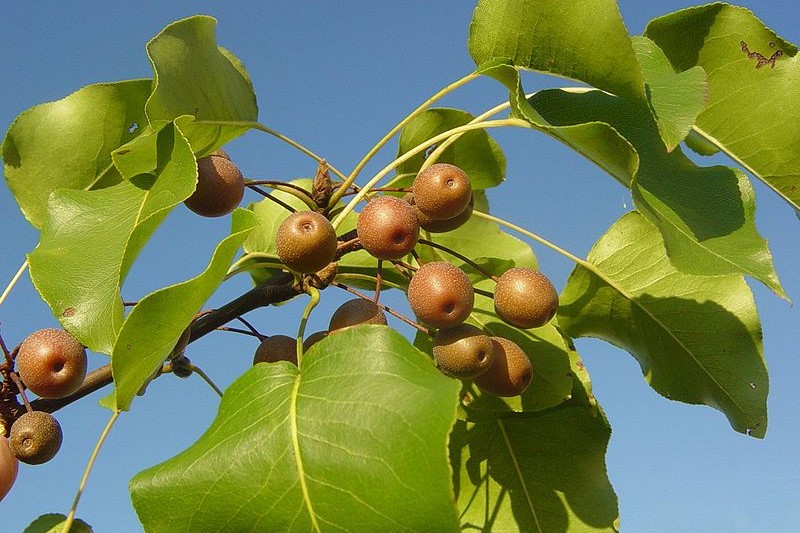 On a crisp April morning at Southeast Park, volunteers with the City of Bloomington and Monroe County-Identify and Reduce Invasive Species (MC-IRIS) plant Shumard oak saplings, which are native to the area.
As Gillian Field, a member of MC-IRIS, plants a sapling, she notices a familiar invasive plant just a few feet away.
"You can see just across the way here, we have Callery pear," Field says, motioning to a large tree about 40 yards from where she's working. "And they put off fruit, and it's an invasive plant."
"And we have evidence of a sprout coming up over here," she says, pointing out a spindly sapling pushing up through the brush.
Bloomington's Urban Forester, Erin Hatch, said that's what the Bradford pear does best: shows up where it isn't wanted.
"The ability to survive anywhere, and in really poor soil, means that they can spread anywhere that has conditions that they can then out-compete native species as well," she said.
Both the Indiana Department of Natural Resources and the City of Bloomington have been working to educate people about invasive species and encourage them not to plant Bradford pears.
The city certainly won't be planting any more; the Bradford pear is on a list of prohibited plant species in Bloomington's Unified Development Ordinance document.
Hatch said people have many other options for flowering trees.
"The serviceberry, dogwood trees are also a nice flowering alternative," she said. "And there are some that are white, the redbud is another flowering alternative. There are alternatives that are more adapted to our native ecosystem."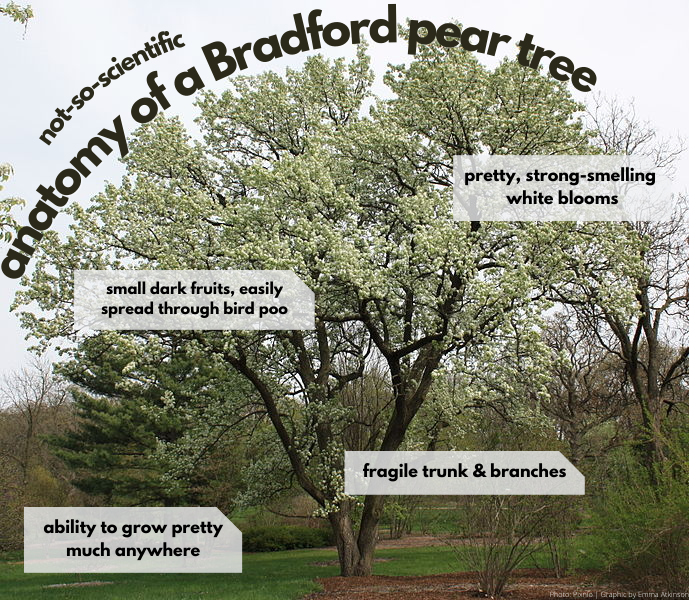 So, should you cut down an existing Bradford pear on your property?
Hatch said it's important to consider the financial and environmental impact of removing the tree – and what might grow in its place.
"I probably personally would encourage someone to remove the tree and replace it with something that's better," she said. "But taking into account, you're removing a maybe 12- to 20-inch tree and replacing with the two-inch tree, you might need to replace more than just one."
The Bradford pear is not yet on Indiana's list of invasive plant species (called the Terrestrial Plant Rule), but the growing opposition to the tree and awareness of the importance of native plants could change that within a few years.