When you picture State Road 46, as it heads into Ellettsville from Bloomington, the first things that likely come to mind are traffic, apartment buildings, fast food restaurants and gas station parking lots emptying onto a four-lane highway.
This type of roadway is called a "stroad" : a suburban fixture with the storefronts and housing of a street but the high speed and traffic of a road. Stroads generally are regarded as a bad thing and in Ellettsville a lot of residents are frustrated by the congestion they see on 46.
Just step into a local coffee shop, and it won't take long to hear residents' thoughts on State Road 46.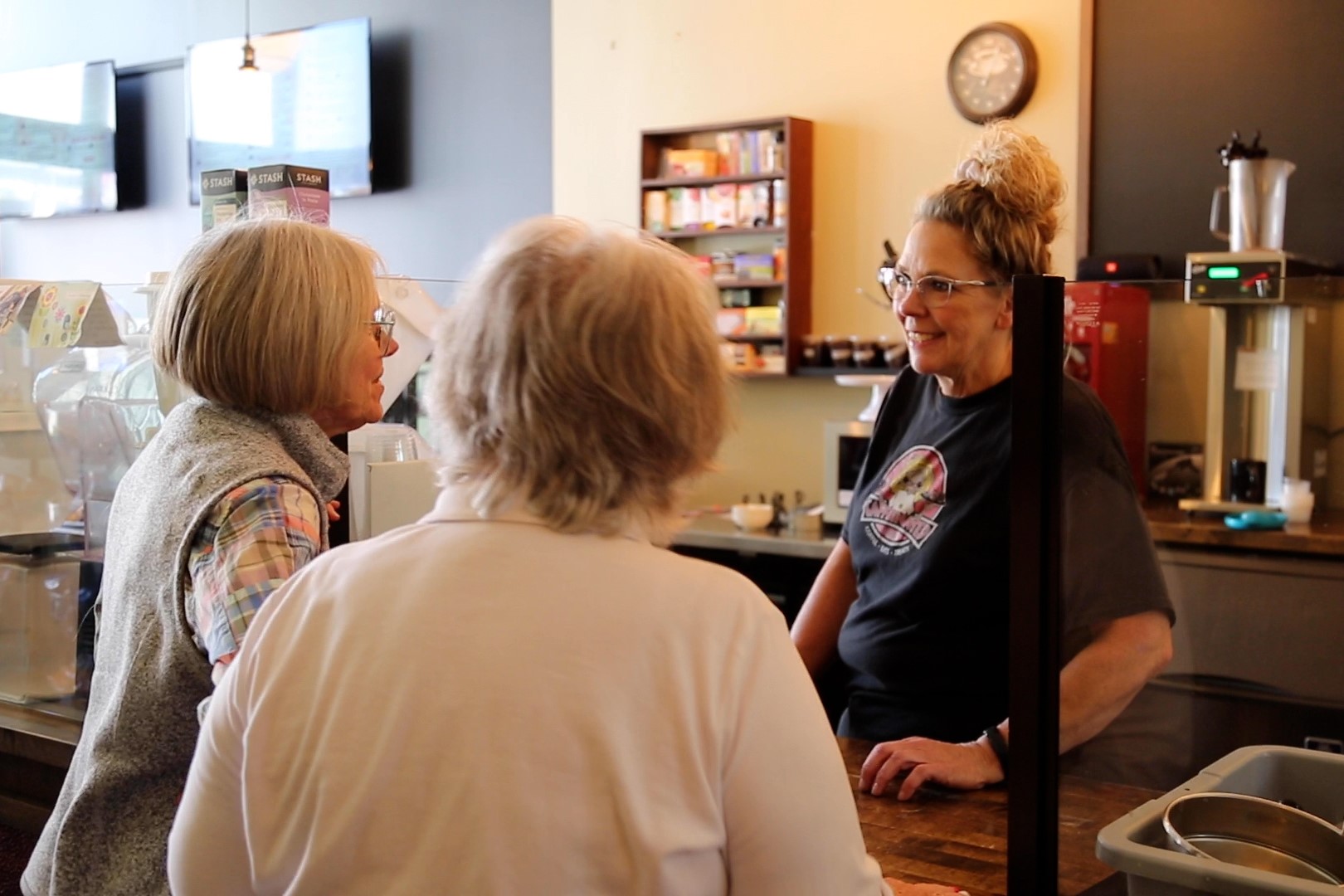 Amy Meador, owner of The Caffeinated Cook, said she takes 46 several times a day for work, and that routine drive is nerve-wracking.
"I'm high alert when I travel on 46, because it's a zoo out there. It really is," she said. "I mean, they're coming at you from every angle and the center, and it's a mess."
Read more: Pantry 279 moves to new location on SR-46
Meador doesn't feel safe on 46 primarily because of drivers' high speeds and the growing number of turnoffs and exits. No longer just a thoroughfare connecting communities in southwest Indiana, it's also becoming a major commercial street in Ellettsville.
"I've been pulled out in front of many times because there's no turn lanes or stoplights or anything," Meador said.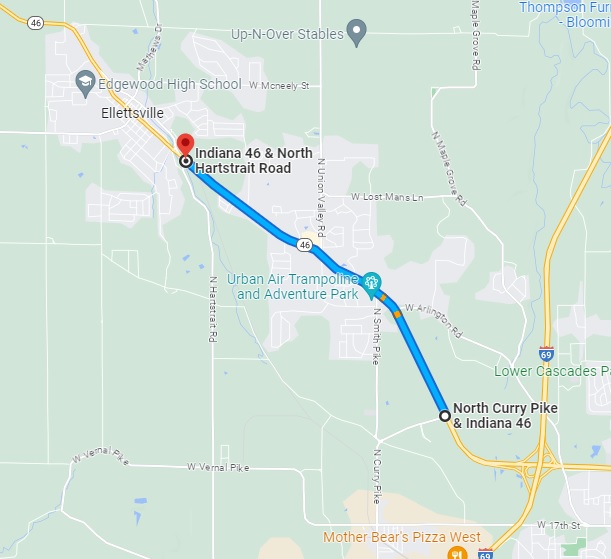 Until it was expanded in 2003, this stretch of the highway was just a two-lane road, as 46 remains on the west side between Ellettsville and Spencer.
INDOT widened the road to ease the growing volume of traffic west of Bloomington.
Sipping coffee toward the back of the café, Valerie Dewar of the Ellettsville Chamber of Commerce said she feels like another major renovation is needed.
"State Road 46, the two-way section, at the time when it was developed was viable," she said. "Over time, luckily, Ellettsville has developed. And with it, the road has not."
Read more: Grad students say new Bloomington housing too expensive, not enough units 
Her friend Pam Gunkle, a former Ellettsville resident, agrees.
"There are now enough ins and outs that you can be making a left turn, somebody's making a right turn; there's nothing to keep the two of you from hitting head on if you're not paying attention," she said.
Business has been expanding on that road, with restaurants and apartment buildings popping up in the past few years.
Particularly concerning to some residents is a new 168-unit apartment complex off Smith Pike called 46 Flats. Residents working in Bloomington must exit right onto State Road 46, driving into Ellettsville first.
State transportation data shows traffic can be a problem here, especially from 7:00 to 9:00 a.m. and 4:00 to 6:00 p.m.
The City of Ellettsville hopes to channel development in a more pedestrian- and traffic-friendly direction. Its strategic plan Envision Ellettsville lays out what it calls a "context sensitive" growth plan. That would include roundabouts, traffic lights and crosswalks.
Read more: Ellettsville hoping plan can help revive community
But State Road 46 is just that: a state road. That means changes like roundabouts and traffic lights would have to go through the Indiana Department of Transportation.
Sidney Hoene, INDOT communications specialist, said the road would have to meet certain criteria for the department to consider installing the features Ellettsville wants.
In recent years, the department has evaluated several intersections along that stretch of 46 (including Tupelo Drive, Lakeview Drive, and Forest Park Drive) and determined that a traffic signal should not be pursued at that time.
Read more: Bru Burger opening pushed back, Cold Stone Creamery and Coffee Beanery approved
Most of that area also falls outside the Ellettsville city limits, which means the town would have to work with the county or annex the land in order to pursue its other development goals.
Many drivers feel unsafe on 46, but is it unsafe? Ellettsville Police Chief Jimmie Durnil doesn't think so.
 "There's been many, many houses obviously built around the area there," Durnil said. "We're expanding, but I don't think we've compromised our safety at all."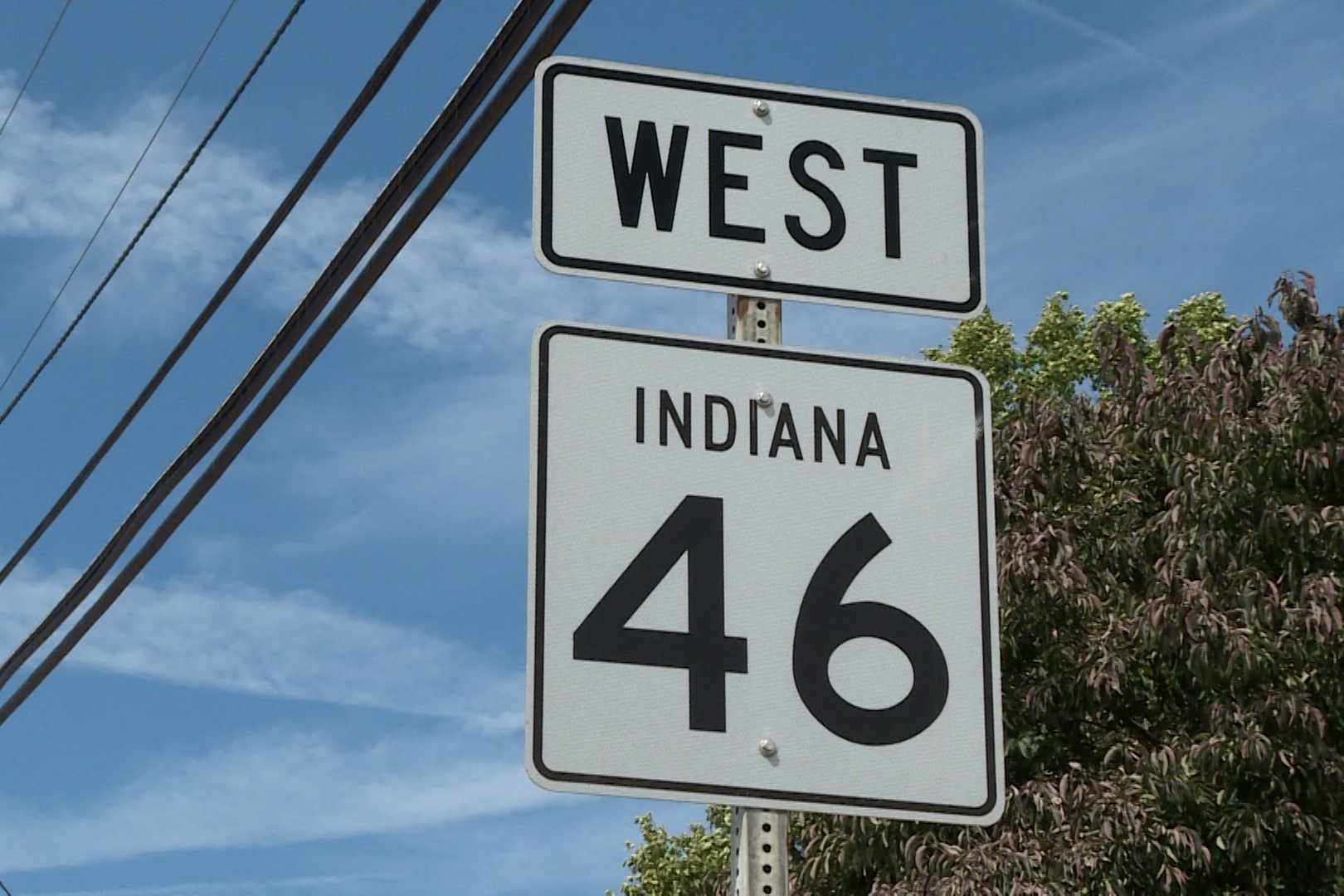 INDOT agreed. Hoene said no intersections in the stretch of 46 between Hartstrait Road and Curry Pike showed up as what the agency defines as elevated crash locations.
"We do try to implement safety measures in areas where we see a high number of pedestrians as well as traffic going through the area," she added.
Patience is wearing thin for some, but town manager Mike Farmer feels comfortable with the implementation process and said INDOT has been cooperative and communicative with the town.
Read more: Academy Sports + Outdoors proposes lease for former eastside Marsh property
"The problems that we had in the '90s were solved by INDOT, and we've really kind of lived a pretty good life," Farmer said. "Not only that, but they improved aesthetics dramatically when they went through town. So we'll probably go through that same process again as we grow."
INDOT, police and town officials agreed that traffic is increasing, but not yet to the extent that State Road 46 has become dangerous.
"You're asking me how we're going to solve our problems, and I'm saying we're going to plan for them," Farmer said. "We recognize that if we don't plan and improve our secondary roads, then we will have problems."
The town said there's no timeline for implementing Ellettsville's 46 corridor development plan.