An Anti-Defamation League report revealed that six elected officials in Indiana paid dues to the Oath Keepers, an anti-government militia that stormed the U.S. Capitol with others on January 6. 
Information obtained by the journalist collective Distributed Denial of Secrets and analyzed by the ADL yielded the officials' identities.
State Rep. Christopher Judy, Wells County Commissioner Michael Vanover, Elkhart County Commissioner Bradley Dean Rogers, LaPorte County Commissioner Joe Haney, Clark County Sheriff Jamey Noel and Root Township Board member Michael Sweney were all listed in the leaked membership rolls. In addition, at least one police chief, Markleville's Tim Basey, was named in the leak. 
Alex Friedfeld, Investigative Researcher with the ADL Center on Extremism, published the report about one year after the initial leak, which contained more than 38,000 names. 
"We at the ADL saw this as an opportunity, because it is very rare to get any list of membership for an extremist group, let alone thousands of these names," Friedfeld said. 
In addition to those public officials, Friedfeld identified nine law enforcement officers, three military personnel and five first responders among Indiana's 696 Oath Keeper signups.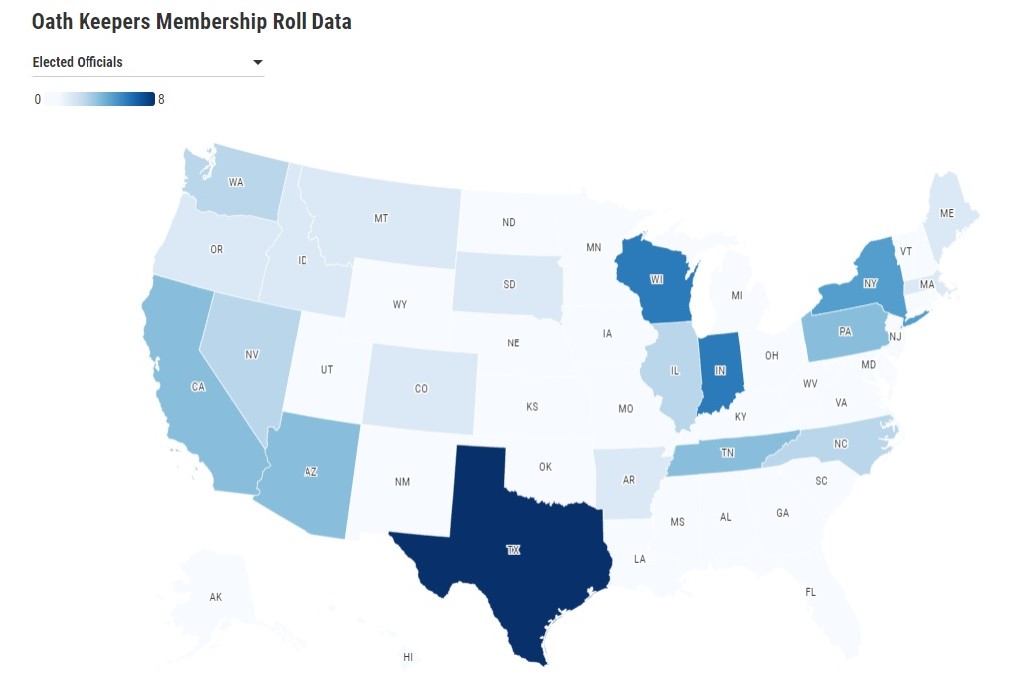 "That's really concerning to us, because these are people with outsized influence in their communities that have power, that can really affect the lives of those around them," Friedfeld said. "The fact that they thought that it was appropriate to sign up for the Oath Keepers is unacceptable and really dangerous." 
Despite their anti-government ideology, the Oath Keepers target former and current military and law-enforcement personnel for recruitment, due to their skillsets and positions. Although they don't explicitly seek out elected officials, the report shows that 81 people who either occupy or are running for public office paid membership dues. That means Indiana accounts for more than seven percent of elected Oath Keepers, despite having just two percent of the U.S. population. 
"It's interesting to see that Indiana has six individuals in elected offices in database, and other states that are larger have fewer," Friedfeld said. "I really think it speaks to the fact that this ideology has permeated across the country, and it's really unpredictable where it tends to take hold." 
However, appearing in the member rolls means that these individuals paid dues at some point in the past. It's not necessarily an indicator of whether they continue to affiliate with the Oath Keepers. 
Several of the officials listed have issued public statements distancing themselves from the movement. Rogers said he hasn't been involved in eight years, and Judy sent a statement to Indiana Public Media that he hasn't been affiliated in seven years.
Noel, who is currently under heat for rapes that occurred under his supervision in the Clark County Jail, denied ever having been a member of the Oath Keepers and said publicly that "anyone who says differently is lying." Vanover, Sweney, and Basey could not be reached for comment. 
Friedfeld said that although the Oath Keepers sometimes intersects with supremacist groups, racism and homophobia aren't explicit in its ideology, and the organization says it welcomes members regardless of their demographics. Friedfeld pointed to Jessica Watkins, a transgender Oath Keeper from Ohio who was arrested for her role in the January 6 attack.  
"You just won't find that happening with a white supremacist group," Friedfeld said. "That said, the Oath Keepers still regularly engage in tropes that present people of color and minorities as threats to the nation. 
"Whether it's immigrants coming across the southern border that they believe are trying to invade the country and upset the political order, Muslims in America who they believe are trying to impost sharia law, or Black Lives Matter which in the summer of 2020 they presented as a Marxist insurrection that was trying to destroy the country." 
While 21 military, political, law enforcement and first responder positions in Indiana are revealed to be filled by current or former Oath Keepers, it is just one among several nationwide extremist movements that participated in January 6. The Oath Keepers is the only one to have its membership roll leaked.