The Monroe County Sheriff's Office and county commissioners have reached a compromise on the details of a maintenance position at the Monroe County Jail.
The matter was officially settled Friday at a special Personnel Advisory Committee (PAC) meeting that followed weeks of discussions about the job description for a jail technician.
"There has been a lot of — I guess I'll use the word 'compromise' — on this position for whatever reason," said Chief Deputy Phil Parker, who has played a central role in drafting a job description.
The sheriff's office has described the jail technician job as a low-level position focused on sanitation and general maintenance of the jail. Meanwhile, commissioners have argued the description previously presented by the sheriff's office would overlap with the duties of ASI, the contractor handling some maintenance at the jail.
County commissioners are required under state statute to maintain the physical structure of the building, including its roof, walls, HVAC and pipes, while the sheriff is responsible for maintaining the facility's cleanliness, according to County Attorney Jeff Cockerill.
Read more: Sheriff working on jail 'with or without' commissioners' support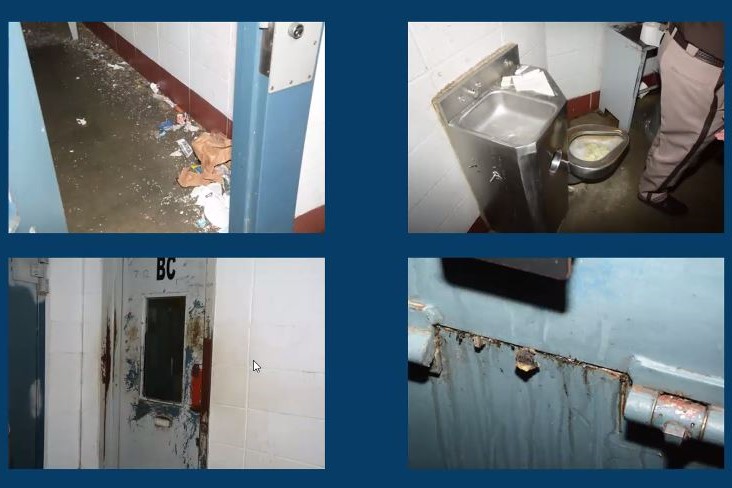 "The commissioners have contracted for their portion of what is required from them for keeping the company in good repair," Cockerill said. "So, if there is any overlap with that job description and the contract with ASI, then I think that would show that position is doing a duty that has already been assigned to another entity."
Parker said ASI handles maintenance projects that require specialized skills, while a jail technician would handle general, day-to-day maintenance.
The dispute over the duties of a jail technician were one of several items Sheriff Ruben Marté pointed out in a letter to the commissioners earlier this week.
Marté has expressed frustration over stalled progress on hiring for the position, which he said urgently needs to be filled. He said corrections officers and civilian employees have had to perform the regular duties of a jail technician in the meantime.
Read more: 'The time has come': ACLU rep calls on Monroe County to establish new jail
"There is now not one duty in this job description currently being performed by ASI," Marté wrote to the commissioners. "It appears to me it is your intent to not agree with the job description unless you unilaterally decide what changes are to be made and what the final document looks like. Frankly, that doesn't sound like much of an 'agreement' to me."
But with the sheriff and commissioners now in agreement, the job is one step closer to being posted.
"I think today just demonstrated that both the sheriff's office and PAC demonstrated the commitment to finally bring some closure to this thing so that we can get on with the very important business of cleaning, sanitizing and making that jail a much more humane place for our staff and the people that we house," Parker said.
Parker said that, although ASI has played a critical role in maintenance, there wasn't anyone regularly assigned to day-to-day maintenance, such as if a water line breaks or utilities stop working.
Read more: Bloomington 'very strong,' Hamilton says at final state of the city address
"Hence why this building fell into the condition that it's in; there was no one, no one person that was responsible for sanitation and cleaning," Parker said. "We tried to do it with correction staff. Well, their primary focus is in facility security and supervision of the inmates, so it always took second place. That's what this position is designed to do. It's going to fill that gap."
The next step in the process is sending the job description to a law firm that reviews job descriptions for the county for approval. The firm will then classify the position's pay structure.
From there, members of Monroe County Council will vote on whether to approve the position.