In Bloomington, the initial phase of construction on the 7-Line protected bike path between Woodlawn and Indiana Avenues is finished. And while space for traffic along Seventh Street appears narrower than before; it's not.
Bike lanes on Seventh Street used to be painted on each side of the road. Cars could avoid large, oncoming vehicles by swerving into the bike lane.
The new 7-Line path solves this issue by combining the bike lanes and separating bicycles from traffic with a physical barrier. The new traffic lanes now measure 20 feet wide from curb to curb.
Neil Kopper is senior project engineer for the City of Bloomington and said there are benefits to restricting lanes.  
"There's also a desire generally to have narrower lanes for things like speed limit compliance and for reducing pedestrian crossing distance," he said., "There's a lot of safety benefits from having narrower lanes as long as the vehicles that need through still fit."  
Kopper said large vehicles like buses will still fit on the road.
"The design actually assumes that a bus will actually pull in, swing wide into the opposite lane and then go into their lane," he said.   
Technically, the redesigned Seventh Street has two, 10-foot-wide lanes because double yellow lines are a single marking. Official measurements begin at the midpoint between them.
Removing the width of the center lines, each lane is 9 and a half feet wide.
The Indiana Department of Transportation requires traffic lanes to be between 9 and 12 feet wide to accommodate the maximum vehicle width of 8 and half feet. However, this measurement excludes rear view-mirrors.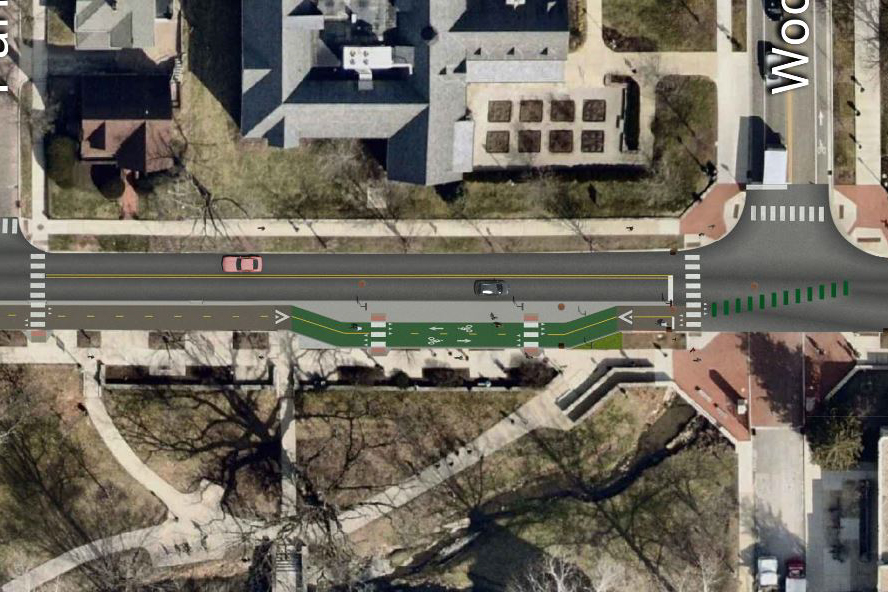 For example, a Bloomington Transit bus is just over 8 feet wide at 99 inches. With a mirror hanging off the side, it adds another 13 inches to the bus. The mirror on the opposite side extends towards the sidewalk and does not pose a threat to the other lane.
The new lanes are both just under 114 inches wide, meaning a bus will have only one inch of wiggle room on its sides between the curb and yellow line. That also means there is just 14 inches between passing buses.
Bloomington Transit general manger Lew May said Seventh Street is a major corridor connecting downtown to the Indiana University campus. On a normal school day, 175 buses carry more than 3,000 passengers.
He said the redesign of the corridor and removal of on-street parking benefits buses.
"A lot of times cars would not be parked all the way against the curb," May said. "In fact, if somebody did a bad parking job, they might be a foot or two away from the curb and the travel lanes were already 10 feet wide."
7-Line construction is not creating more room for buses to drive, but it is redrawing more consistent boundaries. Instead of the threat of parked cars, buses are now confined between the curb and oncoming traffic. 
"There are going to be times, though, when a bus is encountering oncoming traffic in the opposite lane," May said. "It could be another bus or it could be a truck, you know a really wide vehicle like that, they're going to have to travel slower."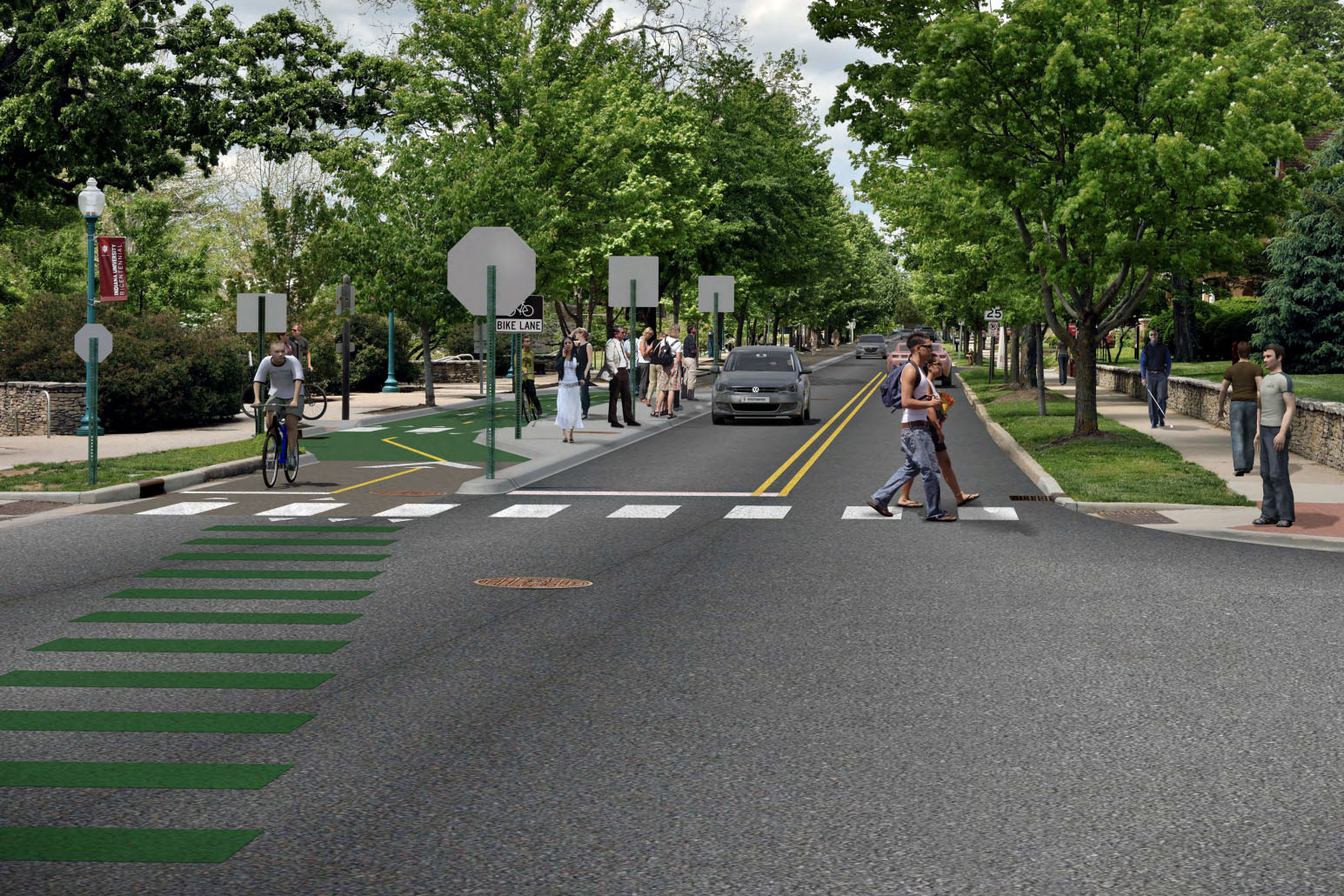 In terms of other large vehicles, Bloomington Deputy Fire chief Jayme Washel said he road is large enough for a standard fire engine, which measures 8 feet 4 inches wide.   
However, turning into the lane is another issue.
Washel said drivers should be cautious and stop at designated lines, especially on narrow roads. 
"That big bold white line is actually measured for that oncoming big truck," he said. "Some people go past that, and what that does is it essentially bottlenecks us."  
Construction has temporarily closed Seventh Street between Indiana Avenue and Dunn Street for work on the 7-Line. There are plans to continue further west later into the summer and early fall.