A 2022 thredUP report says North America has the fastest growing secondhand apparel market.
The number of consumers who have or are open to shopping secondhand for clothes during the pandemic jumped from 67 to 74 percent. 
Participation and interest in the secondhand apparel market has been growing since 2013, and resale is projected to drive market growth.
Thrift and donation's role in the market is up too, but remains much steadier.
It's something a 2019 IU Fashion and Apparel Design graduate noticed and capitalized on. Daisy May founded her own clothing brand, ReBloomed Design, from secondhand and re-sourced materials. She ran it from her home studio in Bloomington before recently moving to a new location. 
"It's based off of feelings of nostalgia, comfort, safety," May said. "Those are all things that I look for in the materials that I source, that kind of helped create garments that carry emotional feeling, while also are made with quality."
Initially her business took a hit during the pandemic, but May said now she is selling enough to sustain herself.
"And that's all I want in life. I don't need this to grow and be bigger and have a million seamstress on my team." 
Mainly, she sources quilts, linens, and bedsheets to repurpose into clothes. She sells them online, at storefronts in places like New York, and locally at the Bloomington Antique Mall. 
May said people are catching on to the costs of fast fashion. 
"People realized that overconsumption and just continually buying new things that end up falling apart in a year wasn't sustainable and wasn't worth the money that individuals were putting into it."
The fast fashion clothing industry is the second most polluting industry behind oil drilling, according to a 2019 University of Minnesota report.
May's goals are to build a strong foundation for her business and move into a larger studio so she can have more space to create and store material.
Just west of May's studio is the vintage store SLCT Stock founded by Nick Ayala, a 2016 IU Kelley School graduate.
The store's original location was on Indiana Avenue, sharing space with BuffaLouie's in 2018. The business grew, and he moved to North Walnut Street.
"We were definitely on the cusp of a new type of store in Indiana there was similar vintage stores that were curated in bigger cities like New York and Chicago but in terms of Indiana, there wasn't much," Ayala said.
Ayala said initially people were confused to see used t-shirts priced at $20-30, but curating quality clothes takes time. People bring clothes to his stores to sell. He'll pay sellers upwards of $10 depending on the shirt.
"We might give them 100 bucks, if it's a super rare shirt."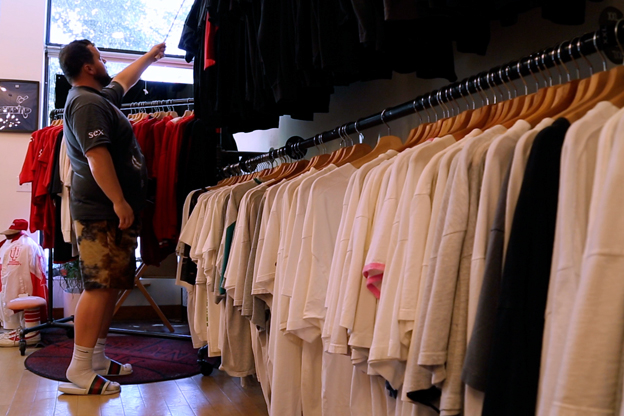 Ayala opened a store in Boulder, Colorado in 2019 and has a store in East Village, New York too.
"I want people to come into the store and there'll be something for everybody," he said. "It's gonna have like a $10 rack in New York, which we have $5 bins and Indiana and Colorado to which people love college kids are very thrifty. But having something like that in New York's usually unheard of just because of how expensive it is. 
Growth in secondhand apparel has been noted for years. But the pandemic pushed the industry forward, as more people opted to clean their closets, and took time to resell their own clothes, thredUP reported.
His storefronts took a hit at the start of the pandemic, but business picked back up and people moved online. 
But now, Ayala wants to focus on growing the storefronts, and sees more storefronts in the future. 
"It might be the Midwest and might be out west California," Ayala said. "I'm not 100 percent sure yet, but we definitely want to grow the brand a little bit bigger and kind of spread our taste of what we do." 
thredUP's report says resale is expected to grow 16 times faster than the broader clothing sector.