As the Russian invasion of Ukraine enters a third month, it's a daily weight on the minds and lives of Indiana University's Ukrainian community, but also for many Russians at IU who are also watching the war in horror.  
Andrey Yushkov remembers the horrible feeling that came over him the evening of  Feb. 23. Yushkov, a doctoral student in economics at the O'Neill School, was watching Russian president Vladimir Putin in a live broadcast via Telegram.  
"And I immediately realized that this is war, because what he was saying was just insane to me," he said, referring to Putin's public address before invading Ukraine.  
Yushkov, who grew up in Russia, described the next several days as "a disaster." He wasn't able to teach or do research. He only watched the news and spoke with his family back in Russia.  
"My wife and I immediately started donating money to all the Ukrainian funds, because we also have friends in Ukraine, and we know how terrible the whole situation is affecting their families and themselves," he said. "So we are trying to help all these funds that support humanitarian purposes in Ukraine."  
And given the current restrictions on Russian banks, they are also supporting their Russian friends who are fleeing to Europe.  
"Because some of them simply don't see a future in Russia -- some of them are afraid that they would be prosecuted in Russia, and basically, all the young people from my generation, they either have left the country or are thinking about it." he said. "So this is a tremendous problem for the entire future of my country, unfortunately."  
He likened the current exodus to a previous one:  
"So basically it's almost like 100 years ago, when the Russian intelligentsia was fleeing the country after the revolution,"  he said. "They went to Istanbul to Constantinople. And then they went to Paris, to the United States, etc. , and now it's basically the same situation happening again."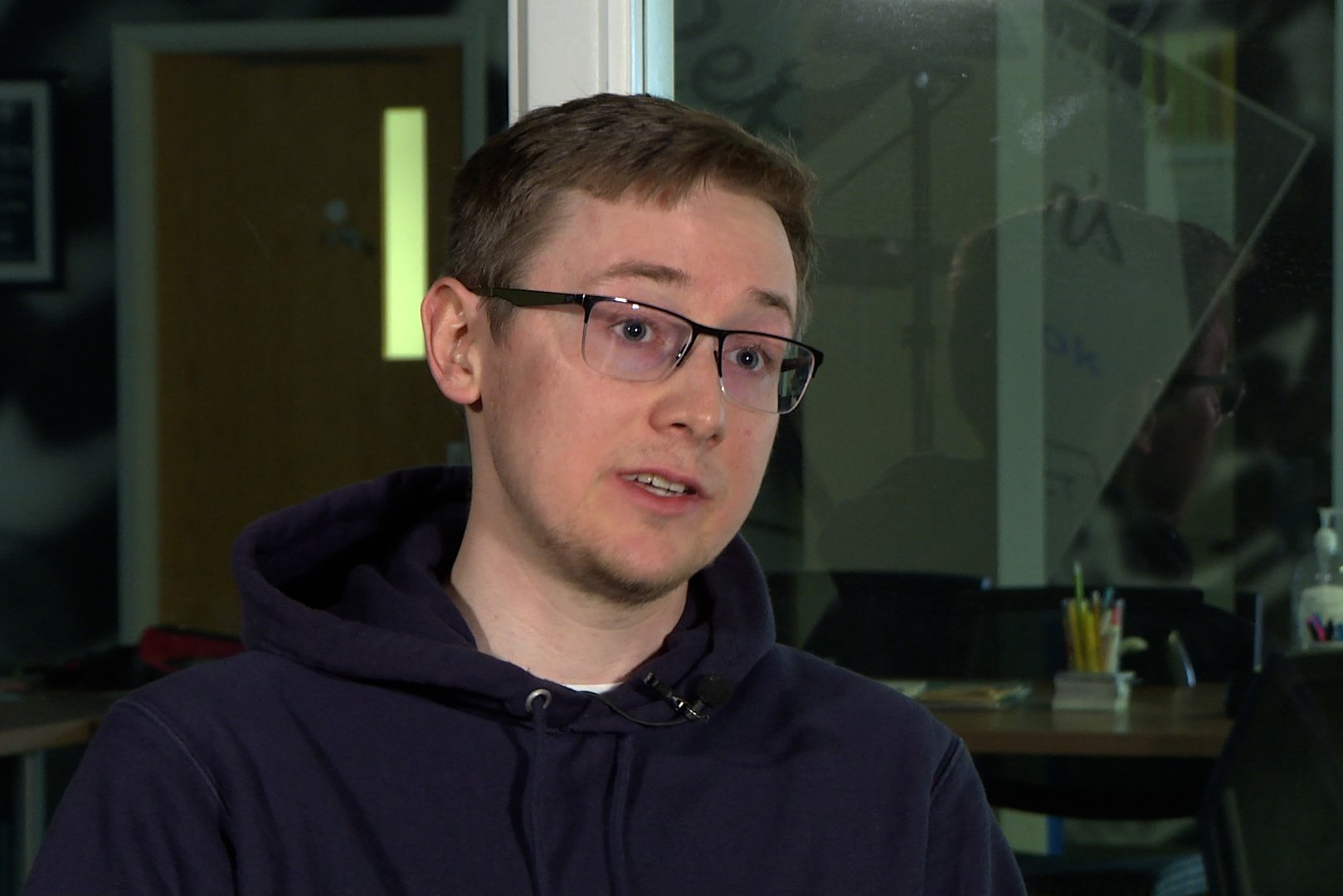 Both Yushkov's parents are educated, bilingual and oppose the war. So he counts himself lucky there is no ideological conflict on this topic in his immediate family. But his extended family, he said, is an example of how easily those without a quality education or connections to the west can be influenced by Russian state propaganda, despite there being several independent sources of information in Russia, published in Russian. He said he thinks people in the West underestimate Russian propaganda's effects. 
"Basically, the effects of propaganda are comparable with Nazi Germany, with one exception:  Putin actually has had much more time than Goebbels and Hitler" he said. "He's already had about 22 years doing his very dirty propaganda, both inside and abroad."  
Yushkov is uncertain what he will do after completing his dissertation. Prior to the Ukranian War, he considered returning to Russia to conduct more research at the National Research University Higher School of Economics in Moscow. Now, he said he'll probably be job hunting in the United States and Europe. Even staying in the west could prove difficult. He sees his friends --  Russian citizens who are also Ph.D. students -- struggling to find jobs in Europe.    
"It's currently even more complicated [in Europe] than in the United States to find a job for a Russian, I think, especially because many different academic programs are cancelled or postponed."  
He also sees Europe and the U.S prioritizing Ukrainian academics who are fleeing – something he emphasized he completely understands. However, it could still mean a tough job market for him.  
For now, he continues his research on natural resource taxation, hoping he can contribute to the West's understanding of how natural resource revenues, especially oil and gas, affect Russia's budgets and economy.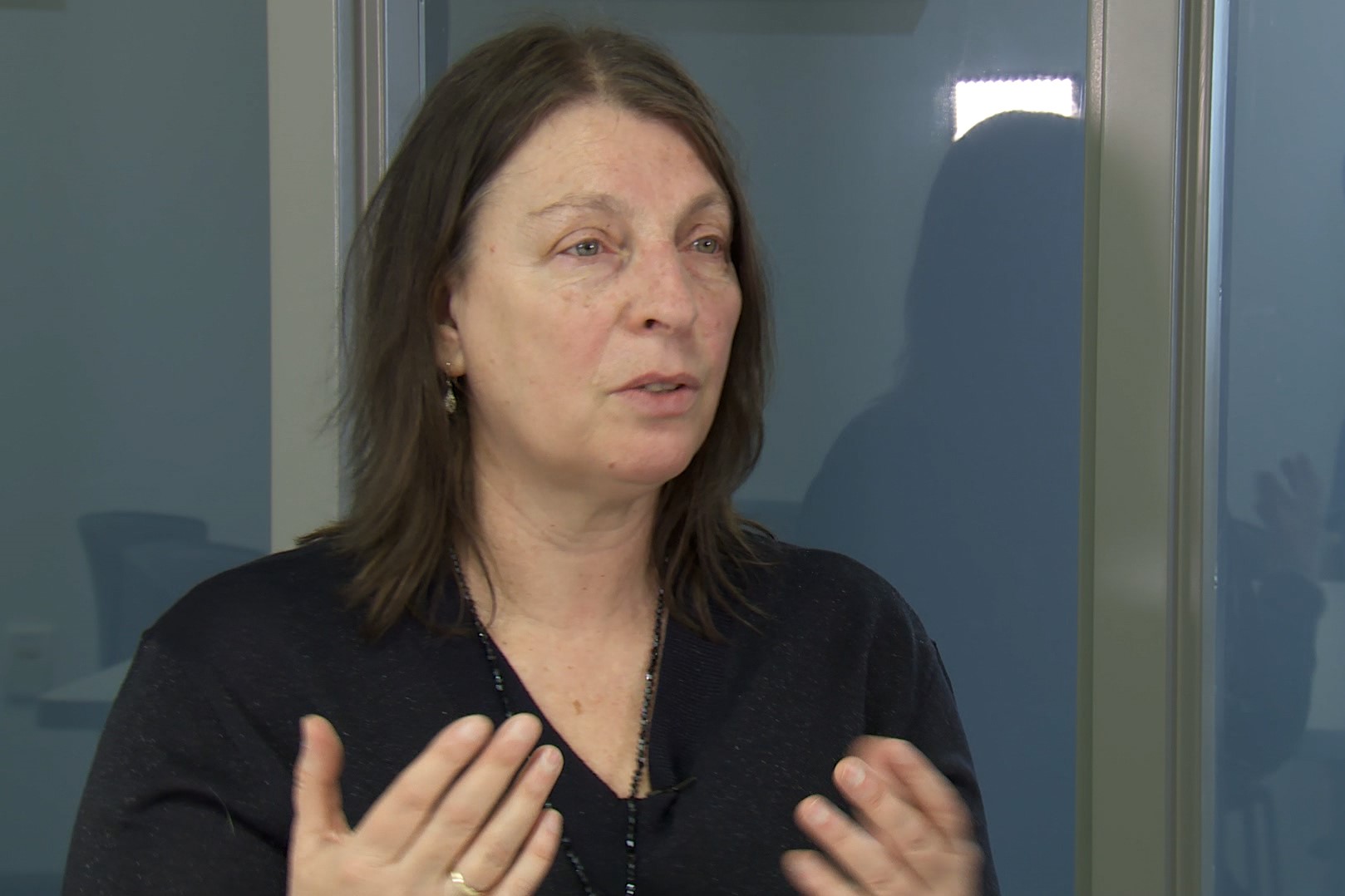 Miriam Shrager is a senior lecturer at IU's Department of Slavic and East European Languages and Cultures. She said contending with other Russians who are caught up in the bubble of Russian misinformation is very difficult.
"They want to be in this bubble of misinformation. But they claim that we're in misinformation. And it looks almost like they are challenging our reality and our truth, and no evidence can be enough to convince them."   
She described their attitude as akin to religious fervor.  
"You think, oh, don't be emotional," she said. "How can you not be emotional when you see these images? And then you are told this is all staged... And then you're telling somebody you know, 'But there is satellite!' And then the Russian friends tell you 'You know, I'm a religious person, I cannot believe that Russian soldiers can do that'. Then what do you say?"  
Shrager has close friends and colleagues who are Ukranian and she sees how difficult the war is for them. Speaking of Ukraine, she said:  
"There is a country -- a beautiful country-- tried to establish itself … You know, they overcome one difficulty, another difficulty for their independence. And then you see suddenly, everything is destroyed. People are killed, tortured. It's horrible."   
Though she is no longer a Russian citizen, she said Russia is "supposed to be our homeland." Yet she sees evil there, and it disturbs her.   
Shrager is finding a new discomfort with a class she has taught for years -- a class on old Russian literature. In particular, a 15th century tale, passed through the ages like a baton in a relay race: a tale of Russia as an empire – the last empire. 
She and her students inevitably discuss the parallels between the old Russian tale and the current war and propaganda.  
"I teach this class all the time," she said. "But suddenly now it has this ominous, vicious context that is really disturbing me. So personally, this course now -- it has been very difficult to teach -- extremely -- this year. Never before but this year, yes."  
Shrager emphasizes the need to keep the evil from spreading. She said teaching people critical thinking skills is essential to combatting misinformation.  
"There should be some method of analysis in people's head, so I think in that sense, education has a huge role in, you know, teaching people how to think, right? Students – how to think -- if they know how to think, they can think for themselves."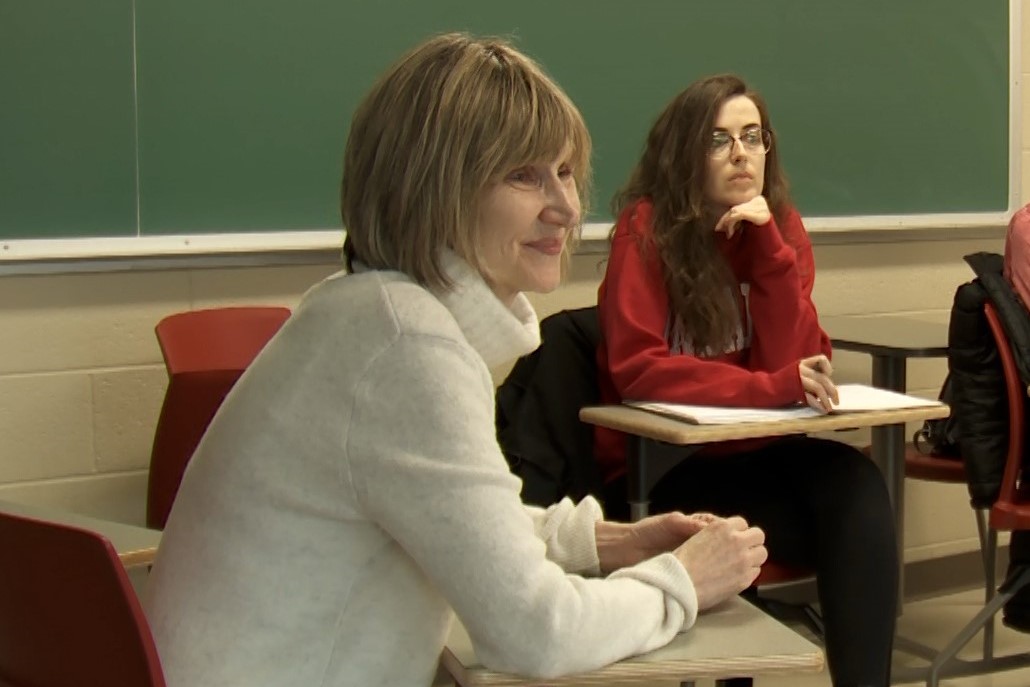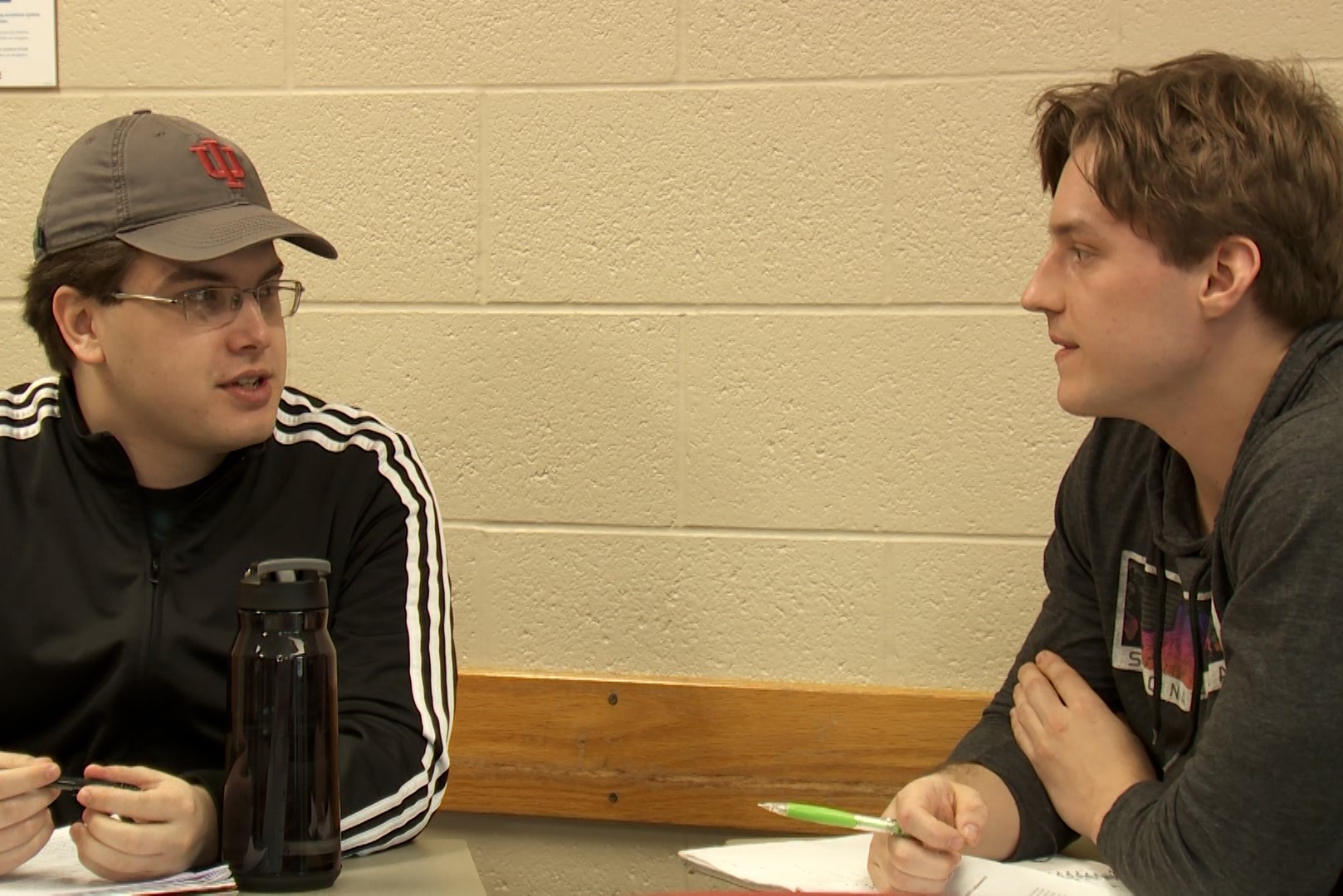 Maria Shardakova, director of IU's Russian Flagship Program, is giving her students a role-playing exercise in Russian political culture. The flagship program provides professional level Russian language and cultural proficiency to ambitious students looking to work in government, global business, defense, and with NGOs. The class is an advanced Russian language class and is predominantly male. Most of the students plan to do a capstone year abroad in Kazahkstan, a former Soviet republic on Russia's border, not actually in Russia. Still, Shardakova gives them an opportunity to practice talking about Putin and Russian policies past and present. There is the sense that these young people from the West could potentially influence the minds of those subjected to Russian propaganda.  
Shardakova explains Russia's demographics are skewed: the country's many wars and conflicts have killed off men from younger generations and left older women tipping the demographic scales -- an older generation that has more years of Putin's indoctrination.  
"So the guys each get a turn playing a babushka," she said with a slight smile. 
Outside of class, Shardakova has to step away from our conversation for a moment to compose herself. She feels deeply the weight of the war. The program has instructors from both Ukraine and Russia and they all have family, friends and colleagues suffering in different ways in both countries. She speaks of those in Russia she knows who are suffering "because of the humiliation they're experiencing, because of their outrage, and this inability to actually fight back." Russians who criticize the regime can now get be imprisoned for 15 years.   
Shardakova said she's concerned and saddened by the current events because it reduces Russia to a place that people are afraid of.  
"Russian culture is more than Putin. Russian culture is more than war," she said, pointing to a cultural legacy of music, dance, and literature with a concern for the common man.  
"And we do understand that we will have to go through a period of repentance to make up for the horror that we're all complicit in, or in a way responsible for, so yeah, we have a huge work ahead of us," she said.  
Shardakova said part of that work is educating others.  
"Being Russian, you can't just pretend that you are not part of the culture and you're different and somehow better," she said. "And of course you stand by Ukrainians but it's not enough. You have to actually do what you can to educate your friends in Russia, you can help them to make their information, because now in Russia, you can't really get any information but propaganda," she said.   
"And of course, most of my friends are well educated, they're aware, they might not know details, but they find sources," she said. "Of course, everyone is very devastated with this -- how are you going to live after this war, when you're stripped of your cultural values? Many lost jobs…how are you gonna start over?" she said. 
"As for me, I will just make sure that people know what Russia is ... that students continue learning Russian, they continue connecting with Russian people, and they continue to help everyone to actually create a global village so that we don't run into this problem again," Shardakova said. 
"Hopefully, we will be able to build a better society – one that Russia deserves -- and we will be able to help Ukraine, of course, for many years to come. Russia is responsible for rebuilding Ukraine. And we can do it on the personal level, on the programmatic level, on the level of institution… we should help any way we can." 
: