This story has been updated.
Attorney General Todd Rokita came to the defense of rapper Ye (formerly Kanye West) after the latter was locked out of social media accounts for anti-Semitic comments and criticized for wearing a t-shirt saying "White Lives Matter." 
In a tweet, Rokita shared an MSNBC story criticizing Ye for his decision to wear the shirt to Paris fashion week. Rokita tweeted, "The constant hypocrisy from the media is at an all-time high. They have now gone after Kanye for his new fashion line, his independent thinking, & for having opposing thoughts from the norm of Hollywood."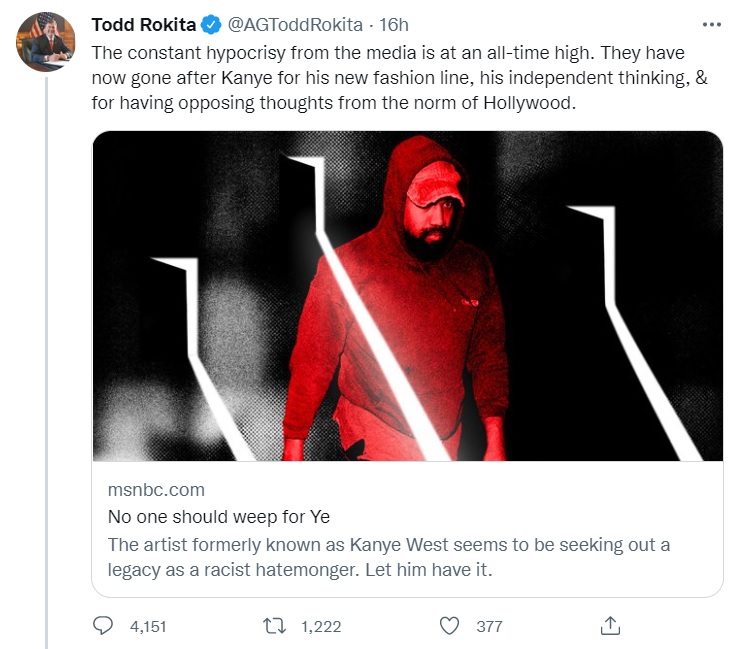 The Southern Poverty Law Center considers White Lives Matter "a neo-Nazi group that is growing into a movement." 
The day before Rokita defended Ye, the controversial rapper was banned from Instagram for claiming that the rapper Diddy was being controlled by Jewish people. In a since-deleted tweet, Ye threatened to go "death con 3 on Jewish people," claiming, "you guys have toyed with me and tried to black ball anyone whoever opposes your agenda." In a subsequent post, Ye asked, "who do you think created cancel culture?"  Defcon is a defense readiness system used by the U.S. military. 

Six hours after Rokita's initial Tweet in support of Ye, the attorney general tweeted a new statement saying, "My post was specifically and clearly aimed at the hypocrisy of the media and Hollywood elites, not anything to do with other comments. I have an obvious, clear and substantial Congressional and public record of being 100% supportive of the Jewish community and Israel."  
A spokesperson for the attorney general's office said that Rokita was unaware of Ye's anti-Semitic comments at the time he articulated his defense and that his communication team did not publish the tweet until a day and a half after.
This story has been updated to include comment from Todd Rokita's office.