Bloomington's Kirkwood Ave. is adding more food offerings Wednesday. Workers at the Louisiana-based Raising Cane's are putting finishing touches on their new store featuring fresh hot chicken.
The restaurant started 26 years ago, and area restaurant leader Johnny Vigil says they're excited to be in Bloomington.
"Just being able to come down to Bloomington and give the IU campus a part of who we are and what we do, we see success across the board," Vigil said.
He calls college towns a "big win" for the Raising Cane's franchise. Not only in serving chicken fingers and crinkle fries, but in employment. He says the restaurant had no trouble hiring 130 workers. Starting pay is $15 an hour.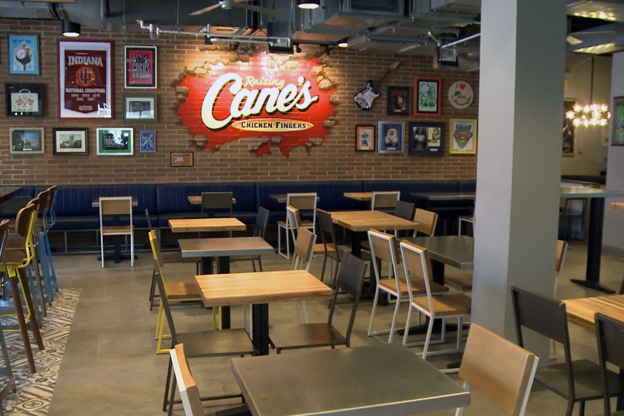 "We make it fun, we make it exciting to be here, obviously you can tell we have disco balls, the music is loud, it's the same thing in the kitchen and our front counter area," Vigil said.
The restaurant is in the former space of Which Wich sandwich shop and Vintage Vogue thrift shop. The dining room plus outdoor patio seat about 120 people. The restaurant has a walk-up carry out window for mobile orders too.
Vigil says try the Texas Toast; it's delivered fresh every day from a bakery in Indianapolis.
The restaurant opens Wednesday morning with a free raffle drawing. 20 winners will get a free meal once a week for a year. Registration begins at 7 a.m.
Hours are 10 a.m. until midnight Sunday through Wednesday. Thursday through Saturday hours are 10 a.m. to 3:30 a.m.