Paoli Peaks is closing for the season after this weekend, and David Wilcox has been taking advantage of every opportunity he gets to come ski.
During a trip to the resort on Presidents' Day, he had had near-perfect attendance.
"I believe I have been here 20 days this season, and I think they've been open 22, it might by 21 days, 23?" he said.
Paoli Peaks is Wilcox's home hill. He lives in Bloomington and he's been skiing and snowboarding here for the past 17 years. And he'll keep coming back.
But he hasn't been able to hit the slopes as much as he used to. That's not by choice.
"Two years ago, the average would have been 90 hours a week that the slopes were open," he said. "And now we're down to 28 hours a week."
Paoli is also down to one or two lifts running a day again. Lines can be long and trails are limited. The tubing hill has been closed all season. And there's been no midnight skiing.
The resort didn't open until mid-January, and then only for seven hours a day Thursday through Sunday.
When Wilcox's son was little, he used to pick him up from school and head to Paoli. It was on these slopes his son learned to ski.
He says that wouldn't happen today with the limited hours.
"There's just not enough evenings open that it would have ever been possible for him to learn to ski, and he's such a good skier," Wilcox said.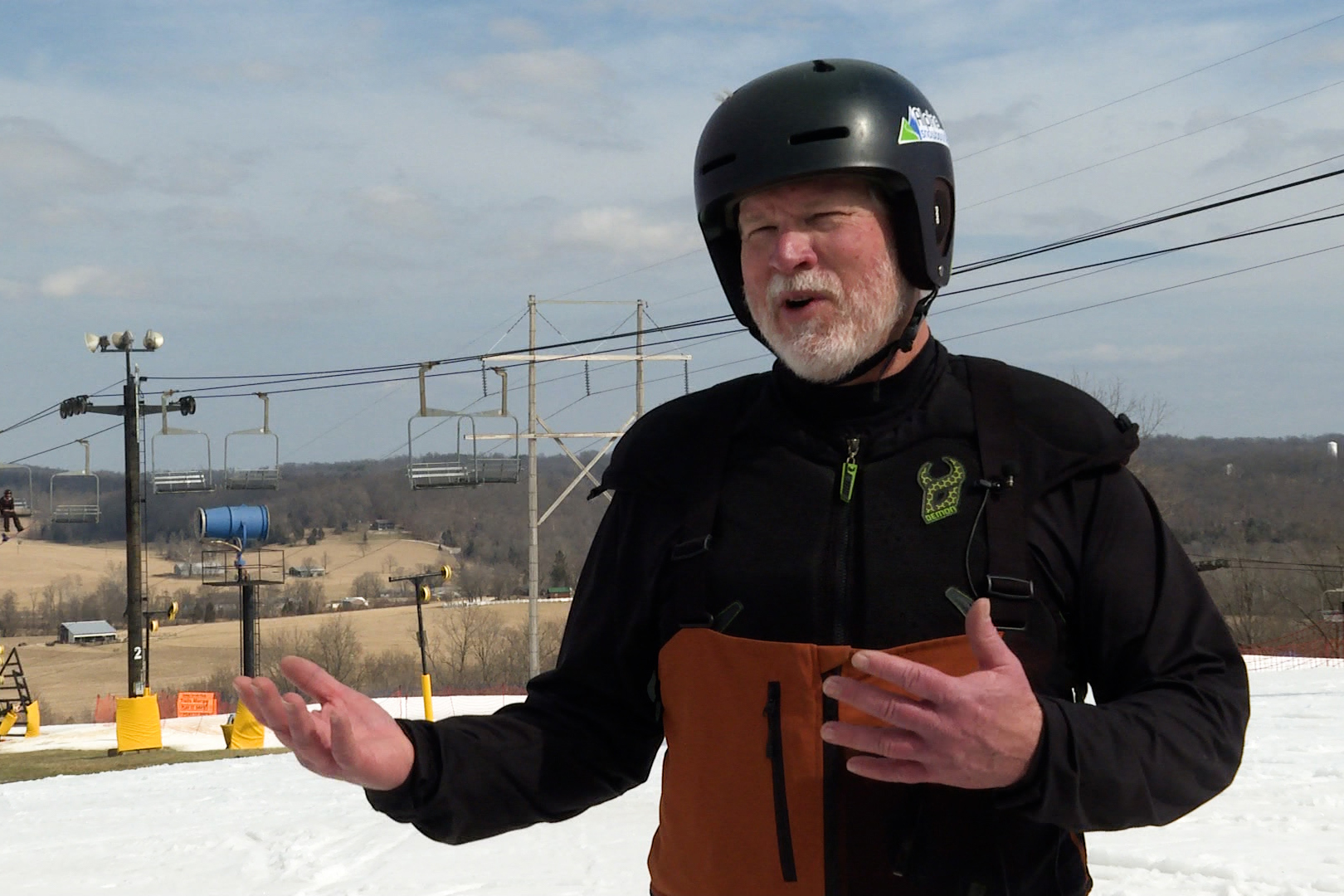 Vail Resorts purchased Peak Resorts, which owned Paoli Peaks and 16 other properties in the Midwest, in 2019.
Vail announced its intentions to pump $15 million into improvements at the resorts over the next two years. But as with most industries during the pandemic, ski resorts were not immune to staffing and supply chain issues.
Paoli and other Vail resorts are feeling the effects.
"We've had a hard time finding staff this year, definitely. And we've had to assess our operations differently than we have in the past because of that," said Tim Harris, Vail's vice president and general manager of Midwest resorts. "We opened with one lift and about 50% of our terrain open. And we've been able to expand that through the season to three lifts and 73% of our terrain, which has felt great."
Some cite low starting wages as a reason for the staffing issues. Full- and part-time lift operator jobs are advertised at $11.25 per hour on the resort's website.
"It's been really rough, especially since, you know, the Walmart in town offers more to start," Wilcox said.
Vail Resorts also has a vaccine requirement for all its employees. And masks must be worn inside at the resort.
"If you pay attention to the Facebook page, you'll see a lot of local sentiment has not been in favor of some of the policies," Wilcox said. "But, personally, I'm happy with Vail having those policies for the safety of the guests and employees."
Wilcox has nothing but praise for the staff at Paoli Peaks.
"If it wasn't for the hard work of the mountain ops staff here locally, this place probably wouldn't be open at all," Wilcox said. "Some of the guys are really doing everything - they're grooming, they're blowing snow, they're fixing the equipment, they're acting as lifties during the day."
Stuart Winchester is the editor and host of the Storm Skiing Journal and Podcast. Based in New York, he focuses on the "lift-served skiing universe." Which means keeping an eye on the more than 450 resorts in the U.S.
"Vail Resorts made a deliberate decision to not invest in labor and to instead sacrifice the quality of skiing at these non-destination resorts throughout the Midwest," Winchester said. "I think that was a mistake. I feel their competitors at Perfect North Slopes and Snow Trails are showing people very clearly that they were willing to do whatever they had to do to make it happen."
Perfect North Slopes is in Lawrenceburg, a little more than 2 1/2 hours northeast of Paoli, and the only other ski resort in the state.
"They're still running seven days a week, 12 hours a day, 14 hours a day, stay open until midnight on Friday and Saturday," Winchester said. "When you're a skier in the Midwest, you buy that pass expecting night skiing and skiing seven days a week. That's the operating model of the region. Vail knows better and they should deliver the product that consumers were expecting."
Perfect North opened its season Dec. 9, more than a month earlier than Paoli Peaks.
"We all hoped this year would maybe be a little more normal," Harris said. "Of course, it turned out to be anything but, so we have a lot to learn. And I think long term, we see Paoli, it adds value, it's close to an urban area. There's certainly passionate skiers and snowboarders there, and we have a big network that we're a part of. And so we're looking to continue operating and providing value and fun and joy to people in the area."
Winchester does credit Vail Resorts for what they have done for skiing.
"Over the past 15 years, Vail has done more to make skiing affordable for frequent skiers than any other company or entity in the history of skiing," Winchester said. "What they have done with their Epic Pass is to reshape the business model of skiing. They put all their resorts on one very inexpensive pass and made it available ahead of time to skiers, and they've spawned a lot of imitators – the Ikon pass, the Indy pass."
Vail discounted the Epic pass by 20 percent last spring for the 2021-22 ski season. That led to a record number of sales, but some say it has also led to complaints of long lines and poor service. On Twitter, #VailFail has been seen extensively.
"It's easy to say lines are happening because we've sold so many more passes, but we just aren't seeing record days or indications that there's so many more people visiting our resorts," Harris said.
Still, stock in Vail Resorts has taken a beating. It's gone from $322 a share to $264 in the past year – an 18% drop in value.
Critics of Vail Resorts blame the company for taking control of resorts such as Paoli Peaks out of the hands of the people who maintain the property locally. Meaning management decisions are made from afar.
"Vail needs to tap into that institutional community knowledge, they need to tap into their global network of very smart people who run ski resorts in all sorts of different communities," Winchester said. "And they need to figure it out, and they need this year to be an anomaly, because they may be able to survive one year of this and come back from it, but they will not keep the good faith of Midwesterners if they continue to do this."
But while there are many on social media who say they won't come back, Wilcox is not among them.
While he's frustrated by some of the changes, it's still a convenient place for him to get outside on cold winter days.
"This is where I come to spend my time and get my exercise and have some fun," he said.