The commissioners of Owen County operated in front of a standing-room only, overflow crowd at their 9 a.m. meeting today when they voted to consider a petition that would create a temporary commission to advise modifications made to festival ordinances in downtown Spencer.
This comes after residents voiced concern about the commissioners' previous discussions about shutting down all events on the Owen County courthouse grounds.
During their public meeting on Aug. 19, the Owen County commissioners said the proposal was spurred by a petition from taxpayers complaining about festivals' costs. Specifically, commissioners cited the cost of bathroom maintenance, courthouse security and courthouse lawn repair.
But when residents like Jonathan Balash, president of the LGBTQ advocacy group Spencer Pride, asked the county for a copy of the petition, they didn't receive a petition at all.
Instead, Balash received a form letter specifically complaining about the Spencer Pride Festival, Spencer Pride's annual event.
"They were asked during the [Aug. 19] meeting, 'What were the concerns raised in that petition?'," Balash said. "And the three things that they said were about the cost for restroom maintenance, for security, and for some of the things like the damages on the courthouse lawn."
The form letter, on the other hand, described the Pride Fest as overly sexual and inappropriate for children under the age of 18.
Balash called the claim blatantly untrue, adding that Spencer Pride's leaders are always careful to keep the festival family-friendly.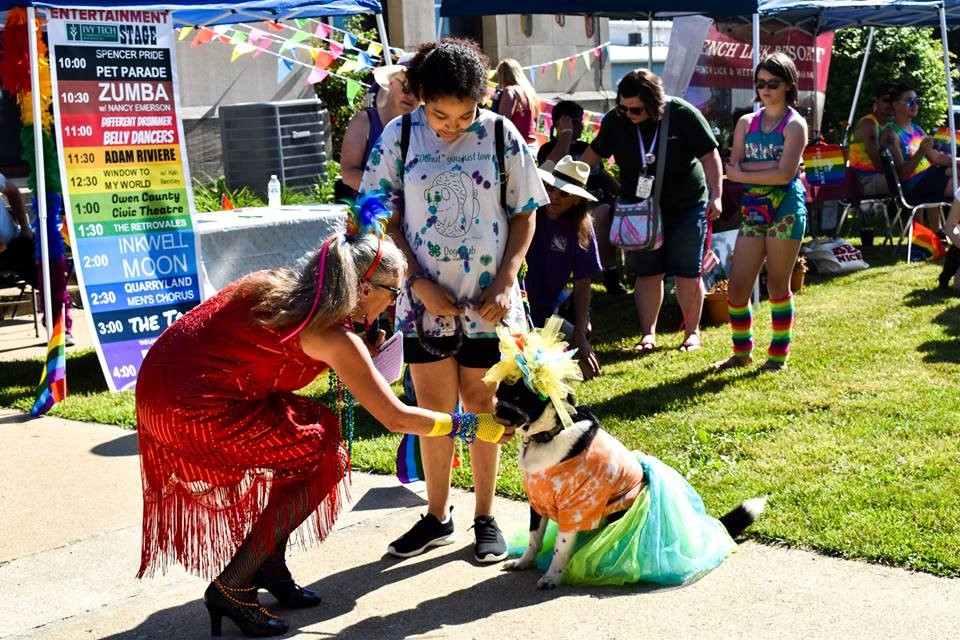 With a population of about 2,250, Spencer is the smallest town in the United States with a designated LGBTQ center.
To combat the possibility of a festival ban, Spencer resident Scott Winders wrote up a petition asking the commissioners to create a temporary commission that would provide input on potential changes to ordinances festivals in downtown Spencer, in addition to tabling the ordinance issue for 90 days. The committee would be comprised of festival leadership, downtown business owners, Chamber of Commerce members, law enforcement and leadership involved in Owen County Economic Development.
Winders was able to collect 1,046 signatures for his petition in just two weeks.  
But after Winders made his case, commissioners did not seem convinced. They voted 3-0 to take the petition under advisement.
"They basically listened to what I had to say and then took it under advisement," Winders said. "Which, to me, is political speak for 'we're not actually gonna do anything you just suggested."
Now, Winders said he will continue adding to the 1,046 signatures he has collected and encourages others to attend the next commissioners meeting.
The Owen County Commissioners will next meet on Monday, Sept. 16 at 6 p.m.