Monroe County Parks and Recreation wants the county council to allocate money for synthetic turf on Karst Athletic Complex's fields nine and 11.
A parks representative told the council Tuesday the 33-year-old complex needs the changes to make future athletic tournaments possible, thus creating more local tourism opportunities.
Parks Director Kelli Witmer said synthetic turf fields with an LED light system would be easier to maintain than the current grass fields.
"Two synthetic turf fields with lights would enable the (complex) to be better suited to compete for various sporting tournaments," Witmer wrote in a letter to the council. "Synthetic turf fields allow for a longer playing season, increased field rental revenue, less yearly maintenance costs, no irrigation use, immediate playability after a rain event, and an asset to local families."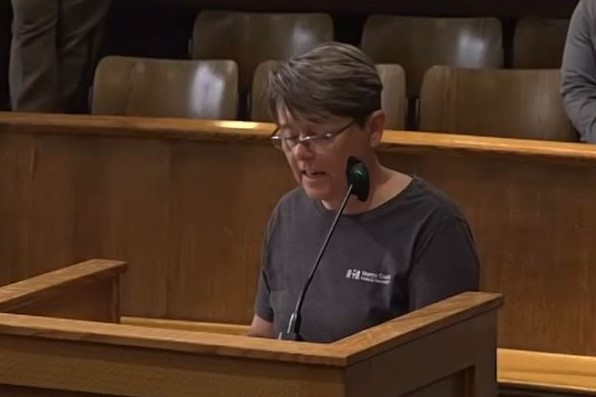 Witmer said the yearly maintenance cost for one grass field is about $14,500, while the cost for a synthetic field is about $1,300. Past the 20-year mark, the yearly maintenance cost for a grass field is at least $300,000 compared to $30,000 for a synthetic turf field, not including turf and infill replacement.
Additionally, she said grass fields require more maintenance. That includes mowing one to three times a week, line painting once a week, aeration, pest control and herbicide treatment. A synthetic turf field only requires grooming weekly and advanced maintenance one to two times a year, according to Witmer.
On top of that, the grass fields at the complex drain poorly because of their age and crushed drains. Games are often canceled due to standing water.
Read more: 6,000-unit housing development on city's southwest side under consideration
The proposal received strong support from Louis Malone, the executive director of the Cutters Soccer Club. Like Witmer, he sees the complex as a potential site for more sports tournaments.
Malone said Cutters has previously called off tournaments due to poor field conditions. He said investing in better fields would make the complex more attractive for championship games.
"Most top teams our tournaments want to have turf fields for those championship games," Malone said. "It really makes this an opportunity to be a magnet — not just for the Cutters Soccer Club — but for other sports opportunities."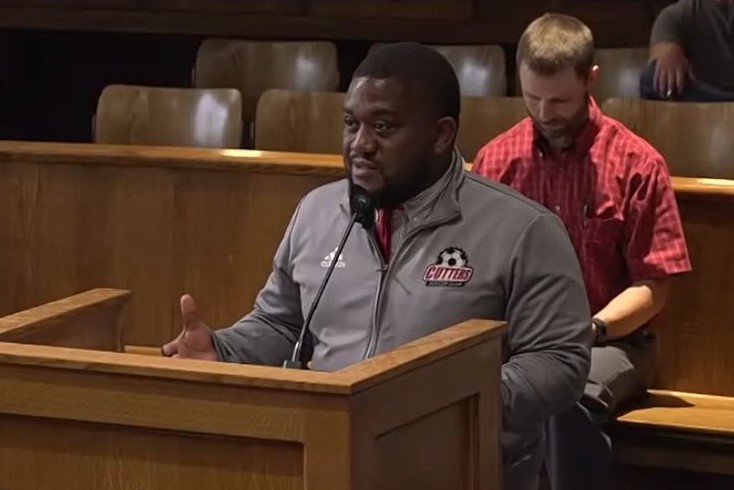 What about funding?
The overall cost for the project is estimated at  $4,173,800.
Parks and Rec has proposed two funding options: a general obligation bond or the food and beverage tax, which is the Monroe County Convention Center expansion project's funding source.
Council support for the idea was apparent, despite members not voting on the proposal Tuesday. Some members backed the idea of using food and beverage tax funds.
Council member Trent Deckard was one of those people.
"To feed into food and beverage dollars and tourism, and to use the money that we've been collecting this long, I think that kind of speaks to me," Deckard said. "Along with, if we get the convention center done … and I think we had a good victory on that last week."
Read more: Jail advisory committee focuses on housing access for formerly incarcerated
Deckard was referring to the county commissioners' approval of a capital improvement board to oversee the convention center expansion project.
The expansion project began collecting on the food and beverage tax in 2018. To date, it has collected more than $14 million.
Council member Peter Iversen said Monroe County should strive to have a competitive edge when it comes to sports tournament opportunities.
"We need to make sure that we are keeping up; not even keeping up, but leading the field in this area," he said. "As we're thinking about these fields, I'm starting to think not in terms of 'Well, are we going to approve this next year? Are we going to approve this this year?' I'm trying to think, 'Where are we going to be in 10 years?'"
Read more: City of Bloomington approves new Employee Tuition Reimbursement Pilot Program
Council President Kate Wiltz says she and other council members plan to meet with the commissioners before deciding on funding. It could be up to two weeks before they do so.
Both bodies may need to convene for a public discussion, Wiltz said.
Wiltz recommended the parks department check back with the council at the beginning of August to see if those conversations have been held.
It is unclear how soon a vote could occur.