Monroe County confirmed 490 new COVID-19 cases Friday, up from 272 on Thursday. This is a new county record for the most cases reported in a single day.
However, the Indiana dashboard said nearly 5,000 statewide cases were delayed until Friday, which could also explain the jump in local cases.
In total, 25,265 county residents have tested positive since the pandemic began.
No new local deaths were reported.
In the IU Health South Central region, which includes Bedford, Bloomington, and Paoli, 75 people are hospitalized with COVID-19 as of Friday. In total, 51 of the patients are unvaccinated.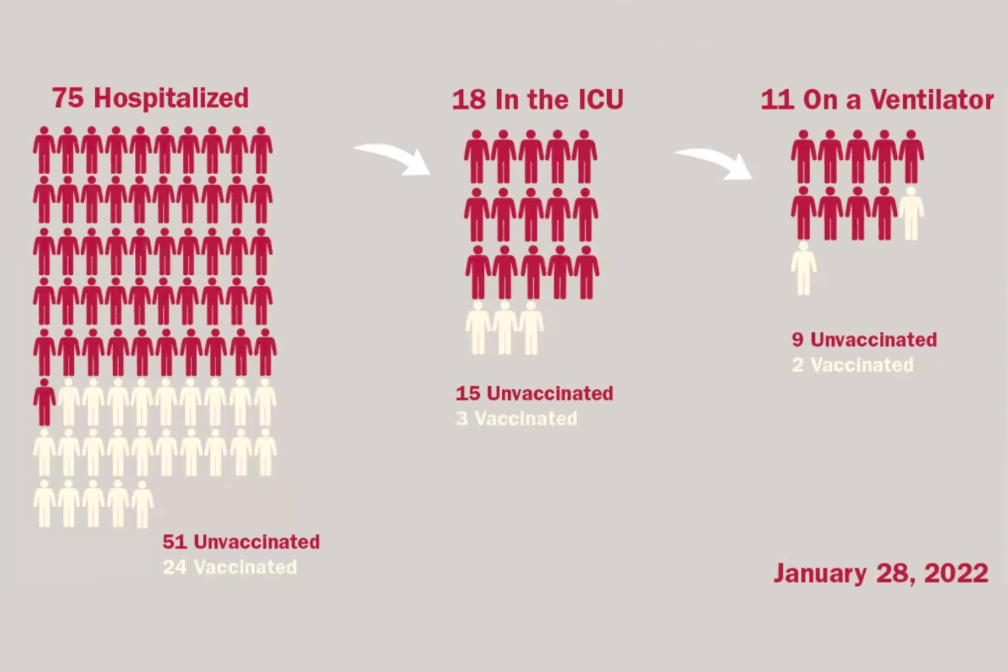 IU Health region president Brian Shockney said only about half of eligible Hoosiers have gotten their booster shots, which could explain an increase in hospitalizations. He said it was particularly impacting emergency departments across the state.
"One day this past week, we surpassed our highest number of patients that we have ever had in our expanded emergency departments at our new IU Health Bloomington hospital," Shockney said. "Thank goodness we have our new hospital, and it is larger, but it's overwhelming sometimes to see the number of patients going through there."
Monroe County's positivity rate is 22.1 percent, down from 22.4 percent Thursday.
State
The state confirmed 17,084 new cases, up from 12,230 new cases Thursday. However, 4,705 of the new cases were delayed until Friday and would have been included over the course of the week.
In total, 1,604,072 Hoosiers have tested positive for COVID-19 since the pandemic began. 
Indiana also added 108 new deaths, which occurred between Dec. 10 and Jan. 27. This brings the state total to 20,508.
The state's seven-day positivity rate is now 30.3 percent, down from 30.7 percent Thursday.
Some 2,892 COVID-19 patients are hospitalized across the state, down from 3,013 on Thursday.
Walk-up COVID-19 test sites in Monroe County
IDOH/Sherwood Oaks Christian Church mobile clinic at 2700 E. Rogers Road 
Open through Saturday, 12-8 p.m.  
PCR and rapid antigen testing (as well as Pfizer and Moderna vaccines and boosters)
IDOH/IU mobile clinic at 555 N. Indiana Ave. 
Open Feb. 2-5, 12-8 p.m.  
PCR and rapid antigen testing (as well as Pfizer and Moderna vaccines and boosters) 
IDOH/Gravity test site at 171 N. Curry Pike (Cook Medical property)   
Open every week Tuesday-Saturday, 8 a.m.-4 p.m.  
Drive-thru PCR testing 
This site is outside and sometimes closes for weather. For daily updates, check here.