Prep work for the the third phase of the Fullerton Pike Project is underway.
Construction in the third phase it will connect West Fullerton and West Gordon Pikes in the southeast part of Monroe County. 
Last week, contractors cut down trees along the county's rights-of-way on West Gordon and West Fullerton Pikes to prepare for the expansion of the roadways. The prep work cutting trees have Highland's residents Jim and Laurie Borman worried.  
The couple moved to the neighborhood around six years ago to retire. Jim said the tree cutting was done without notifying residents.
Read More: Bloomington neighborhood fights for tree preservation following near removal
"The oversight is that literally hundreds of trees are gone," he said. "Personally, I'm concerned, because I have a new granddaughter, so everything becomes the future...we have to be concerned about preservation of trees and all the good that they do."
Laurie spoke at a county commissioners meeting this week, and asked for more future oversight in projects that involve removing trees.
"We can include requirements to replant what was ripped from the ground," she said. "It's just that we must have requirements. We must have oversight, and we must do better for future projects."
What used to be a rural neighborhood saw a lot of development with the first two phases of the project, preparing Gordon Pike for an expected increase in traffic with roundabouts and other features. This final phase will be the most visible.
It will connect West Fullerton and West Gordon pikes. When the project is complete, Sare Road will hit Rhorer Road which runs west into the newly connected Gordon/Fullerton stretch, linking to I-69.  
Wayne Vaught raised his family in a home on Fullerton that overlooks a few acres of clear-cut trees now.  
The project wasn't much of a surprise to him because the county obtained part of his family's property for this phase. 
"They've been talking about it for several years," Vaught said. "I don't remember probably 10 years ago or longer. But it's like anything with the government. You never know. They'll talk about it for a lot of years before they ever start something."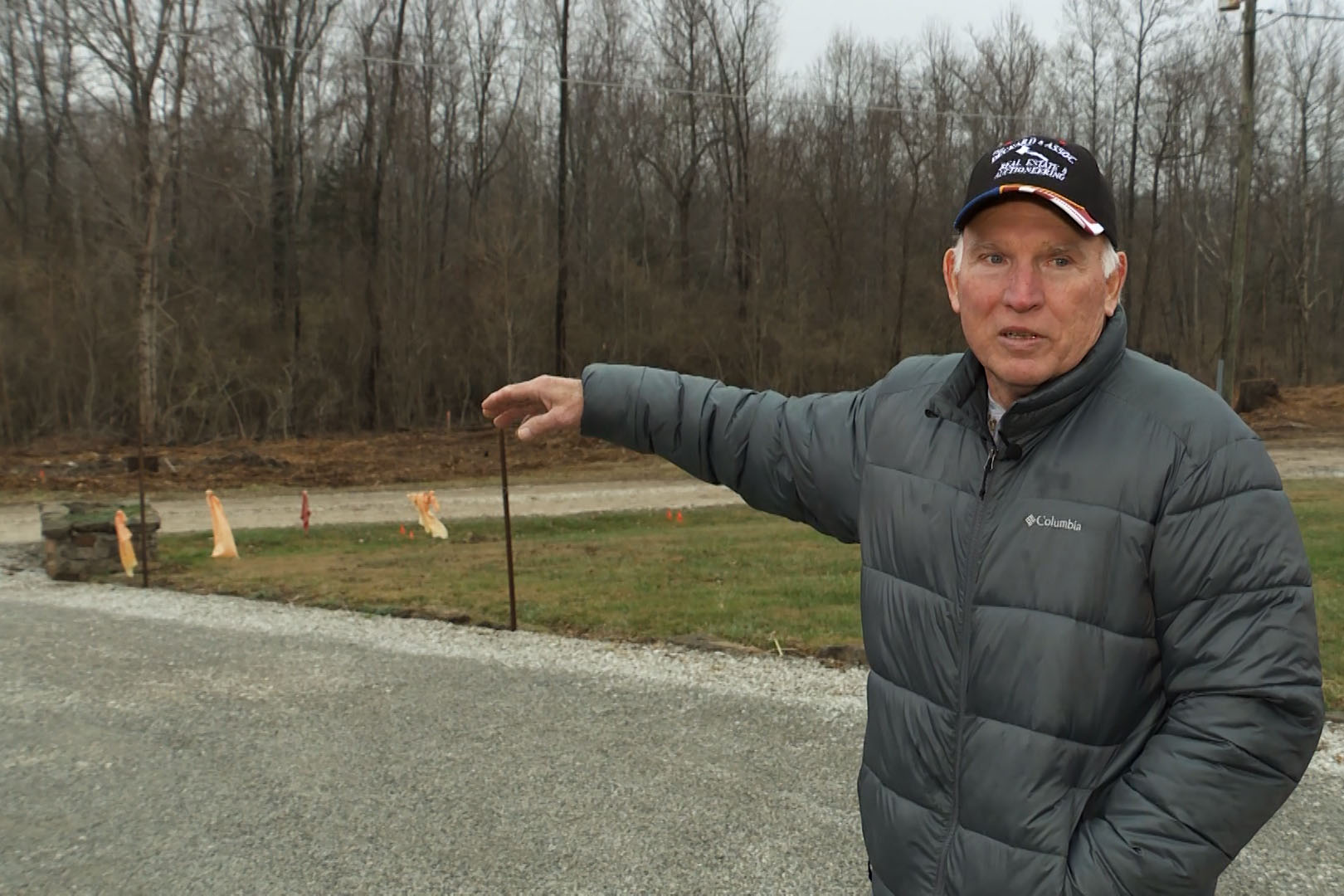 He'd had land taken before by the Indiana Department of Transportation through right-of-way acquisition for I-69 and didn't feel he had much of a choice once plans were set into motion this time around.   
"We went to one of the meetings about it," he said. "And it was basically the same as when we went to all the highway meetings. They really won't answer any questions. They just tell you what's going on. They want your input, but they don't really answer anything."  
Monroe County highway director Lisa Ridge said she's aware that tree cutting for the project came as a surprise to some in the area and takes responsibility for the lack of notification.  
But her department has been working on the project since 2008. 
Better east-to-west connectivity, access to I-69, and ways to bypass traffic through the center of Bloomington have been on the books since the county's initial Thoroughfare and Capital Improvements Plan was created in 1995.  
Ridge said it's taken so much time to get to the third phase of construction because the county has needed to wait for federal funds and follow procedures to qualify.   
"At this point, we're looking at about a $12 to 13 million project overall for just phase three," Ridge said. "So that's why it also takes a lot of years to get to the point of being able to construct it." 
She said contractors have now been told to preserve trees when they can, and added the highway department has altered the project along the way based on public input. Medians have been added and removed as requested and the project will not be designated a truck route.
Highway engineer Paul Satterly said Fullerton and Gordon Pikes have always been priorities for development because of I-69 and dedicated areas of rights-of-way in the county. 
"The Highlands was developed," Satterly said. "And right away it was dedicated to the corridor. This area was developed and had right-of-way dedicated. So all these new developments you know, were planted with with this corridor in mind." 
He said when the Fullerton Pike Project is done it is supposed to eliminate cut-through traffic in Batchelor Heights and other neighborhood subdivisions.  
Vaught is frustrated with how the county managed his utilities through the right-of-way acquisition. He said the county won't bring water to his property as part of the acquisition even though he has to connect to the sewer– making things complicated and expensive.  
The county gave him $23,385 total for the land and damages, covering some utility costs. But he said this doesn't consider the toll it's taken on his family. Just a few miles away, the county bought the property for a new county jail at about $115,000 per acre.  
"You're not getting very much money for your property. You do get a little bit of damage money. The damage money, a lot of that's for what you have to do," Vaught said. "I mean, we shouldn't have to be the ones that hook up the sewer, that shouldn't be our responsibility. They're the ones tearing up our property. We have to put in the time to hire somebody, talk to people, go see a lawyer, we have to do all this. If they would just do it. You know, we would be out less."
INDOT will hire a contractor for the project this summer. Construction will start after that.