After years of fundraising, construction will begin for the Monon South Trail next year. The rail trail will span 62.3 miles, starting in New Albany, Ind., and ending in Mitchell.  
Rick Driestadt, former telegraph operator and dispatcher for the Monon railroad, said building a trail along the railroad will help people learn more about its history through signs and pictures. He thinks the trail will give people another reason to visit southern Indiana and go to different shops and restaurants.
"The railroad was actually dormant for the last 10 years or so," Dreistadt said. "It's an area that needed revitalization."  
Driestadt said he thinks building a trail along the railroad will also help address potential vandalism issues.  
Read more: Monon Railroad
Jeff Quyle, president and CEO of Radius Indiana, said construction will cost approximately $40-50 million; Radius plans to cut some costs by making most of the trail out of crushed limestone and building a 10-foot-wide trail in more rural areas. Parts of the trail that go through town will be paved.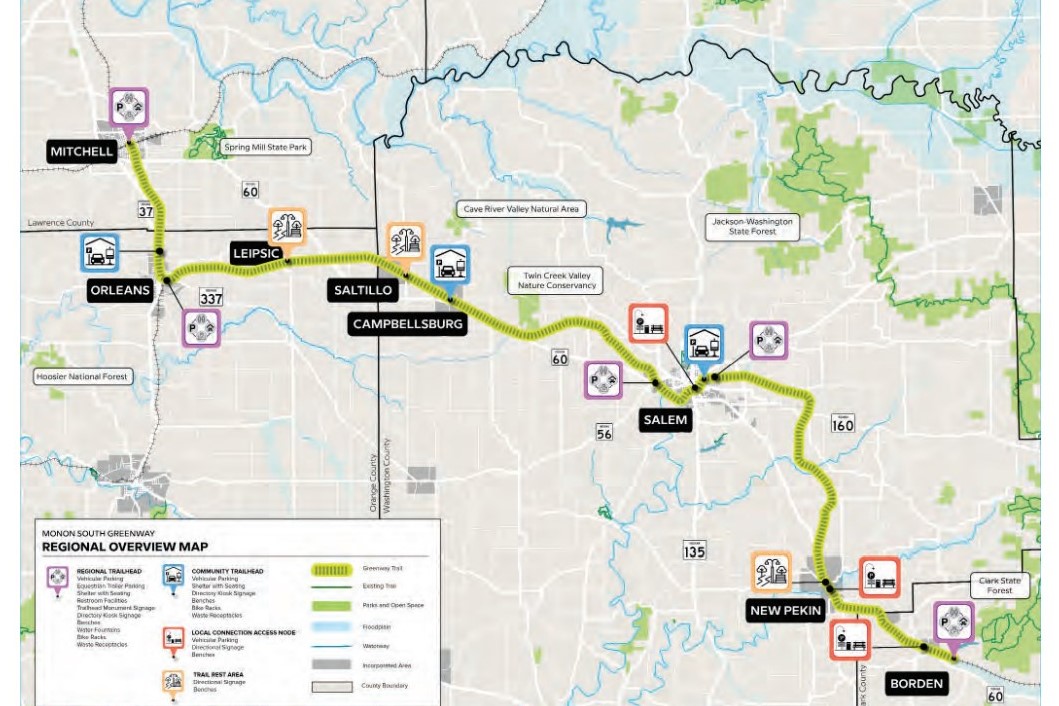 Quyle said Radius plans to maintain trail construction within a strict corridor, or area. While he does not predict that there will be any disruptions or excessive noise, construction by any neighborhoods should not last more than a couple days.  
"If you've got a house right by the trail for the period of construction, you're going to notice it," Quyle said. "I know that's going to be uncomfortable for folks, but once that's done, we've got a couple decades before the next time we need to do anything." 
The trail will promote accessibility and safety. Toolkits will be available at multiple trailheads for people to fix their bikes; the project also will include water fountains, restrooms and benches. He said the trail will increase the value of properties and expose people to the beauty of southern Indiana.  
"There's a real emphasis on helping communities and Indiana flourish by bringing new people in," Quyle said. "Trails like this are seen as a good quality of place asset, a magnet that can bring in new people." 
Quyle said Radius has been working with the community to plan where to put trailheads and historical markers. He hopes volunteer groups will help repair any damage to the trail. 
Read more: Bloomington residents frustrated by constant railroad crossing malfunctions
Quyle said while some are concerned about crime and littering on the trail, overall feedback has been overwhelmingly positive.  
"This region of southern Indiana is kind of a desert when it comes to trails," Quyle said. "They're [people] glad to know their communities are going to be on the longest rails to trails project in the State of Indiana."