Cara Caddoo didn't intend to find an important missing 1916 "race film" while researching her book during the pandemic.

"It was kind of like one of those hidden in plain sight stories, I guess," she said. "I mean, I have watched this footage probably hundreds of times before."

Caddoo is an associate professor at The Media School and the College of Arts and Sciences' Department of History at Indiana University Bloomington. She's also a film expert and historian.
She has identified missing footage of the second African-American film ever produced by the Lincoln Motion Picture Company, called "Trooper of Troop K" added to another film. Her discovery has recently been accepted into the library of congress.
Again, Caddoo wasn't looking for the missing film. She was researching her book about early 20th century black actor Noble Johnson, known as the first African American movie star.
"I was watching it during the pandemic, because all of the archives were closed," she said.
The Lincoln Motion Picture Company produced what were called "race films." They were films produced by African Americans for an African American audience.
Caddoo happened to be watching another Lincoln Motion Picture Company film "By Right of Birth" released in 1921, which she says has been circulating for a long time.
"By Right of Birth" is itself incomplete. Some scenes are missing, so the flow of the film doesn't always make sense as it is, which might be why the "missing" scene went unnoticed.
"And there's just one scene that hasn't made sense," Cadoo said. "But the assumption was, well, maybe there's something else missing. Like another scene or something like that."
In one particularly out-of-place scene, there's a couple, played by Lincoln actors Beulah Hall and Jimmy Smith, sitting on the steps near a home.
"It kind of dawned on me that the actors in that scene had never been mentioned in connection with the 1921 film," Caddoo said. "Noble Johnson, for example, had quit the company in 1918."
Johnson actually just appears as a special effect up in the corner — a soldier — illustrating a longing for Beulah Hall's missing beau.
But it's not really part of the rest of the story. And neither was some of the inter-title imagery, where cacti and a desert were used as the background.
"Everything kind of just came together," she said. "And I was like, 'You know what this seems like it's a different film. This seems like it's 'The Trooper of Troop K,' which is from 1916,' which would make it the earliest black produced film that survived, in American history."
Of course Caddoo had to verify this idea. She researched out of the Margaret Herrick Library, the Beverly Hills-based Oscars Academy library and the University of California, among other places.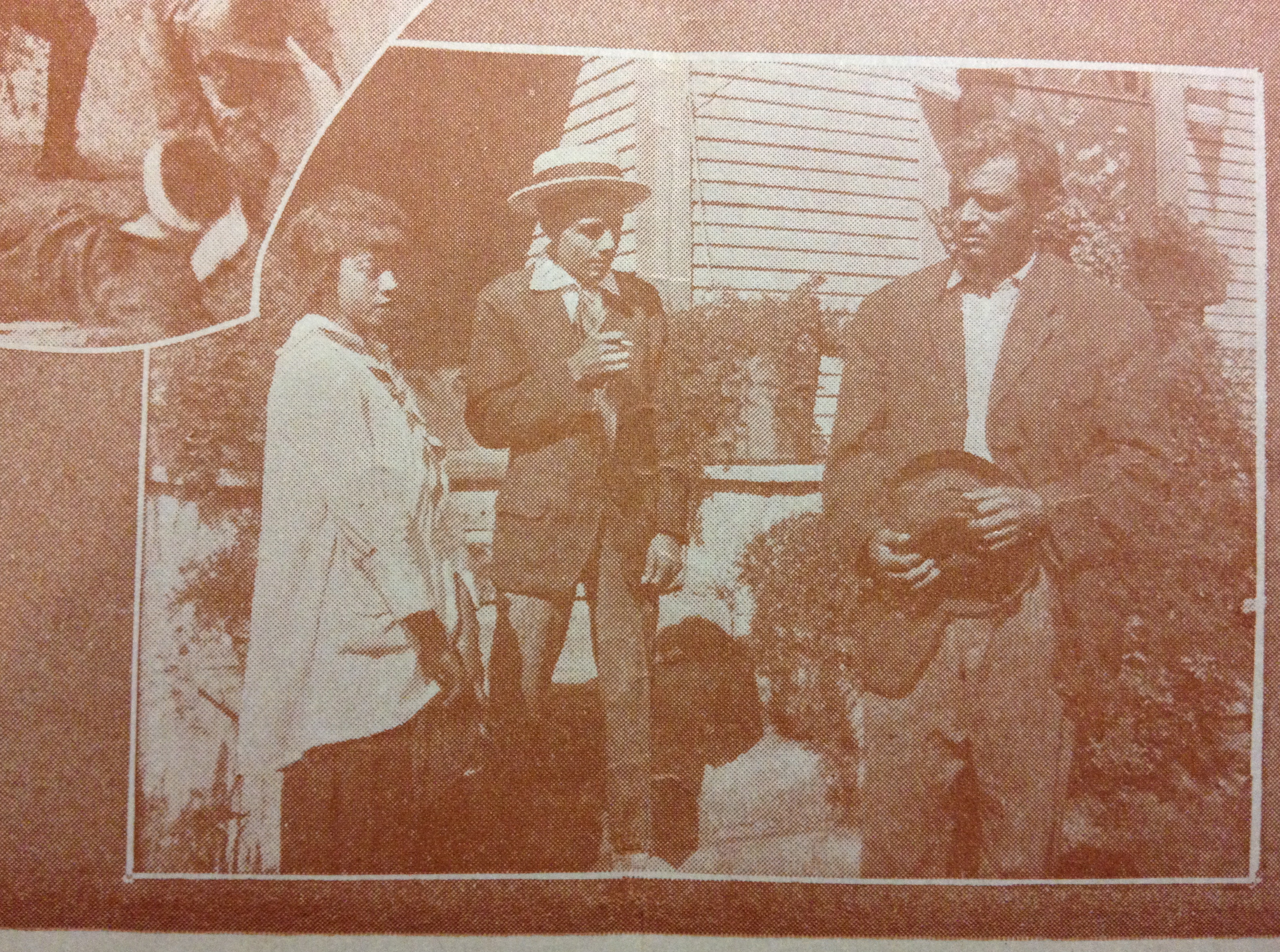 She discovered a handbill for the missing 1916 movie "Trooper of Troop K" depicting those same actors — Beulah Hall and Jimmy Smith — wearing the same clothes and standing before the same house. This is when Caddoo realized what she had.
And nobody knows why this footage is spliced into a different film.
"Film from that era is on this nitrate stock; it's really flammable, it can get destroyed really easily; it gets scratched up," Cadoo said. "So maybe somebody had just kept a tiny little clip of that film and then wanted to add it into this other one. Maybe they added it on purpose. It's still really a mystery."
Recently, her findings were vetted and accepted into the Library of Congress.
According to Indiana University, The Library of Congress recently published a blog about the discovery, co-written by Caddoo and her colleague Allyson Nadia Field at the University of Chicago. The footage is now available in the Library of Congress' National Screening Room collection.
The Lincoln Film Company, which produced both films, also has Indiana connections. Noble Johnson's family was from Indiana; they're buried in Indianapolis. Willis O' Tyler was the company attorney and graduated from IU.
The Lincoln Motion Picture company exhibited its films Indianapolis and Gary.
Caddoo says this film is important in part, because it came out one year after the infamous "The Birth of a Nation" by D.W. Griffith.
"I think that this film is evidence that there was this really thriving black film culture that was going on at the same time," she said. "That has been forgotten, because so many of these films have been lost, like traditional Archives have not until recently, invested in preserving that kind of material."
She said the other important thing is that this film, at least this scene, is viewable in the modern day.
"It's beautifully shot. You can see the actors; they're terrific actors, there's a little humor in it, and they have that special effect," Caddoo said, referring to Johnson's appearance.
"I think it's just a really cool glimpse into why race films are so popular to black audiences. And it kind of illustrates how innovative and, and just really talented these early Black Filmmakers were."