The Southern Indiana Labor Federation hosted a forum Monday for Monroe County Democrats seeking election.  
The most contested race is for Monroe County sheriff. The five candidates answered questions about permitless handgun carry, sheriff's department staff and training, and jail overcrowding. All five candidates called for a new jail facility.
READ MORE: Who is on the 2022 Monroe County primary ballots?
Steve Hale
Steve Hale is a sergeant in the sheriff's department. He moved to Bloomington in 1996 to attend Indiana University and began working for the department in 2000. He spent seven years as a correctional officer and has patrolled county roads since 2007.
"The amount of time I spent working in the jail gives me a unique ability to understand the liabilities and the culture with both the staff and inmates," he said.
In terms of staffing levels, he said the department gets the job done, but still called for additional deputies.
"Adequate is not what you want with your departments," Hale said." "You want your departments to be excellent."
In terms of Indiana's new law allowing individuals to carry handguns without a permit, Hale said he will work with the current administration to implement a policy since the law takes effect July 1.
"That's going to give Sheriff (Brad) Swain six months to try and get something figured out," he said." I would love to be able to be a part of the team to address this issue."
Hale previosuly ran as the Republican candidate for sheriff in 2014 and lost to Swain, who is term limited from seeking re-election. 
Ruben D. Marte
Ruben D. Marte is a captain with the Indiana State Police. He was raised in New York City and attended New York City University. After college he became a correctional officer at Rikers Island for two years, and ultimately joined the New York City Police Department academy.
Marte was recruited to the Indiana State Police and previously served as commander for detectives in southern Indiana. He has worked for ISP for 31 years.
He said he is focused on increasing officer training and public safety, as well as creating a robust outreach program. He brings eight years of experience training various agencies around the state.
"The time to actually talk to the community is not when an actual crisis is taking place," he said. "It is when things are at a certain level that cool heads prevail and we have an honest conversation." 
Additionally, Marte said he is concerned with the changes HEA 1296 brings to the 13 checkpoints the state used to have in place to obtain a handgun permit.
"We have a tremendous issue with the mentally ill," he said. "There's no way that now we could know if a person who has a weapon is mentally ill or not, and that's serious for us."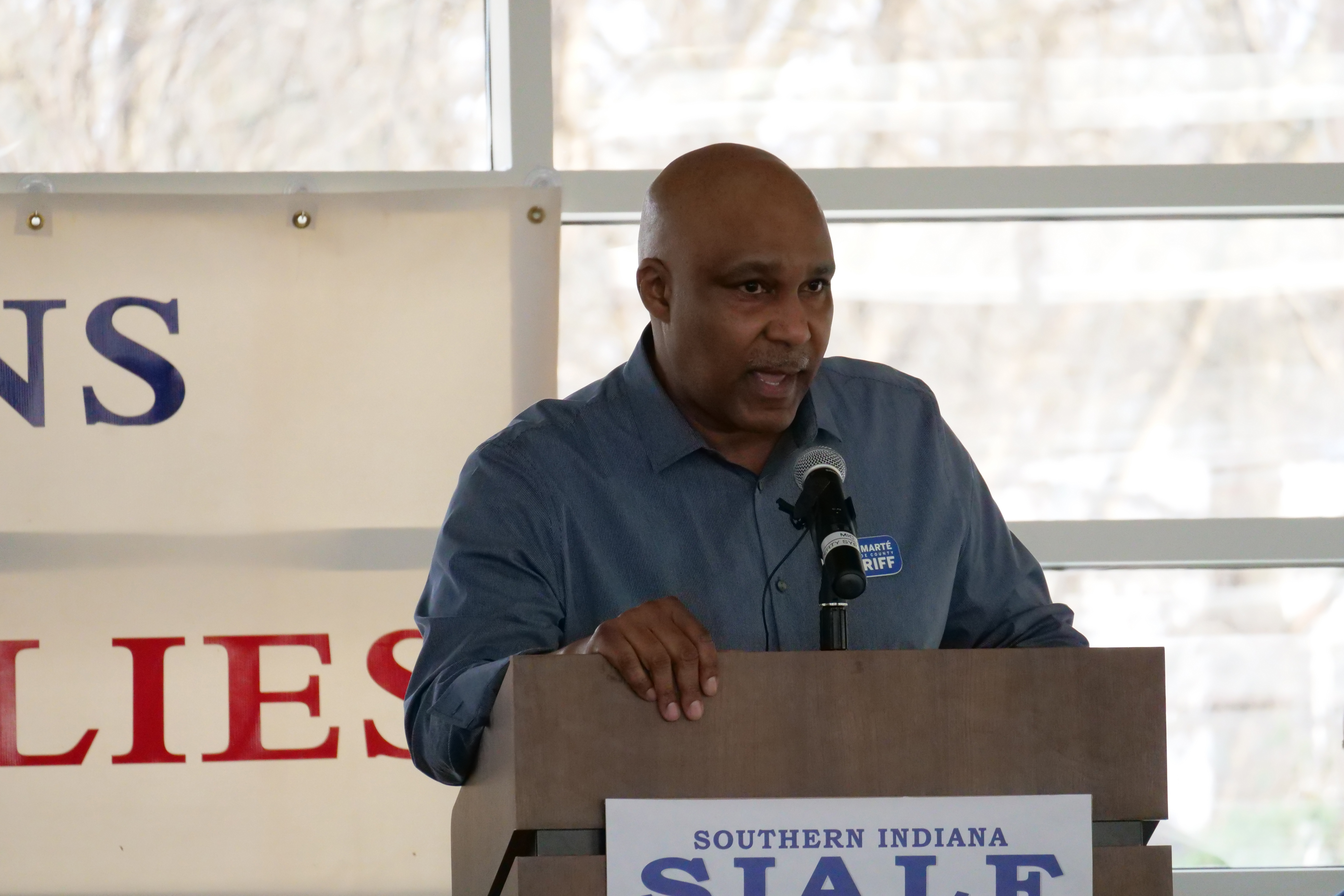 Angie Purdie
Angie Purdie is a lifelong Monroe County resident and has been the county commissioners' administrator since 2013. In this role, she manages budgets and personnel for county offices and oversees county buildings.
"I know how to work within our system" she said. "Work within our judicial, legislative, executive and fiscal bodies in Monroe County government." 
She said she is running because the current jail conditions are not adequate for all employees and inmates. Additionally, she said the county needs additional jail alternatives.
"Law enforcement is not the answer to all of our problems," she said. "We have to establish alternative options and responses to mental health and substance abuse issues."
She said she does not know if the sheriff's department is adequately staffed, but called for additional crisis intervention, interpersonal communication, and diversity, equity, and inclusion trainings for department employees.
In relation to Indiana's changing handgun permit laws, Purdie referenced the Indiana State Police superintendent's response to the law and said she did not have an answer to the issue.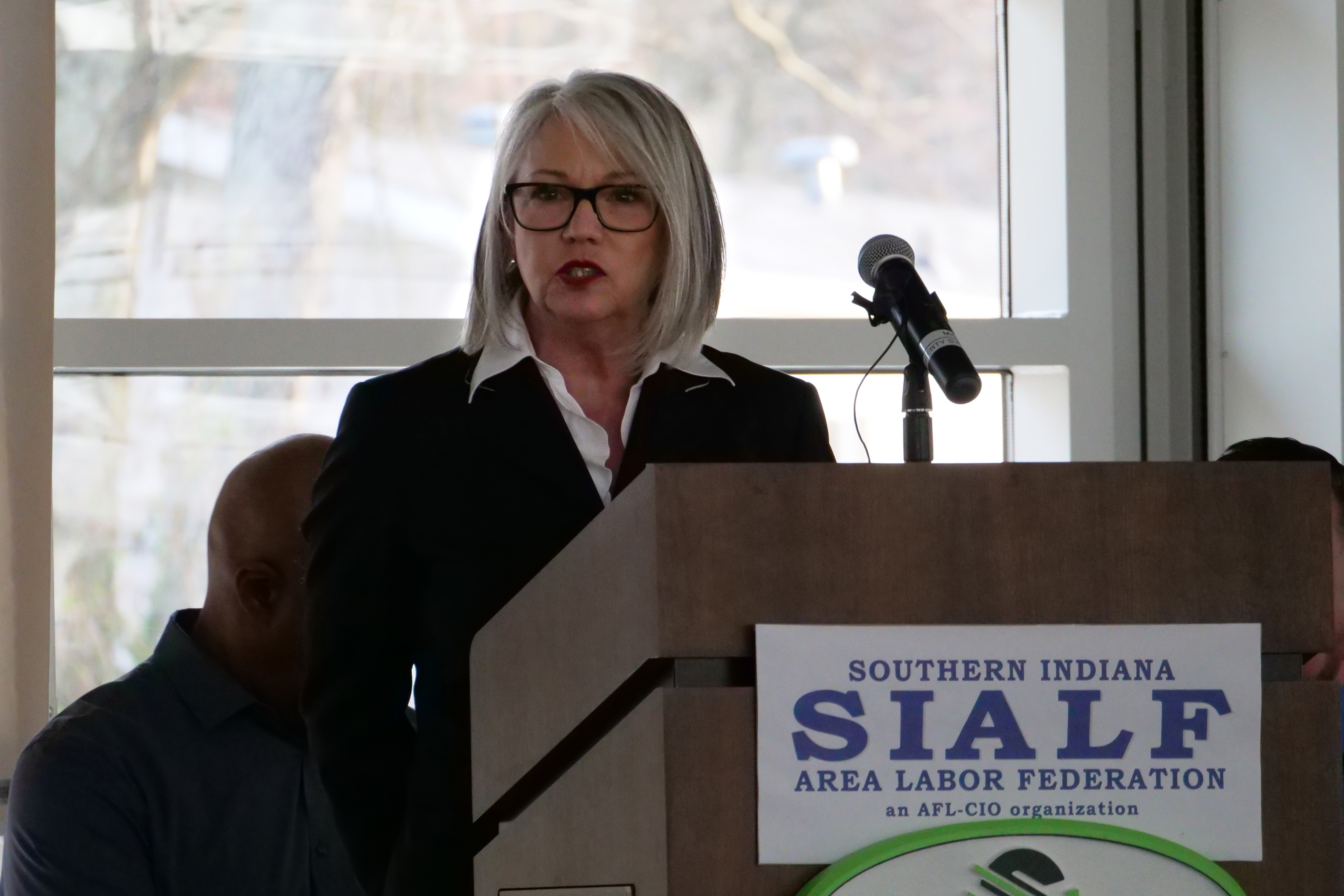 Joani Stalcup 
Joani Stalcup is the current Monroe County coroner. She was first elected in 2016 and re-elected in 2020. She said she is running because it is time to address mental health and substance abuse issues.
"I have watched as the number of drug overdose deaths have climbed," Stalcup said. 
She said overdose deaths doubled in Monroe County from 2019 to 2020. In 2021, 54 people died from overdoses.
In terms of sheriff department staffing and training, Stalcup said there is always room for improvement. She called for enhanced trainings to ensure officers better understand mental health and technology trends. She also said she aims to increase staff diversity.
"No sheriff's department is ever fully and adequately trained due to fluidity and ever-changing natures of law enforcement," she said.
In terms of handgun permits in Indiana, Stalcup said all sheriff's departments around the state should still encourage citizens to obtain a license. This way people can carry a gun in states that also recognize Indiana permits. 
Troy Thomas
Troy Thomas is a lifelong Monroe County resident and captain of the detective and road divisions in the sheriff's department. He was first introduced to the department at 14-years-old through the Sheriff's Explorer Program in 1994, and eventually worked at the jail after graduating high school. He became the first Black deputy to work in the road division at 20-years-old.
"I have a chance to make history not once, but twice," he said about the potential of becoming the county's first Black sheriff. 
Thomas said some of the reasons he is running are to reduce the amount of repeat offenders and change public perception of officers. 
"Allow people to come up to use again and speak to us as human beings and enjoy the fact that they are speaking to policeman," he said. "We have lost that."
Thomas said the department is understaffed with only has 11 people working each shift and four officers patrolling the county. He also said the staff is not diverse enough. 
"Our residents have the right to be able to be patrolled by people that look like them," he said.
He said he will also work to educate officers and members of the public on Indiana's new handgun permit law.
READ MORE: Full election coverage, live results and updates
Important dates before Indiana's primary elections: 
April 4 is the last day to register to vote or update voter registration.
April 5 is the first day of early, in-person voting. 
The Democrat who wins in the May 3 primary election will face off against Republican Nathan Williamson in Indiana's general election Nov. 8. Williamson is the only Republican running for sheriff.