For years, animal agriculture has been a driver of economic growth across Indiana. But an unforeseen consequence of that growth could be damaging the environment.
Most agriculture-related greenhouse gases come from large animals such as cattle and lamb. The animals graze on a large amount of grass and here in Indiana and throughout the Midwest, their diets are often supplemented with large quantities of grains.
In addition to the resources they consume, cattle also release methane gas into the air through burping and flatulence. Burps are by far the larger source of greenhouse gases.
Purdue University Climate Research Center Director Jeff Dukes says Americans are consuming significantly more meat today than they did even 50 years ago — and that's putting a strain on the global supply chain.
"Even if you went back 50 years, people in the U.S. ate much less meat than they do today," Dukes says. "If we get down to those levels where people are eating meat at the rate we did 50 years ago that's getting a lot closer to sustainability."
But, he's not trying to keep people from eating meat entirely; Dukes admits his son is a fan of cheeseburgers.
"Cutting down a little bit is pretty easy just thinking every once in a while, about not having a cheeseburger or not having a steak," Dukes says. "Switching to a more environmentally friendly option — that's a pretty easy thing to do once."
According to Dukes, estimates show about 18 percent of current greenhouse gases come from large animals like cattle, but a UN climate change report published earlier this year says raising meat requires more land and water resources than plants. 
For Farmers And Ranchers, Climate Change Argument Is Nuanced
Jamie Hodgen, however, believes that statistic doesn't tell the full story. 
She grew up around cows, and comes from a family of farmers and ranchers in New Mexico. She's currently raising her own on a farm in Roachdale and studies them professionally as a food scientist.
"We're each trying to utilize the resources that we have in our area that we have to raise our cattle, because in a lot of cases conservation means survival for the next year," she says.  "Having enough grass the make sure our cows can eat over the winter and other things we do to make sure that the land is available for my kids to come back and farm."
Hodgen says farmers and the cattle they raise help support local economies and keep the doors to schools open in rural parts of the country. She finds it hard to believe that plant-based alternatives will impact her operation.
"Why mess with a good thing?" Hodgen asks. She understands why some people don't want to eat meat, but still believes the protein one receives is hard to replicate with a plant-based diet.
Shelbyville, Indiana: An Unlikely Place For The Nation's Largest Plant-Based Protein Facility?
However, the plant-based market is growing — and fast. That's perhaps best illustrated in Shelby County. 
Chicago-based Greenleaf foods recently announced they'd be building the largest plant-based protein production facility in North America there. The industry as a whole has seen double-digit growth.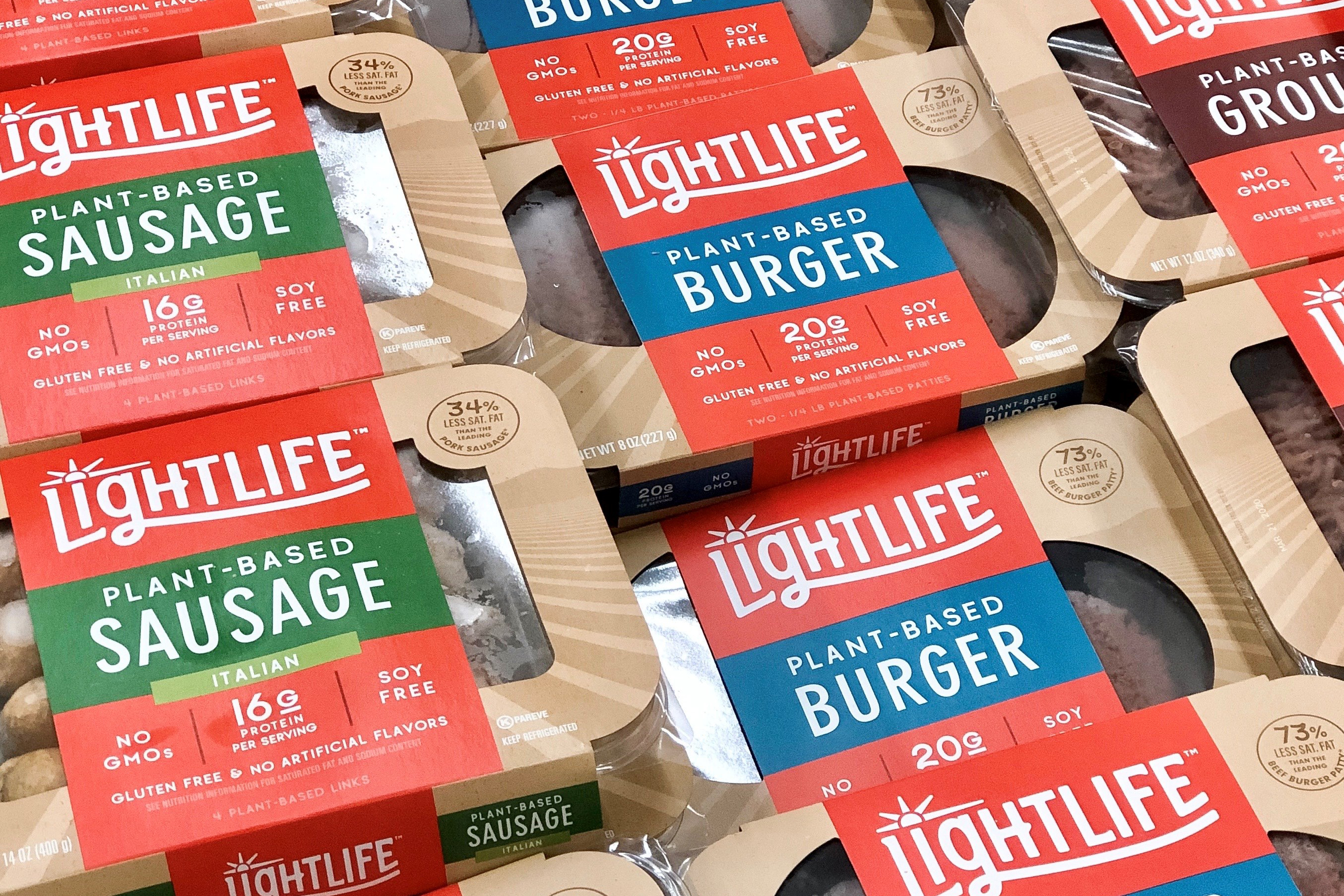 "We started the process about a year and a half ago as we recognize where this category was going and our commitment to invest in adding more capacity into the system," Dan Curtin, Greenleaf's President and CEO says. They "knew we needed to build another facility and we did extensive studies to figure out where was the best place."
Curtin says the facility's central location will contribute to the company's conservation pledge and help with the creation of new products. In addition to a significant shift in consumer tastes, he believes the taste of the products themselves keep people coming back.
"We actually did some product tastings down in Shelbyville," he says. "We had a barbecue down there and a number of people from the town come and they were incredibly impressed with the quality of the products, the type of product it was and it was a bit of surprise yourself."
Curtin says the meatless industry is quite fluid, but believes the market is here to stay.
"This category is changing so rapidly, there's no doubt that this is a trend, it's not a fad," he says. "People are looking for options, they're looking for alternatives, our plant-based food products give them those options."
And most admit the taste has gotten better. Among them is Shelbyville's Director of Economic Development Brian Asher.
"Really it tastes like a normal burger," says Asher, who described himself as a meat-eater. "I hate to say it but the taste of it is also a big change. Your soybean burgers back in the day compared to the taste of them now is a lot different."
Asher says the Greenleaf meatless burgers went faster than traditional burgers and hot dogs at the Shelbyville event.
Despite all of the growth, Hodgen says farmers and ranchers should do a better job communicating what she calls a net-positive impact on the environment.
"When you put a pound of corn into a ruminant animal that has a very cool digestive system that can make a higher quality protein you actually end up with a lower calorie, higher quality product with all of your digestible amino acids that you're not going to find if you're looking at plant-based as a nutritional substitute for beef," she says.
Dukes says many of the analyses he's read don't necessarily agree, and instead state that plant-based alternatives have a lower impact on the environment than beef products.
But most people agree that the plant-based industry is a substitute — rather than a threat to the meat industry. Greenleaf is an independent subsidiary of Maple Leaf Foods, a packaged meat company.
Our community is changing, from closing businesses to traffic and road construction to affordable housing, and we see the impact of these changes all around us.
We want to know: What questions do you have about how the Bloomington of tomorrow will impact your work, your personal life, your community and your future?
Here's how it works: You submit a question you'd like us to explore about how Bloomington has changed over the past few decades, what you want to see for the city in the future and how ties with IU continue to shape the community.  
So: What do you wonder about how Bloomington is changing and how it impacts your life?
Interested in an ongoing conversation how Bloomington is changing? Join our Facebook group!
Correction: A previous version of this story incorrectly named Sare Rd. as the location under construction rather than Moores Pike.