MCCSC is changing school start times for the 2022-2023 academic year to accommodate for a lack of bus drivers. It's also raising driver base pay $2 per hour by 2023.
The MCCSC Board of School Trustees unanimously approved new schedules Tuesday:
High School- 7:45 a.m.-2:40 p.m. (pushed up 15 minutes)
Middle School- 8:10 a.m.-3:05 p.m. (pushed back 10 minutes)
Elementary (group one)- 9 a.m.-3:45 p.m. (no change)

Arlington, Binford, Childs, Highland Park, Fairview, Rogers

Elementary (group two)- 9:30 a.m.-4:15 p.m. (pushed back 30 minutes)

Clear Creek, Grandview, Lakeview, Marlin, Summit, Templeton, Unionville, University
"The more start times we add to the schedule, the less drivers that are needed and the more kind of packaged your routes can be," director of information technology Adam Terwilliger said. 
The district currently has about 80 drivers but needs 140 to be fully staffed. This shortage results in drivers running more routes than the current schedule allows.
READ MORE: MCCSC bus drivers: bus system 'in flames,' work environment is toxic
Susan Scales drove a bus for 10 years, but resigned Friday morning. She spoke at the meeting about the relationship drivers form with families and how she watched students grow from kindergarten through high school. She said her goal was to be the 85-year-old driver who had to be told to retire.
"I didn't make that goal, I am heartbroken," she said. "The core of our transportation department has to be fixed." 
According to monthly personnel reports, MCCSC has lost about 26 drivers since May 2021 and only hired four new drivers. Seven additional drivers transitioned to 'on call' status. 
However, drivers will now receive a $1 base pay bump in August 2022 and another $1 bump in January 2023. With additional raises factored into the newest union contract, drivers will make between $21.59 and $27.05 per hour.
But Terwilliger said the district needs to address more than pay. He compared the bus system to a dead plant in a corner. 
"Throwing water on it isn't going to help it grow any faster," he said. "It's got to get back to the light too."
READ MORE: MCCSC To Update School Bus Tracking
Terwilliger said 32 different buses were late at some point in March. Ten of those buses were late more than seven times, and each bus was late an average of 4-7 minutes each day. This means students on these buses would miss about 30 minutes of class each week.
MCCSC contracted School Bus Logistic in October 2021 to review its transportation system, and the company proposed 11 solutions. Superintendent Jeff Hauswald said the district knew it needed to move start times but used a survey to decide which direction it would adjust.
"The question was not, 'do you want to move times?'" Hauswald said. "It was trying to guide us."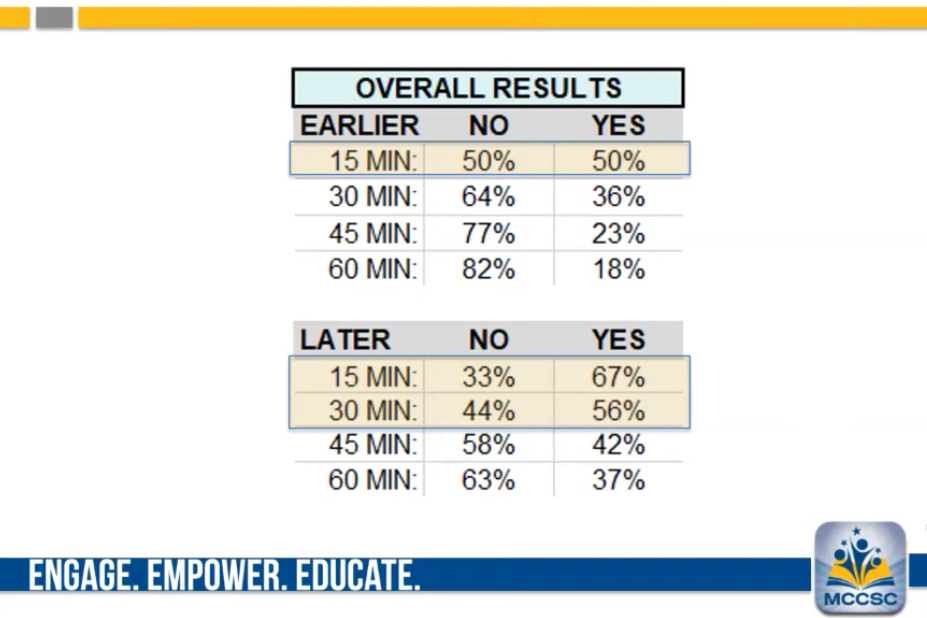 All seven board members supported the new schedules.
"We have support from the drivers with ongoing conversation," board member April Hennessey said.  "We have support from the union with ongoing conversation. I hope we will have support of the community with ongoing conversation as well."
In an email to WFIU, teacher's union president Paul Farmer said the union neither supports nor opposes the proposed time changes, but is having discussions with administration. 
"We have many concerns and since this is not a contractual issue, we are required by law to use the discussion process," he said. "We do support the discussion process and we are having those meetings with administration to voice our concerns."
To alleviate pressure the change may place on disproportionately affected families, Hauswald said the administration is planning to use ESSER funds to offer extended day programs and services free of charge to families on free and reduced lunch. Additionally, MCCSC will double the program's current capacity of about 250 students.
"We've heard a lot of feedback saying it's either not accessible or it's too expensive," Hauswald said.
The program includes homework assistance and educational activities before and after school at all 14 elementary schools. The morning session begins at 7 a.m. and costs $7.75 per day. The afternoon session last through 5 p.m. and costs $8.75 per day.
Despite eight elementary school times changing, the start and end times for day program services will not change. The board must formally approve the expansion at a future meeting.
This story has been updated to include clarification from Paul Farmer about the teacher's union.