A standing room only crowd at the Monroe County Community School Corporation board meeting Tuesday night got what it came for.
A policy that would have put MCCSC's four high schools on a common schedule next year was put on hold until at least the 2025-26 school year.
And any decisions on school schedule changes in the future will no longer be left up to superintendent Jeff Hauswald. The board grabbed control of that responsibility.
"I sincerely apologize for a process that was overly messy," Hauswald said.
It was all the result of a motion by board member April Hennessey that wasn't even on the schedule.
But after listening to more than 40 students, parents and community members rail against the schedule change announced by email last Friday, then taking care of some scheduled matters, board president Brandon Shurr announced the motion.
Then Hennessey, joining the meeting by Zoom, took over. She read off a motion that included five main points:
Continue with the focus groups as planned
Share data with educators and the public
Create a citizens' advisory committee
Consult with the teachers' association
and delay implementation until at least 2025-26
She said it was time to take a step back and re-evaluate the way the change came about.
"I'd ask that we do so with a process that is above board, that builds trust rather than diminishes it, and does so in a way that is data informed, measurable and collaborative with the stakeholders who have entrusted us to lead," Hennessey said.
A lengthy and sometimes heated discussion between the board and Hauswald followed, much of it centering on the question of equity – the driving force behind the schedule change.
Board member Ashley Pirani asked Hauswald what the urgency was in making the change next fall.
Hauswald replied, "The urgency is we have a significant number of students …" before Pirani cut him off, wanting to know exact numbers and saying all she has gotten was the runaround to that question.
Hauswald said that 100 students had been forced to transfer over the past five years.
"When we have that negative impact, that's urgency," he said.
Hauswald was also grilled about the transparency.
"I don't think the process concerns override the results of equity," he said.
Board members went through each point of Hennessey's motion as the crowd dwindled.
At one point, board member Erin Coopersmith tried to table a vote on the motion, but it was not seconded. After some confusion, the board was instructed it had to vote and did so, passing the motion, 4-3.
Hennessey, Pirani, Coopersmith and Erin Wyatt voted for the motion. Cathy Fuentes-Rohwer, Shurr and Ross Grimes voted against.
However, passing the motion may be subject to an unfair labor practice suit, Monroe County Education Association president Paul Farmer said.
He said while not supporting or opposing the motion, Farmer warned that because there had been no prior discussion to the final bullet point – delaying implementation – the board violated an agreement with the state teachers' association.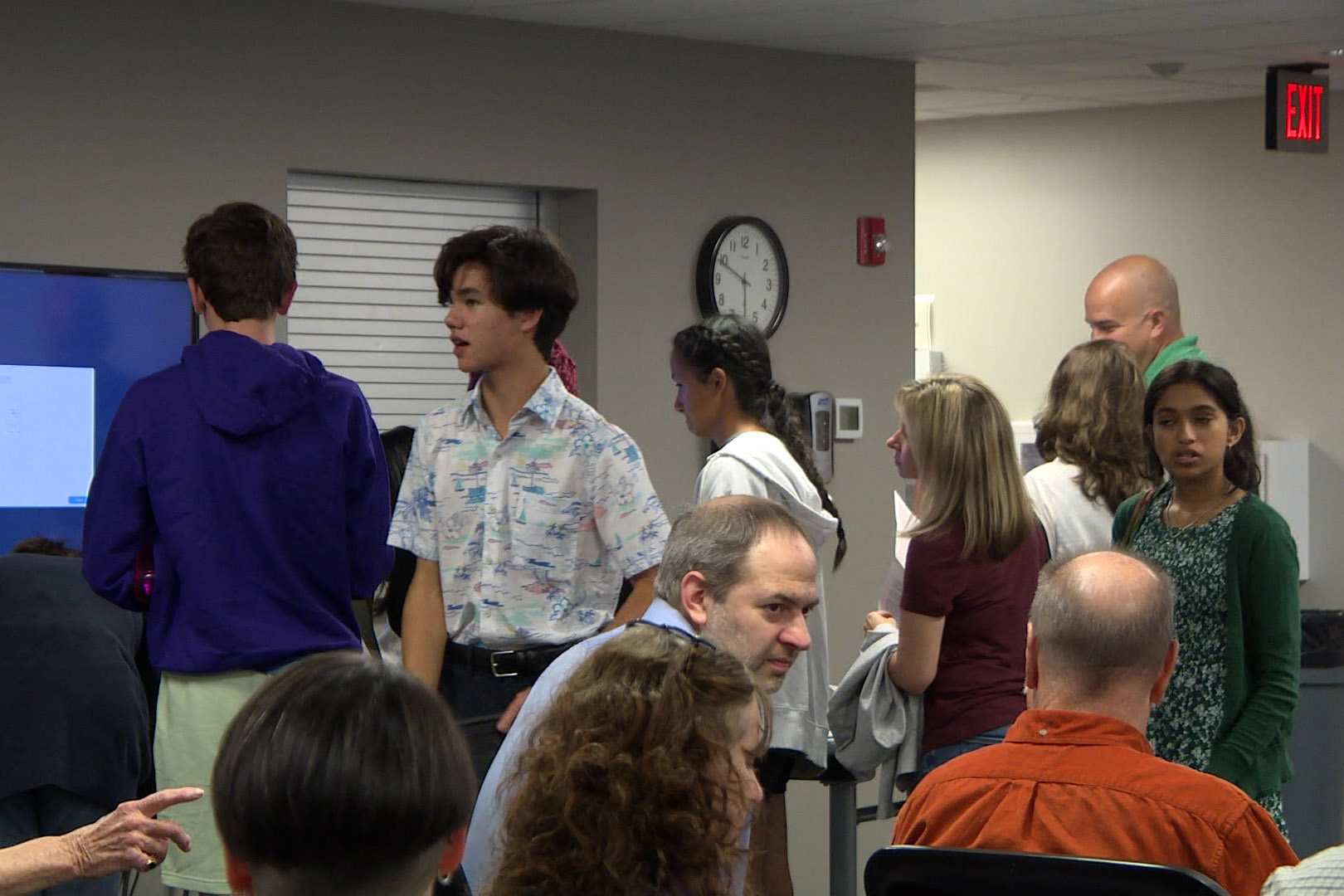 The rare look into an open discussion between the board and Hauswald came after nearly 2½ hours of impassioned pleas by speaker after speaker, imploring the board to stop the schedule change.
Mitchell McCall, a parent of a Bloomington North student, got things off to a raucous start, chiding the administration for releasing the schedule change announcement last Friday afternoon by email, calling it a "Friday news dump."
"The superintendent has chosen not to listen to the heart of these high schools, which are the teachers and students, and therefore must be removed," he said.
Bloomington South student Noah Torres said both his parents died by suicide and that having a flexible schedule allowed him to adjust to life without them. He also praised his teachers, who many say have been left out of the process.
"Without them, I can't see myself turning out any differently than my parents," Torres said.
Many spoke in defense of teachers, who have been told not to address the issue publicly. Several anonymous letters from teachers were read by speakers. They also said that having to re-arrange lesson plans for a new schedule by the fall was an undue burden.
Emily Reynolds, the mother of a Bloomington North student said she was so upset by the scheduling fiasco, that she was "torn about what to do with the referendum. I may vote no."
Some spoke about the impact on the mental health of students such change would cause, especially so soon after the upheaval COVID caused on the education system.
Several of the student speakers also spoke out during a rally Monday outside the Monroe County Courthouse.