Supply chain issues are affecting industries ranging from tech, retail, and food. With production down and major ports backed up – large retailers have come up with solutions. 
And small Bloomington businesses have had to be more creative and find strategies to make due.
At Long's Landing furniture on State Road 46, co-owner Brad Radgsdale started to notice supply shortages last year.
"A lot of it started because a lot of manufacturing was shut down because of the occurrences of COVID cases within the factories," he said.
That, paired with increased demand while people were updating their home offices, put his business in a tight spot as manufacturers struggled to fill orders– sometimes taking three to four months.
He marked last July as the time he started to notice orders falling behind schedule, and it was around that time his business came up with the strategy to order furniture in stages.
"By ordering in stages we had stuff coming in every three to four weeks of certain items."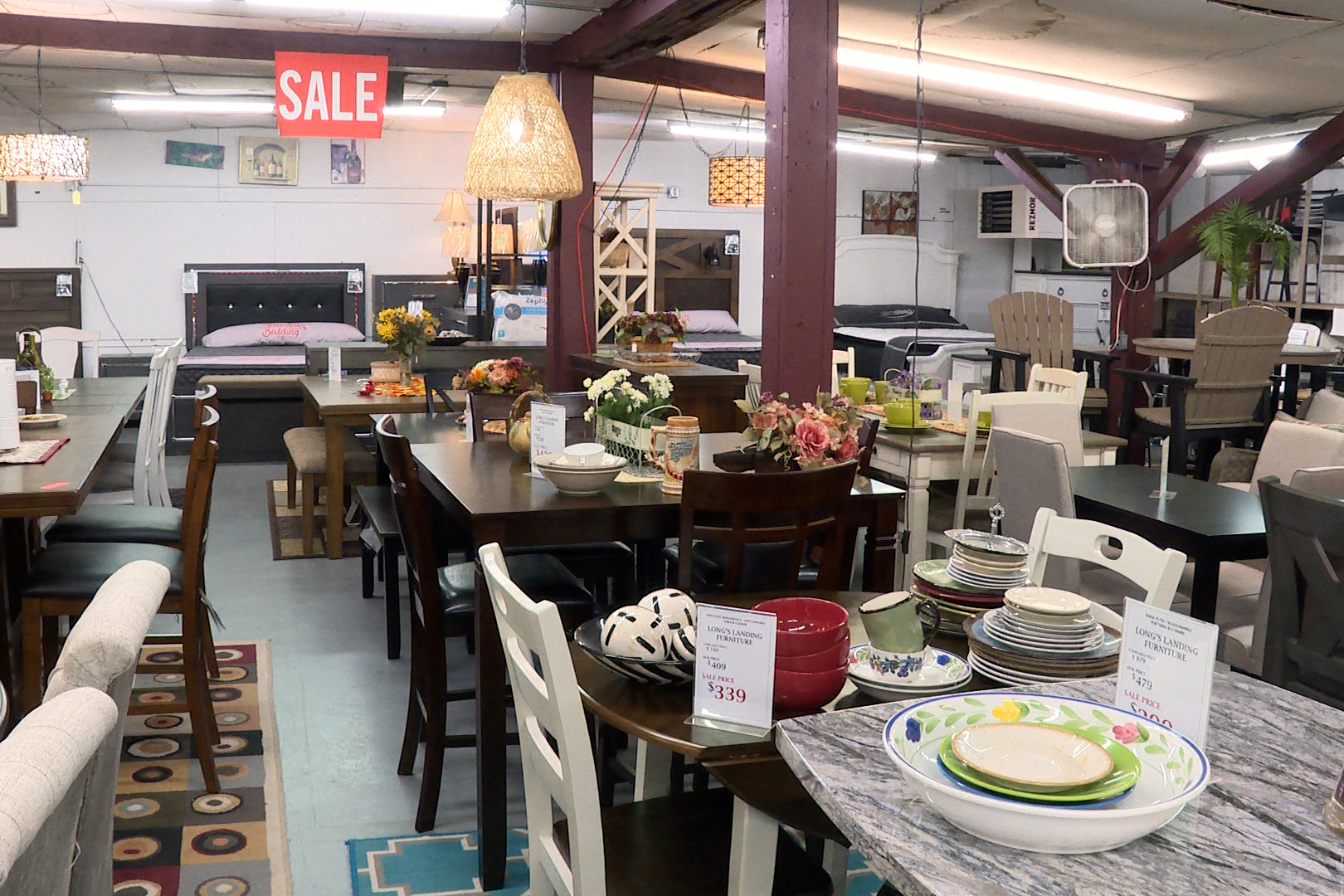 He said his store is keeping double its normal inventory right now, with shipping containers full of extra furniture.
"We have to carry that because consumers right now do not want to purchase anything right now unless it's in stock," Radgsdale said.
Across town at Cardinal Spirits Distillery, co-founder Jeff Wuslich said they've been experiencing a different set of issues, particularly with the glass bottles they put their spirits in – which come from China.
"Some real trouble getting glass from overseas. There's not a lot of US glass manufacturers left, and those that do make glass in the United States are really backed up." 
Wuslich said they were waiting for months on a shipping container of Cardinal's signature glass bottles to arrive. 
"And it was delayed and delayed and delayed, and then eventually made its way through the ports and then eventually in a transfer from train to a truck, the shipping container was dropped. So, we lost all those glass bottles." 
That's forced Cardinal Spirits to find other bottles.
"We have found a US manufacturer that is going to work on a bottle for us but we can't get on their schedule until late 2022." 
He said while the business is making due, there's not a lot of room for error right now, and they don't have the same buying power that larger distilleries do.
"There's just a lot of chaos in the marketplace and in the supply chain right now and we're focusing very carefully on our internal operations and making sure that we're trying to be as perfect as possible."
Cardinal Spirits has seen increased demand during the pandemic, which Wuslich said he hopes will continue, with the uncertainties of inflation at their door.
"The price in raw materials, labor, various things going up," he said. "While we've been able to absorb most of those costs. I think costs will be going up and then I wonder will people be spending less?" 
Anath Iyer is an expert on supply chain and operations management at Purdue University. He says both Long's Landing and Cardinal Spirits solutions make sense.
"If you are operating on much smaller margins, think ten to 20 percent, there isn't much room. So usually the way to deal with this is order in advance. The second is change the mode of transportation, that is ship by air instead of ship by sea. The third is find a domestic source." 
Iyer said the issue with making some of these adaptations is added cost. He added that once initial blockages are freed up, the issues businesses are facing should become more manageable.
Iyer said that long term he hopes these issues encourage retailers to start looking at sourcing from local and domestic manufacturers – which will create jobs and economic growth.
Both Wuslich and Radgsdale said long-term, operating under current circumstances isn't sustainable but for now they're making due.