East Kirkwood Avenue in downtown Bloomington partially closes during the spring and fall. Some of our listeners still have questions about that closure. City Limits reporter Sarah Vaughan spoke with Alex Crowley, economic and sustainable development director for the City of Bloomington, to find the answers.
Is the purpose of the closure to make Kirkwood more pedestrian friendly?
The program originated during the pandemic, Crowley said, when many people weren't comfortable in close, indoor spaces. It was meant to help struggling businesses – both restaurants and retail – to maximize their capacity by extending their space outdoors. 
Crowley said the program's secondary purpose is what he calls an activation of Kirkwood. 
"We did find that people really liked the activation and being able to sit outside and having, you know, outdoor dinner," he said. "And so, even as the pressure came down on capacity, we saw that secondary benefit continued."
Why do some businesses take up more space than others?
Crowley said the space allocation corresponds to the size of storefront.
The city introduced a fee schedule this year, and the more street space a business takes, the more it pays.
"So inside capacity of 20 people or less, there's a $500 fee. For a business that has a capacity of 20 to 100 people, it's $1,250," he said. "And then for a business with a capacity above 100 people -- larger businesses-- that's $3,500. Separately, you have parklets and the cost for businesses is $1,250 per space for the 2022 season." 
The city did not initially charge fees in the first two years of the program.
"There was a real cost to the city, to the taxpayer," Crowley said. "Those costs involve everything from lost revenue on parking, to the actual implementation of the parklets themselves and the cases and the implementation of the bollards and the closures," he said. "So, there's a hard cost and a revenue loss to the public." 
Crowley added, "If a business feels like it's not worth the investment, they're not going to pay for it, they're not going to do it. What we've seen, though, is that everybody that had it prior, almost everybody is continuing into 2022 with the new fee structure in place."
Can any of the businesses located on East Kirkwood extend into the street? What about other vendors, such as food trucks?  
Crowley said the short answer is yes. As for retail stores, "They have not necessarily availed themselves of the closures as much." 
If you're a food truck or a business not already located on East Kirkwood and you want to be either a seasonal or one-off participant, you'll need a permit to operate in the right of way. Crowley says those requests go through his office and the city's Board of Public Works. 
"You can't be within a certain distance from a restaurant if you're a food truck," Crowley added. Noting the number of restaurants within the closed portion of Kirkwood, space for food trucks could be limited.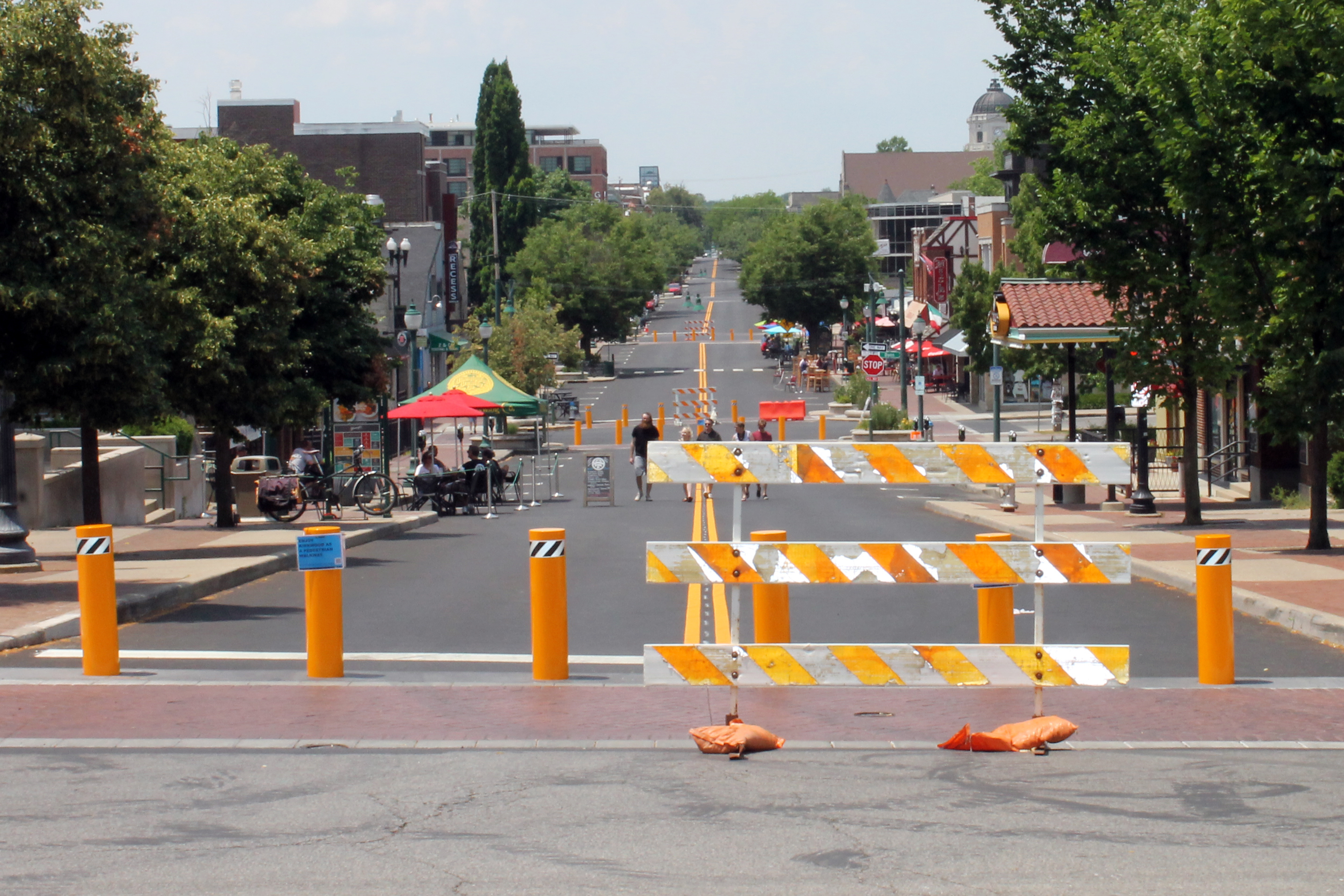 Will the city close East Kirkwood again in 2023? 
Crowley said it's hard to tell whether interest and positive feedback will continue. But, he acknowledged issues, such as city bus routes, would have to be addressed.
"There are some commercial interests that are not excited about this on Kirkwood, so not everybody is on board with it and we have to work through that," he said.
His goal is to figure out what the next few years of the program could look like. 
"And I think that what we have to do is really just set expectations, set a plan in place, and implement that plan for several years," he said. "And what that plan is remains to be seen at this point."