Birds flying into buildings are a primary cause of bird mortality. Research estimates that in North America alone, 100 million bird deaths occur annually from building strikes. The Lights Out organization is aiming to change that. 
Lights Out is a national organization that works with building managers and cities to prevent bird deaths and save energy by promoting bird-safe buildings and reducing nighttime lighting.  
"It's a huge conservation issue but it's also preventable or somewhat preventable - their numbers can be reduced," said Sarah Wanamaker, research associate at IU Bloomington. "But a lot of people don't even know about this issue." 
Wanamaker is the founder of the Lights Out Bloomington chapter and Lights Out IU chapter. She said the issue of bird strike deaths was brought to her attention in 2020 when an IU faculty member emailed her and asked if the biology department could do anything about the dead birds around campus.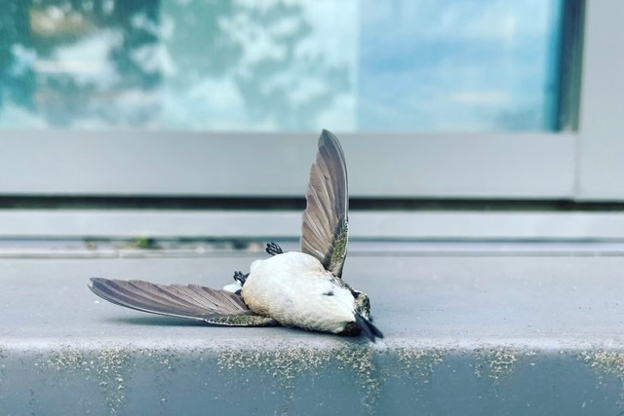 She realized that IUB buildings have a lot of glass, so she started to monitor six buildings. In the first month and a half, she found 56 birds. 
"But that number really only accounts for probably a fraction of birds that are actually dying," Wanamaker said. 
Currently, Wanamaker's team monitors 26 buildings on the campus with a team of three undergraduates and one master's student during spring and fall migrations. To date, the team has found 256 dead birds. 
"You have to take into consideration that it's only 26 buildings on campus out of hundreds, we're only going out twice a week, so we're missing a lot of birds because we're not covering a lot of ground, we have relatively few manhours," Wanamaker said. "But also, despite our efforts, there are still going to be bird carcasses that we don't find." 
Read more: Deadly bird flu returns to Midwest earlier than expected
Eighty-five percent of the birds the team finds are birds with eyes on the side of their head, such as songbirds like warblers and sparrows. This is because they don't have very good depth perception and cannot distinguish minute differences in glass. 
"They see a pane of glass if it's reflecting the external environment they'll mistake it for an actual tree instead of a reflection of a tree," Wanamaker said.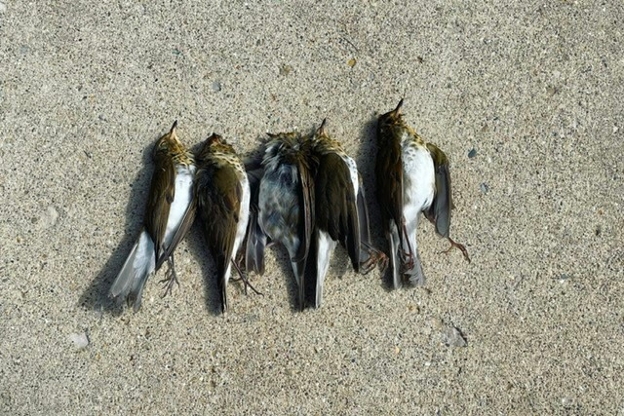 Migratory species also face a number of challenges. They mostly fly at night in uncommon areas and won't know buildings as well as a resident bird might. At night, birds will be attracted to the light spilling from a building, fly to the light, and crash into the window. 
Wanamaker has two goals for the group. The first is to make IUB a bird-friendly campus by figuring out what buildings on campus are the most dangerous for birds so that they can apply solutions. 
"For example, window decals and window films are a good way to make panes of glass more visible to birds," Wanamaker said. 
The second goal is to educate members of the public on what they can do to help bird conservation. 
"Something as simple as closing your blinds or turning off exterior lighting can prevent bird deaths," Wanamaker said. "If one household does that, great, but if many households do it, even better." 
If someone finds a dead bird close to a building on campus, Wanamaker encourages them to send two or three close photos of the bird to strikes@indiana.edu so that the birds can be identified and logged.