The way people work is changing because of the COVID-19 pandemic, and that includes state lawmakers.
Senate and House leadership formed a committee that will look at how the legislature can function, should it not be able to meet at the capitol when the next session convenes in January.
Legislators have been conducting summer study meetings via Zoom. Lawmakers adjourned the last session March 13, just days before Gov. Eric Holcomb issued an executive order for all Hoosiers to stay in place.
When the legislature reconvenes in 2021, it will be after a major election year and at the beginning of the next budget cycle.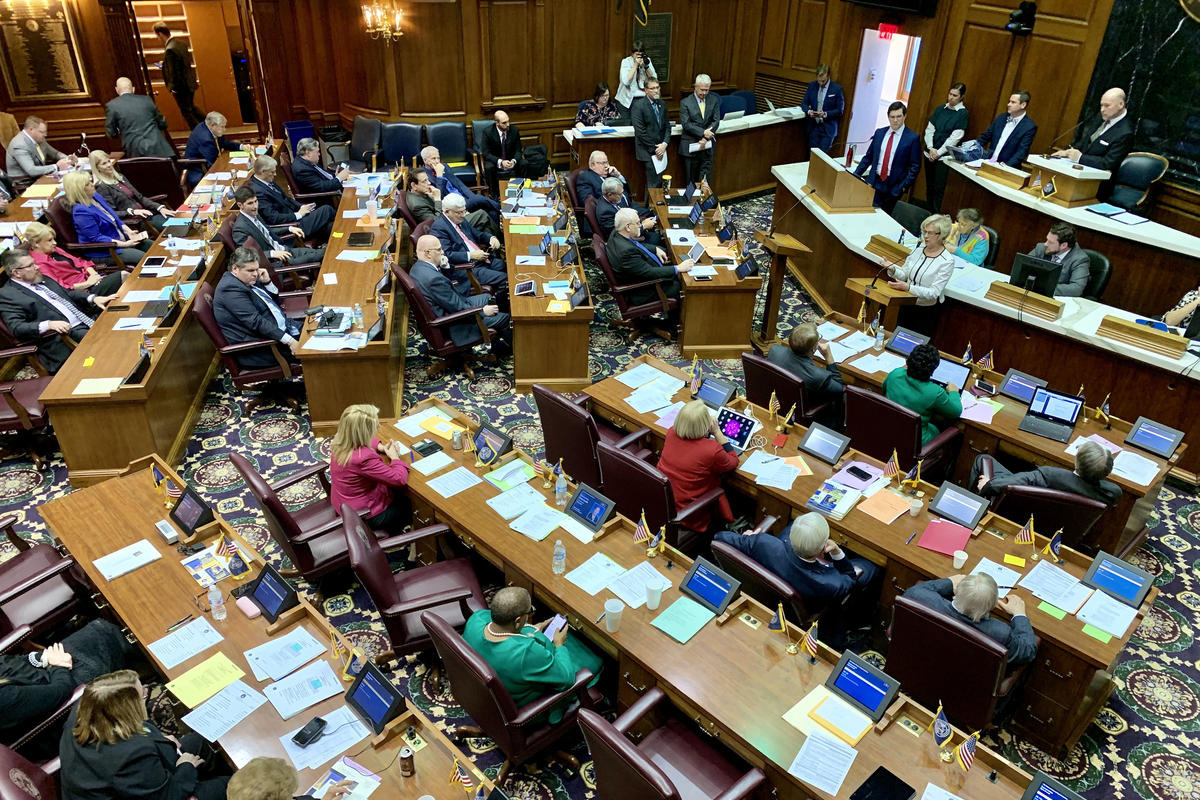 "We were $1 billion, with a 'B,' $1 billion short of our forecasted revenue, for April and before that we were humming along frankly above our revenue forecasts," Senate President Pro Tempore Rodric Bray (R-Martinsville) says.
State Rep. Matt Pierce (D-Bloomington) says he's concerned about how lawmakers and the governor will make do on a promise from last year that included teacher raises in the 2021 budget.
"This is a problem that was created by the General Assembly, when it replaced property tax funding for the schools, with state sales tax funding," Pierce says.
Crafting a budget and cutting spending won't be the only challenge facing lawmakers.
This summer a continuity committee will meet to determine how the legislature and executive branch could operate should a pandemic, natural disaster or terrorist attack hobble state government.
"We better try and find out how we can function, and what laws need to be changed in order to allow us to function under those kind of circumstances," Bray says.
Bray says the immediate challenges of physical distancing during the pandemic will be difficult to deal with during the legislative session, when multiple rooms are being used for committee meetings: "It will be much more difficult, though, to conduct our legislative session, because we have committee hearing after committee hearing, multiple during the day, lots of people come into testify."
Republican Bray and Sen. Jean Breaux (D-Indianapolis) both agree that an arrangement needs to be made to allow lawmakers to vote remotely, or one at a time rather than all at once.
Breaux says old rules that bar lawmakers not being able to vote if they aren't in the chamber should be changed.
"If they were able to tune into the events that were happening in the chamber, they should be allowed to vote," Breaux says.
House Member Pierce says changing the rules to allow voting on Zoom isn't the only issue that must be decided should the legislature hold its entire 2021 session virtually.
"You're also going to have to study the Constitution," Pierce says. "I think there may be some language in the Constitution saying the legislature may have to sit in Indianapolis, so I don't know what it will mean when all of the legislators are actually attending the legislature from home."
Lawmakers are still being paid a salary, which is handed out in full at the beginning of the year, but they are not being paid for travel expenses this summer as long as committee meetings are held via zoom.
Senator Breaux says legislators on summer study committees such as herself must also look at how the 2020 election will be held, if long lines at polling stations create a health hazard.
"No matter which party you are affiliated with it's a critical election, and if people are fearful of going out and casting their ballots in a traditional way, then that may cause the numbers of participants are severely decreased," Breaux says.
Breaux says she's also concerned about how public participation in the legislative process may be affected if lawmakers move all their meetings online.
"I think there is some thought being given to the possibility that this will be more ongoing, and just what does that look like, how do we make this work?
Sen. Breaux says she would like to see lawmakers consider passing a stimulus package to benefit small businesses and families similar to what the federal government passed a couple months ago.
For the latest news and resources about COVID-19, bookmark our Coronavirus In Indiana page here.