This story has been updated.
Legendary Indiana University basketball coach Bob Knight is dead at the age of 83. 
The family shared the news in a statement Wednesday.
"We are grateful for all the thoughts and prayers, and appreciate the continued respect for our privacy as Coach requested a private family gathering, which is being honored.  We will continue to celebrate his life and remember him, today and forever as a beloved Husband, Father, Coach, and Friend," read the statement. 
Knight has been in declining health for a number of years. He was hospitalized briefly in early April with an acute illness, before being released to recuperate at home. 
"As we collectively mourn the passing of Coach Knight, we also celebrate a man who will always be an integral part of Indiana University's rich and vibrant story. 

With unmatched accomplishment, Coach Knight's brilliance ensures he will forever rest among the giants of college basketball." 

- Pamela Whitten, Indiana University President
Knight became the head coach at IU in 1971 and quickly turned the program into one of the nation's best, winning 11 Big Ten titles and three national championships in 29 seasons. The 1976 team remains the last undefeated team to win an NCAA title. 
He coached the U.S. team to gold medals in the 1979 Pan American Games in Puerto Rico and the 1984 Summer Olympics in Los Angeles. Knight was elected to the Basketball Hall of Fame in 1991 and the College Basketball Hall of Fame in 2006.
Knight was known for his fiery demeanor on and off the court.  
"They talk about my temper or something, you know? Well, my temper won a hell of a lot of basketball games," Knight said in a 2019 interview. "I didn't hesitate to chew some kid's ass out, because he was hurting the team. And they all knew that, and I think that's why we had such good team play." 
Led by IU Hall of Famers Quinn Buckner and Scott May, the Hoosiers won a record 36-straight Big Ten games – going undefeated in the 1975 and '76 conference campaigns. The list of players Knight coached at Indiana is a who's who of college stars – Kent Benson, Randy Wittman, Isiah Thomas, Steve Alford, Damon Bailey, and Calbert Cheaney, still the Big Ten's all-time leading scorer. 
Current Indiana head coach Mike Woodson played for Knight in the late 1970s. A former NBA player and coach, Woodson says he wouldn't be where he is today without Bob Knight.
"He took a chance on a kid out of Indianapolis many years ago, to come here and play basketball," Woodson said in 2021. "And it was a journey for Mike Woodson. And coming to Indiana University to play basketball, he taught me how to play the game of basketball from a fundamental standpoint. He taught me how to be a man on and off the floor. And that was huge for me, coming out of the inner cities of Indianapolis."
Coach Robert Montgomery Knight was a towering basketball figure and fighter, second to none. As a National Champion he became synonymous with our state and what Hoosier's are all about: hard work, practice makes perfect, teamwork and a commitment to excellence.

— Governor Eric Holcomb (@GovHolcomb) November 1, 2023
And while Knight won a lot at Indiana, his time was marked with controversies on and off the court. 
While coaching the U.S. team at the Pan American Games in San Juan, Puerto Rico, in 1979, Knight was accused of assaulting a police officer. He was convicted in absentia to a six-month jail sentence, but never served time. 
During a game against Purdue on Feb. 25, 1985, after arguing with officials about a call and receiving a technical foul, Knight picked up his red, plastic chair and hurled it across the court. He was given two more technical fouls and ejected from the game. He was suspended one game by the Big Ten for the incident. 
In a 1988 interview with CBS's Connie Chung, Knight drew national outrage when answering a question about how he handled stress by saying, "I think that if rape is inevitable, relax and enjoy it." 
He went on to say to Chung, "That's just an old term that you're going to use. The plane's down, so you have no control over it. I'm not talking about that, about the act of rape. Don't misinterpret me there. But what I'm talking about is, something happens to you, so you have to handle it - now." 
"This is a terribly sad day for the IU Basketball family, Indiana University, the state of Indiana, and the world of sports as we say goodbye to Coach Knight. One of the things that he said to our 1976 team, which I was fortunate enough to be a part of, was that you may never see another team like this again. Well, I don't know that we will ever see another coach like him again. I think it's important for people to realize that. It was a special opportunity to have been coached by him, and an equally special opportunity to have him as a friend. Because as great a coach as he was, he was an infinitely better friend. He's a big part of who we are, and we were very fortunate to have had him in our lives."

- Quinn Buckner, IU Board of Trustees Chair and former All-American and NCAA Champion
In a statement, then-IU president Thomas Ehrlich said: "Coach Knight was not speaking for the university during the interview with CBS correspondent Connie Chung. I deplore his reference to rape, and his coarse language was in very poor taste." 
Fans and critics got a glimpse inside the IU program thanks to John Feinstein's 1986 book, "A Season on the Brink."  
Knight granted the then-Washington Post reporter almost unfettered access to the program and his private life for the season, but he felt betrayed after the book came out because of the extreme use of profanity and unflattering anecdotes. 
"Feinstein is one of the great (expletives) of history, and I don't make any bones about that," Knight said. "Feinstein wrote a book that was very popular and made a lot of money. But the only reason for that book was my two assistant coaches directed him through the entire book. And one was all said and done, the SOB never paid either one of them anything. And I have never spoken to Feinstein since then." 
Despite the tumult exposed in the book, the Hoosiers went on to win their third national title under Knight – and fifth overall - the following season.
He also made it a point that his players attend class and engendered extreme loyalty from many of his former players. And in his nearly three decades at IU, he never ran afoul of NCAA regulations.
He also endowed chairs in the history and law schools, and raised nearly $5 million for the IU library system.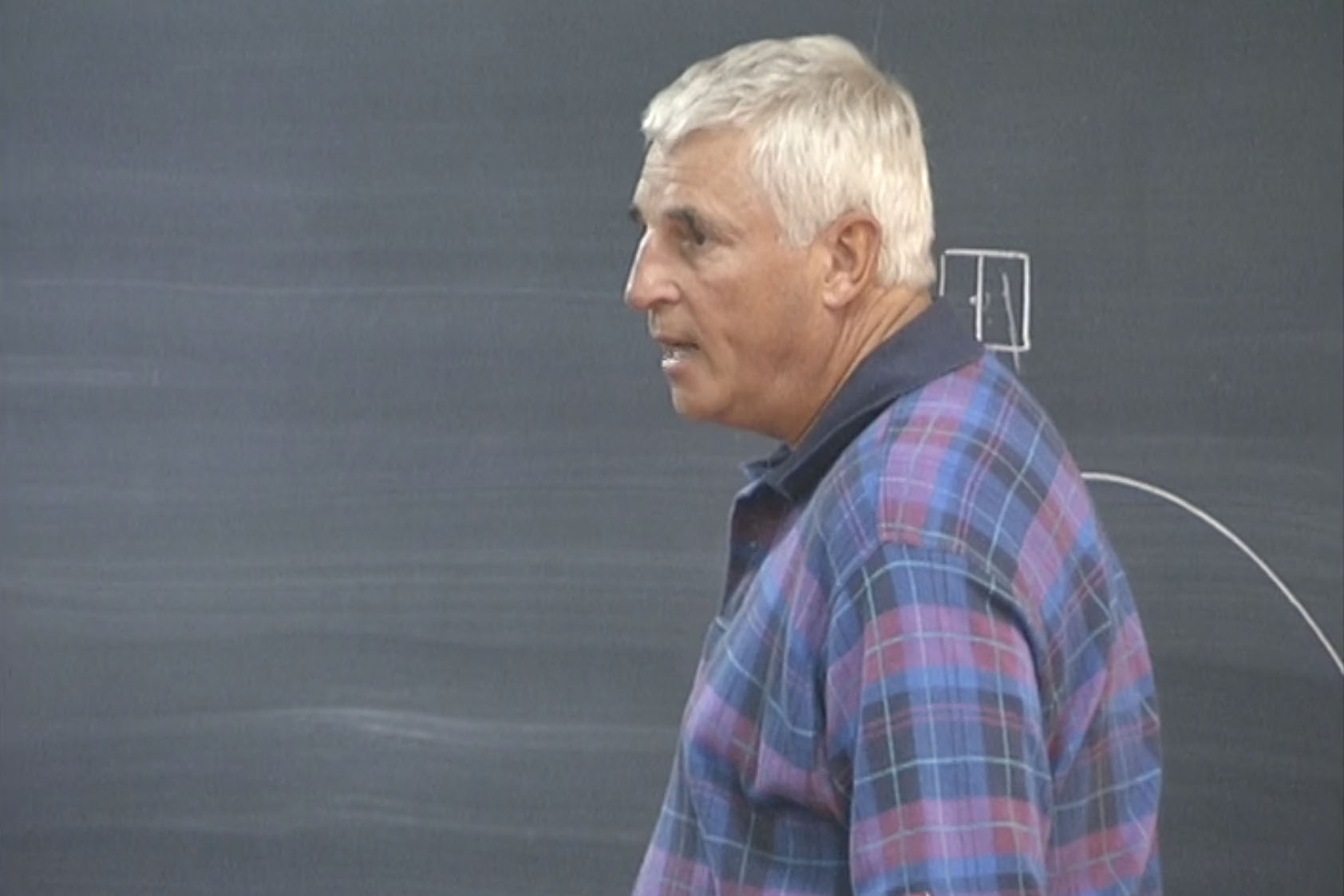 Knight's downfall at Indiana began in early 2000, when accusations that he had choked player Neil Reed during a 1997 practice surfaced. Knight denied the allegations, but video from practice appearing to back up the claim surfaced a month later, prompting IU president Myles Brand to issue a "zero tolerance" policy regarding Knight's behavior. 
In September 2000, an IU student claimed Knight grabbed him by the arm and lectured him about respect after the student reportedly said to the coach, "Hey, Knight, what's up?"  
Brand, citing that episode and others since the policy had been put in place, asked Knight for his resignation on Sept. 10. Knight refused and was immediately terminated. Protests sprang up on campus, and three days later, Knight addressed a large crowd at Dunn Meadow. 
It was the last anyone would see of Knight in Bloomington for some time. 
"This is a tremendous loss to not only our IU Basketball Family, but the sport. His impact on the game is obvious when looking at his three NCAA and 11 Big Ten Championships and the 902 games that he won throughout a legendary 42-year head coaching career. As great as that record of success is, his impact is even more profound when looking at the enormous successes that his former players, coaches, and managers have enjoyed – both in the sport and outside of it - following their time working alongside Coach Knight and learning from him.  His influence will continue to be felt through them for generations to come. I want to extend my deepest condolences to Karen, Tim, Pat, and the entire Knight family. The world of basketball lost a great one today. There won't be another one like him."

- Scott Dolson, IU Vice President and Director of Athletics
"When all the BS happened at the end, I had that team prepared to win the national championship," Knight said in 2019. "So that's why I just have no use for the university. And that's a shame.  
"I think that basketball just became the prominent light of the university. And there were people there that couldn't appreciate that and couldn't understand that. Anyhow, that's why I have such a dislike for the university." 
Knight vowed to never return to Indiana, but, as he grew older and many of the people responsible for his firing passed away, Knight softened his view.  
In April of 2019, he attended an Indiana baseball game unannounced, and in July of that year, he and his wife Karen moved back to Bloomington from Lubbock, Texas. 
Then, at halftime of a basketball game against rival Purdue on February 8, 2020, and surrounded by dozens of former players, Knight walked onto the court at Assembly Hall for the first time in two decades to a standing ovation. 
He didn't speak to the crowd, but did lead it in a signature chant of, "Defense, defense, defense." 
"It means a great deal to me that he's back here," Woodson said. "Make no mistake about it, Indiana basketball is Bob Knight. The fact that he's back here where he belongs. It's like old times again, and I'm excited about that." 
A native of Orrville, Ohio, Knight won a national championship as a player at Ohio State in 1960.
Knight was just 29 when he came to Indiana in 1971 after a six-year stint as the head coach at Army. Knight brought with him an emphasis on defense, which was contrary to the Hurryin' Hoosiers style fans had become accustomed to. 
"They were used to run and gun, and I'm not criticizing that because Indiana won games before I got there, but this was a different approach that we had," Knight said. "And I think they began to understand that, if we were difficult to score against that, that just helped us that much more. 
"You can win to an extent because you score well, but it's a lot easier to win when they can't score. And I think that people began to understand that. And nothing tickled me more than when they started that 'defense, defense, defense' chant, because I thought that they have not only understood, but they've begun to appreciate the fact that we won an awful lot of games because people couldn't score against us." 
"It is a profoundly sad day for all of us who loved Coach Knight. My thoughts and prayers go out to his wife Karen, his family, and to all those who loved him. 

"I am so blessed that he saw something in me as a basketball player. He influenced my life in ways I could never repay. As he did with all of his players, he always challenged me to get the most out of myself as a player and more importantly, as a person. 

"His record as a basketball coach speaks for itself. He will be remembered as one of the greatest ever and his impact on the game of basketball is etched in stone. His teams were always prepared and with him on the sideline, you always believed that he put you in the best position to win.  

"I will always cherish the time we spent together after I played for him. His fierce loyalty to his former players never wavered. I am grateful that he was able to come to our practices after I came back. His presence meant so much to me, our staff, and our players."

- Mike Woodson, Indiana Men's Basketball Coach and former IU All-American
After his nearly three-decade run at Indiana, Knight coached seven seasons at Texas Tech, resigning during the 2008 season and turning the team over to assistant coach and son, Pat Knight. 
Knight finished his coaching career with a 902-371 record. He's currently sixth all-time in career coaching victories.