On January 1, Illinois legalized the sale of recreational pot. Shops can't keep up with demand and some have had to close while they replenish their supply. In Michigan, it's only been legal a few weeks and the story there is the same – sales are already well into the millions of dollars.  
As the tides shift and more states allow the drug, advocates are hoping Indiana lawmakers will get on board.  Indiana is facing renewed pressure to change its stance on cannabis, but substantial changes are unlikely.
As lawmakers arrived Monday for the first day of the 2020 session, dozens of protestors holding signs, smoking joints and chanting, greeted them on the steps of the statehouse. 
Despite the recent changes in neighboring Illinois and Michigan, Hoosier lawmakers aren't keen on putting legalized marijuana up for a vote.
For years Senator Karen Tallian has authored bills that would allow loosen Indiana's marijuana rules, but they've never gained any traction.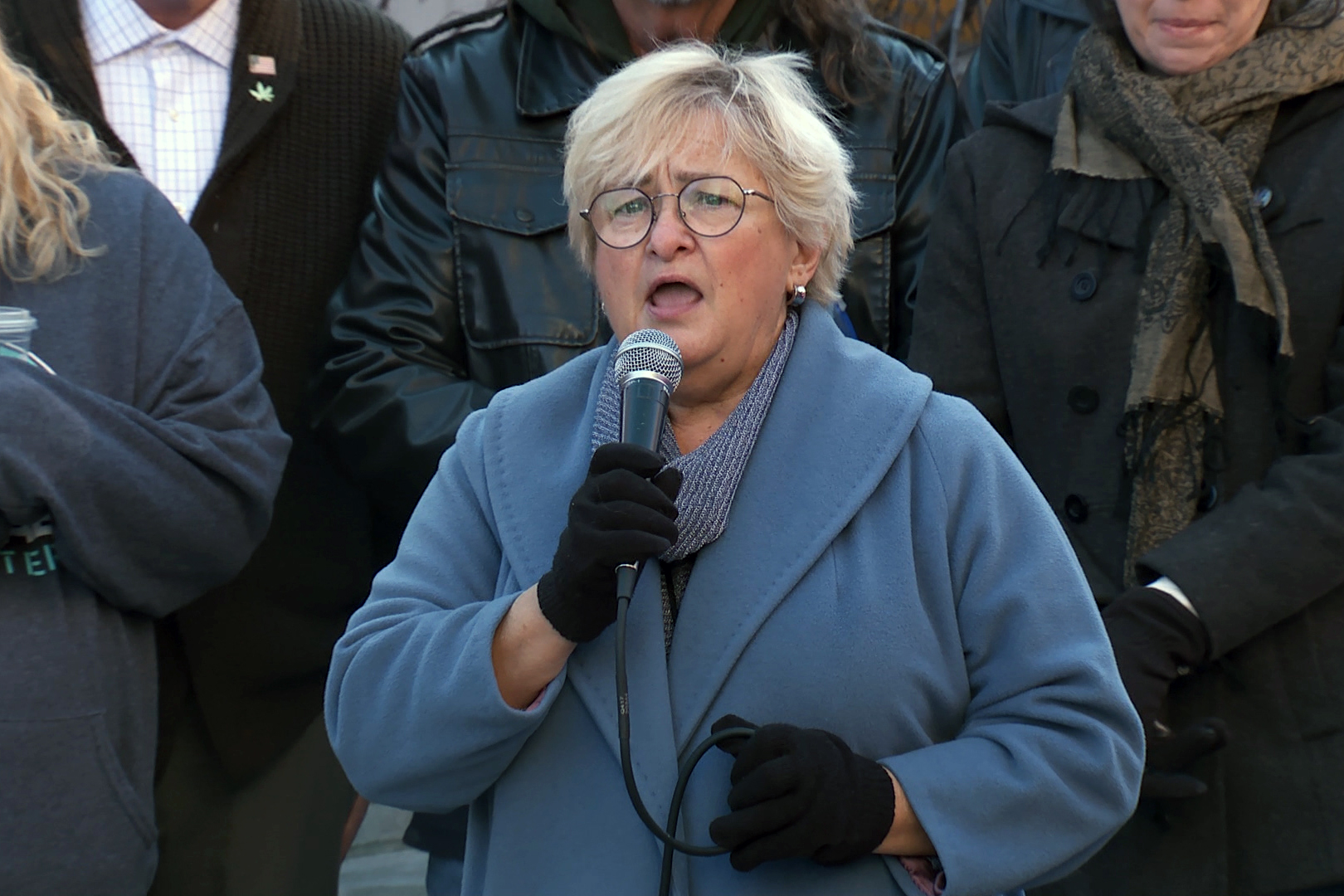 "In 2018, there were 22,000 arrests in Indiana for marijuana possession," she says "It's the second most arrested crime in the state of Indiana, and it needs to stop."
According to data from the Indiana Prosecuting Attorney Council, there were 24,239 marijuana-related charges in 2019. Over 20,000 of those were for first time offenders possessing less than 30 grams.
Tallian joined the dozens of statehouse protestors to call on Indiana Governor Eric Holcomb to advance the conversation. 
Pressure from those in the Governor's own party is growing as well.
While Not The Norm, Some Republican Lawmakers Show Support For Legal Cannabis
Jim Lucas is a representative for portions of 4 southern Indiana counties in the Indiana House of Representatives.
"When I first started this conversation years ago, stigma and ignorance were the two biggest obstacles," he says. "Now the stigma is something that is almost gone because there are 33 states that have medical cannabis programs and I believe there are 11 now with recreational two border states for Indiana."
Lucas is a Republican and one of the loudest voices in the GOP calling on legislators to develop a cannabis program. He believes neighboring states coming on board creates pressure for Indiana.
"This is going to be something we're going to be forced to deal with," he says. "It makes no sense to not be having this conversation because the facts, the research, everything is out there all somebody has to do is just educate themselves."
Lucas blames Holcomb for shutting the conversation down, but the Governor says he won't be influenced by what other states do. 
"I'll come out and say it," Lucas admits. "I can't say enough great things about Gov. Holcomb, but he being to governor of our state, being, so far out front of this and against it really puts up a wall a lot of people shy away from this issue."
Holcomb and other GOP leaders have said they're not interested in exploring legalization in Indiana until the federal government declassifies marijuana as a controlled substance. Federally, cannabis is considered a Schedule I drug without medical benefits. 
Changes In Neighboring States Won't Impact Policing Efforts
An influential organization in Hoosier politics, agrees. Zach Osowski is the Public Information Officer at the Indiana Prosecuting Attorneys Council, he says changes in neighboring states won't impact their efforts either.
"It's still going to be illegal in Indiana, and that's what we're really trying to stress to people in Indiana who think, 'maybe I can go across the border and buy it and bring it back.'" He says, "it's still going to be illegal in Indiana, it's still going to be charged by the prosecutors here in Indiana and until something changes in Indiana that's not going to effect our stance."
Lucas disagrees with that line of thinking.  
"Leaders need to lead and that's something I'd like to see our leadership do," he admits. "Just stay out of the way. Let the process happen. Let us have that conversation. Let the committee hearings take place, lets' get all parties—the pros and the cons at the table and let the people hear what is possible for the state of Indiana that 33 other states are doing."
The Governor's office says his stance on marijuana legalization has not changed, and his office declined to comment on the assertion from those in favor of legalization that he's limiting the conversation.
This is the first of two stories on marijuana legalization and the pressure Indiana currently faces to move toward creating a regulated program. Read part two here.