Fifty years ago today, Apollo 11 astronauts were making their final preparations to descend to the surface of the moon. Celebrations and remembrances are happening across the country and we are looking back at Indiana's contribution to the lunar landing.
Purdue University is celebrating the moon landing with a public exhibit revolving around the personal papers of alumnus and first man on the moon Neil Armstrong. He and his wife Carol donated a large number of memos and artifacts to the university's Flight and Space Exploration archives.
The exhibit is comprised of parts of Armstrong's life before, during and after the historic Apollo 11 mission. Some of the selected pieces include one of Armstrong's Apollo 11 training suits and his report card from Purdue.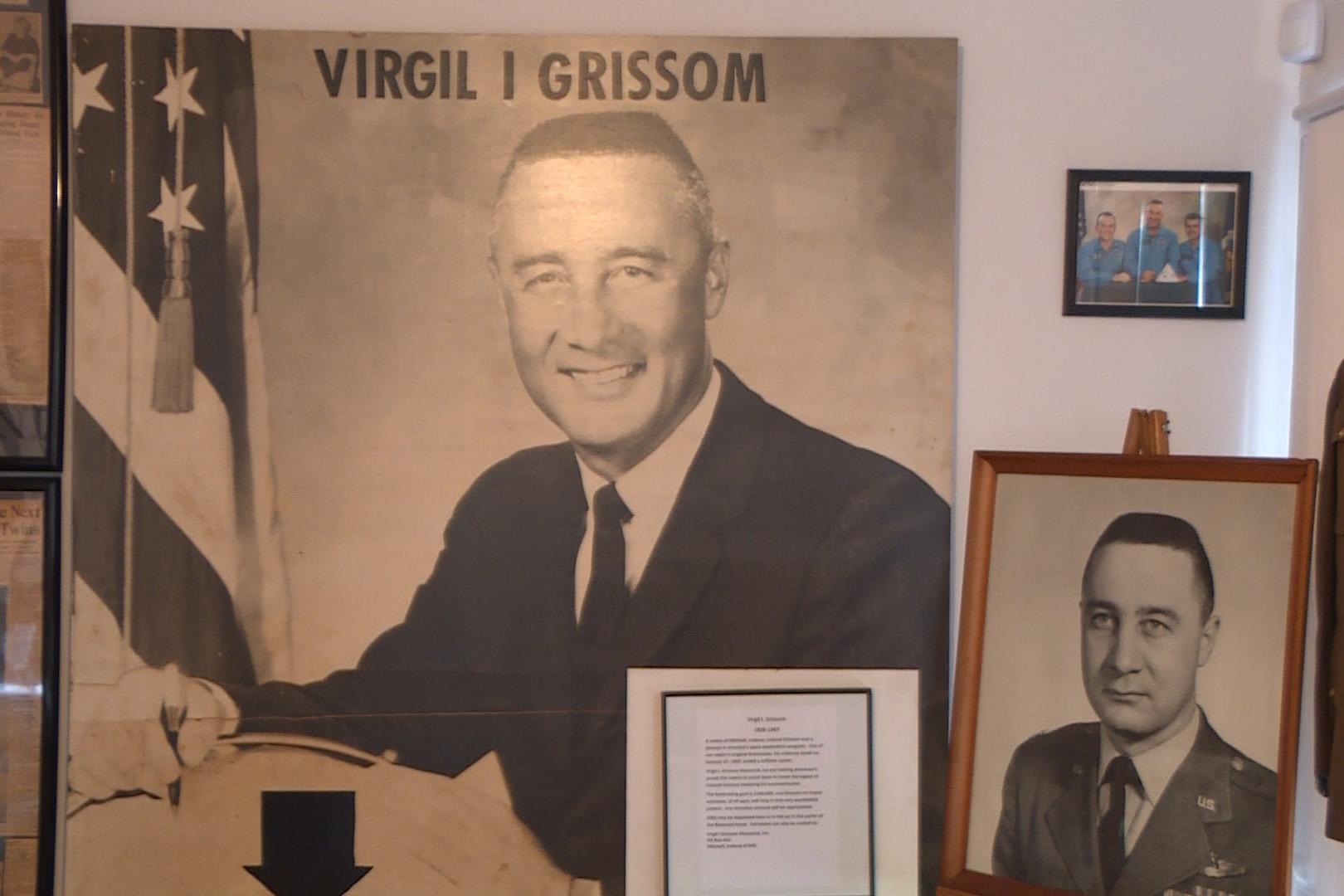 Much further south, in Mitchell, locals are celebrating the Apollo mission by focusing on fellow Purdue grad and second man in space, Gus Grissom. He went by Gus, but his full name was Virgil I. Grissom. He is credited with laying the groundwork for the moon landing with his work on Mercury, Gemini and Apollo.
Steve Grissom is Gus' first cousin and the President of the Virgil I. Grissom Memorial, Inc..
"First man to ever fly in space twice, American Russian it didn't matter, first man to fly a 2 man spacecraft, first man to actually change his orbit to actually show people you can fly and navigate in space," Steve says. "Which is necessary to get to the moon. That's what Gemini was about, proving we could navigate and do the things necessary to get to the moon."
Before he went to space, Grissom started out in a small Mitchell home, which now houses a museum that celebrates his life and achievements. 
After spending World War II as a clerk, Grissom moved back home to Lawrence County. He married his wife, Betty, and settled down, but he never got comfortable. So they moved to West Lafayette, where Gus got his engineering degree from Purdue before joining the Air Force. Not long after, his life went in another direction.
"In 1959 Gus was selected to be part of the original seven Mercury astronauts," Steve says.
Mercury was the first in NASA's three stages to get to the moon. Each mission was designed to get astronauts closer to landing on the moon. Two years after being selected for Mercury, he was the third man and second American to go into space. Then it was on to the next step of development toward the moonshot: the Gemini program.
"He designed that cockpit, so much so that the astronauts called it the Gusmobile," Steve says.
But the Apollo project was different. From the start, Grissom expressed reservations about the build quality. He was vocal about his criticism of the program, going so far as to bring in a lemon to let engineers know what he thought of the craft.
"He hung it on the actual spacecraft to tell them his dissatisfaction with them," Steve says. "It was a lemon."
And his fears were confirmed when, in 1967, two years and a few months before his fellow astronauts would walk on the moon, his capsule caught fire and he and two other astronauts died during a test.
Mark Young is the property manager of Spring Mill State Park, where the Virgil I. Grissom Memorial is located.
"It was a case that they were really pushing the limits of the tech of the time," Young says. "They were still using a pure oxygen environment and simply they had a short inside the capsule, and with pure oxygen as a fuel, it just literally took seconds for it to cause the damage that it did."
And Steve says that fire changed everything with the Apollo program.
"They redesigned that whole capsule, that whole space craft got redesigned from the inside out," he says.
Steve says it was a wakeup call for NASA engineers. Neil Armstrong even wrote a letter saying so.
"I have a letter from Neil that even states had that fire not happened, we wouldn't have made it on time," he says.
Steve says, were it not for that fire, there is a good chance Gus would have been on the first trip to the moon.
"Deke Slayton mentioned it in his book, "Deke," he says. "Deke was the picker of the crew and flights and all that, he even made the comment in the book that Gus may have been the first man on the moon had that fire not happened."
Even with his life cut short, Gus' legacy lives on -- especially in Lawrence County.
"This weekend is Grissom day and we tie it to his first launch. And its July 21st that's his first in the Mercury program," Young says.
Locals will gather to celebrate the Hoosier who helped guide the moonshot from Mercury to Apollo, where 10 missions after he died, two men stepped off the shoulders of giants and onto the face of the moon.