There is a new K9 officer in Vincennes hoping to serve the community.
Bogey and his handler Karen O'Connor are a team and the newest assets to the Knox County High Tech Crime Unit. The facility in Vincennes serves 13 counties and is just one of 10 statewide.
Knox county prosecutor Dirk Carnahan helped with the creation of the unit.
Read more: Brookville Police raise funds for K-9 with 'Tase the Chief' event
"I hired somebody with the sole purpose in mind of starting a unit like this," Carnahan said. "We were able to get a grant and get started and kind of hit the ground and do some preliminary things.
"And then the state of Indiana picked up on the same idea and decided to expand on that. The legislature thought it was a great idea instead of throwing more money at the state police lab to actually spread the funds around open some regional hubs. So, there is pretty fierce competition for that."
Read more: Vincennes police chief charged with taking money
Knox County's hub serves over 500,000 people. Its sole purpose is to find and analyze electronic data to help build a case for law enforcement.
"Our focus is on just that solving crimes making people safer, and also one thing that people don't realize, is that this technology is great for protecting people from being wrongly accused and protecting innocent people," Carnahan said. 
Karen O'Connor is the current director of the high tech crime unit and first got involved while attending Vincennes University.
Since heading up the unit, O'Connor has brought on a K9 officer, Bogey. The canine joined the unit this summer and was trained in Indianapolis by Todd Jordan of Jordan Detection K9.
"The dogs that he trains are primarily labs. He's done a couple of other breeds, but they tend to work the best," O'Connor said. "All of his dogs are comfort dog dropouts. So, Bogey went through to be a comfort dog and, obviously, is too mouthy for that. So, he then went into police work."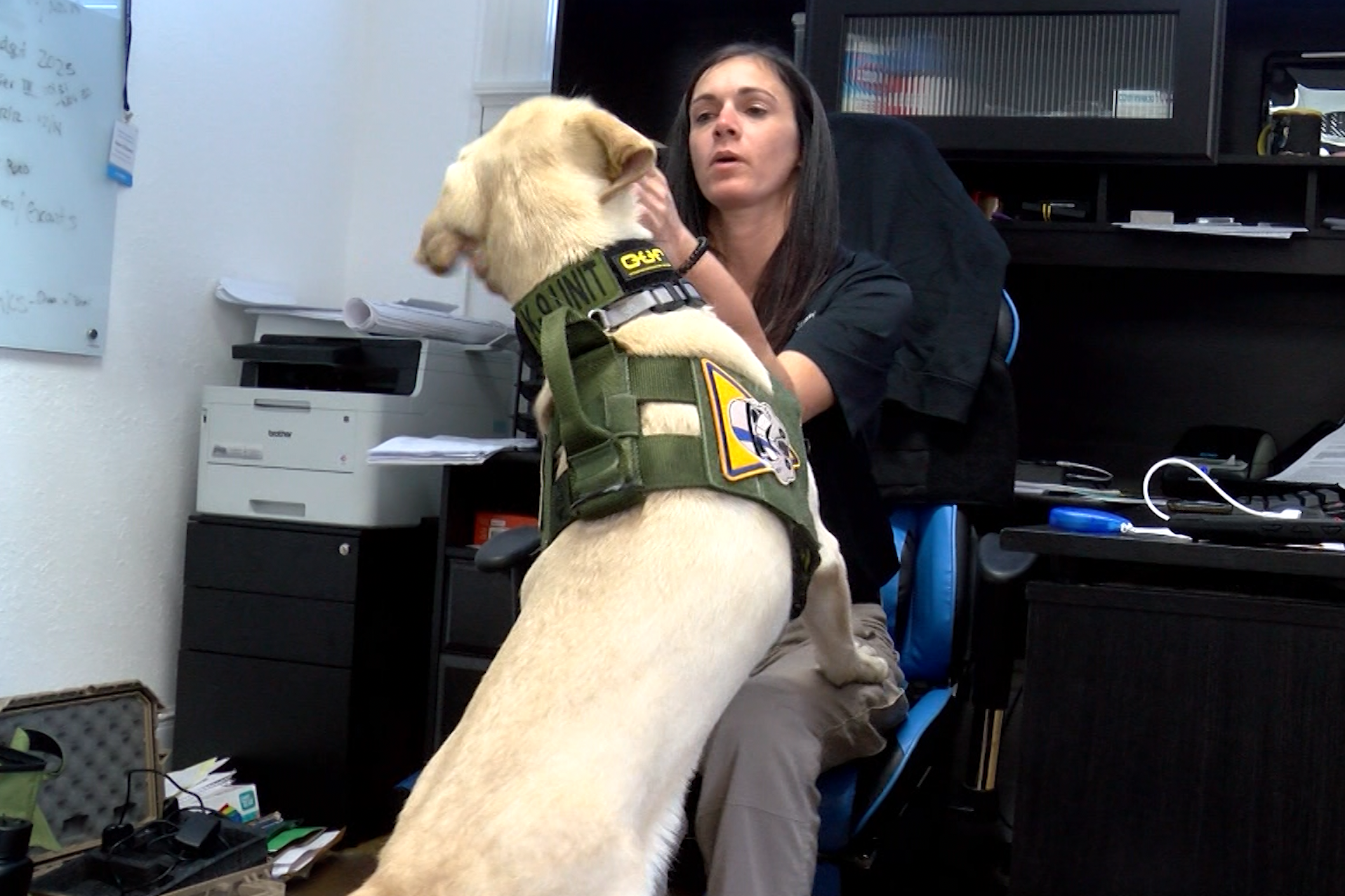 Watch: A New Leash on Life: The K9s for Warriors Story
Certified electronic detection dogs must train every day and are rewarded by food.
Bogey has been taught to detect TPPO, a chemical found on electronics to prevent them from overheating. 
His skills in the field will help with the identification and recovery of flash drives, cellular devices, and computers – all of which can be farmed for data.
A K9 like Bogey was famously used in the case against Subway spokesperson Jared Fogle.
"Well when they did the search warrant for him they took Bear in, and he found a teeny tiny SD card that Jared would carry around with him, because he traveled a lot for promotions," O'Connor said. "And they never would have found that. They actually searched that backpack numerous times before they even found it. And the dog hit on it. And they were like, 'We've looked there.' And he was like, 'Well look again because something's there.' And it was in a hidden compartment.
"And so our officers are trained, and they're excellent, but we're all human and we make mistakes and we miss things. And to have an extra tool that's a little more keen on things and can pinpoint where things are really works out for us." 
While his primary focus will be in electronic detection, O'Connor hopes to be able to use Bogey in other situations as well.
"A kind of the great thing about him, because he's been through that training, we can still utilize him in the courtroom with cases and victims," O'Connor said.
Bogey's friendly and affectionate ways will also provide some comfort for officers, who deal with a lot of stress in their jobs. 
"We didn't pick him out; he was just assigned to us," O'Connor said. "So, he's a pretty good fit for us. We're really happy with him, even if he is lippy."
While Bogey might have a little sass, he's exactly what law enforcement officers in Knox County need.