Indiana University's swimming and diving program has a proud history in the Olympics, and it will again be on display at the Summer Games in Tokyo.
A dozen current and former IU swimmers and divers are competing next week, but none bigger than Lilly King.
The 2019 graduate from Evansville is the defending Olympic champion and world recordholder in the 100-meter women's breaststroke. It was one of two gold medals King won at the 2016 Games in Rio; she was also part of the U.S.'s winning 400 medley relay team.
She's looking to add to that medal haul this year.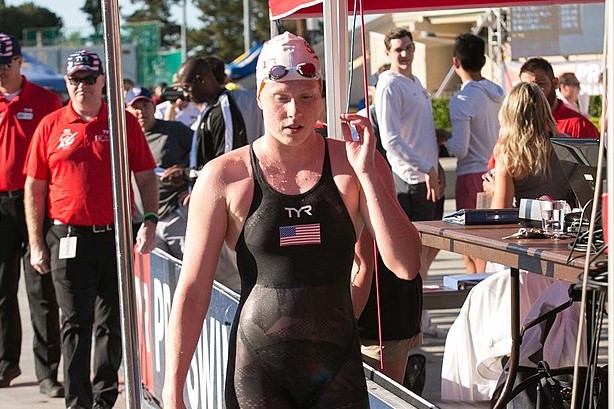 "I'm ready to go," King said. "I feel much more experienced at this point. I feel like going in to 2016, I was like a deer in the headlights."
King qualified for the Tokyo Games in the 100 and 200 breaststroke at last month's Olympic trials in Indianapolis. She won the 100-meter race but was edged out by training partner Annie Lazor in the 200.
At 26, Lazor briefly retired from the sport after finishing seventh and 10th at the 2016 Olympics. But the Auburn grad decided to start competing again and came to IU to train with King under IU coach Ray Looze.
"I tried it out here for a week just visiting a friend who was also a post-grad here at the time and decided, the best breast strokers in the world train here. If I am going to do this, I need to do it right," Lazor said.
Despite coming from an outside university, Lazor said she felt like she fit in with the program.
"It's a very competitive environment here at IU," she said. "But the one thing I love about this place, which surprisingly isn't that common, is that we all genuinely want each other to do well and to succeed, because this is the hardest place in the world to train."
King and Lazor, in particular, have developed a close relationship, but all bets are off in the pool.
"I like to think of it as we do want to beat the crap out of each other, but we don't want anyone else too," King said. "We want to be 1-2, we just want to be the one and not the two."
The Tokyo Games were originally scheduled for 2020 but were postponed last summer by the COVID-19 pandemic. That left athletes like King scrambling to practice with major facilities on lock-down.
"We were driving to Indianapolis and swimming in a one-lane pool for a couple months," King said. "And then we were swimming in a pond, which I did not like. And then we found a pool in Martinsville we were training at."
By late last August, she said, her training schedule began to return to normal.
And, now, King's ready to go for gold again.
She is one of 15 current or former IU athletes competing for five countries in Tokyo the next two weeks.
That includes IU gradiate Jessica Parratto, who, like King, is participating in her second Olympics.
The 27-year-old Parratto placed 10th on the platform and 7th in the synchronized platform in Rio with another former Hoosier, Amy Cozad.
Parratto qualified for Tokyo in the synchronized platform, but this time will be paired with Delaney Schnell of Arizona.
An injury to Schnell's partner led to her teaming up with Parratto shortly before the Olympic trials. They had dove together at the 2019 USA National Championships, finishing third.
"We thought we had the best chance to go to the trials and win there, and obviously fight for a medal in Tokyo," Parratto said. "So that was something, if you asked me a year ago, I didn't expect to happen."
Parratto continues to live and train in Bloomington with IU diving coach Drew Johansen.
"(They) are poised to challenge anybody in the world," Johansen said.
Johansen will be the head diving coach for Team USA at the Olympics. Along with Parratto, IU junior Andrew Capobianco and IU graduate Michael Hixon also made Team USA in diiving.
It will be Johansen's third time coaching Team USA at an Olympics.
"You get named the head coach based on the performance of your athletes," Johansen said. "So (Parratto) and Andrew, it's their performances that gave me this honor. So, to me, it's just a tremendous gift."
Looze also will be in Tokyo as an assistant coach for Team USA.
Nine of his current or former swimmers are at the games, representing five countries.
"When Doc (Counsilman) was the swimming coach, we had people from all over the world. So, we really try to have an international team," Looze said. "My only chance to go to the Games is for the United States, so it's very important that we put a good portion of our Olympians on the United States team.
"But Vinny (Lanza) is one of our greatest swimmers ever, an NCAA champion, and I'm really happy he gets to go to his first Olympic Games. Bailey Anderson for Canada, Tom Frankel for Israel, Marwan Elkamash for Egypt, it's all important. They're all Olympians."  
IU has had at least one athlete in every Summer Games dating back to 1932 and has won a total of 104 Olympic medals, the majority in the pool.
"We take great pride in Indiana swimming and diving as a testament to our 69 Olympic medals," he said. "We hope to add to that total."
 CURRENT AND FORMER HOOSIERS AT THE OLYMPICS
Bailey Andison, Canada, 200-meter individual medley
Zach Apple. U.S., 100-meter freestyle, 400-meter freestyle relay, 800-meter freestyle relay
Michael Brinegar, U.S., 800-meter freestyle, 1,500-meter freestyle
Andrew Capobianco, U.S., 3-meter springboard, 3-meter synchronized springboard diving
Marwan Elkamash, Egypt, 400-meter freestyle, 800-meter freestyle
Tomar Frankel, Israel, 100-meter butterfly
Jessica Gaudreault, Canada, water polo
Michael Hixon, U.S., 3-meter synchronized springboard diving
Ali Khalafalla, Egypt, 50-meter freestyle
Lilly King, U.S., 100-meter breaststroke, 200-meter breaststroke
Vini Lanza, Brazil, 200-meter individual medley, 100-meter butterfly
Shae Fournier LaRoche, Canada, water polo
Jessica Parratto, U.S., synchronized platform diving
Blake Pieroni, U.S., 400-meter freestyle relay
Gabi Rennie, New Zealand, women's soccer
Drew Johansen, U.S. head diving coach
Ray Looze, U.S. assistant swimming coach