Jim Dillinger's health insurance decision is one he's gotten used to figuring out this time every year.
Thousands of Hoosiers rely on the Affordable Care Act for their health insurance, and in rural communities it's not functioning as originally intended.
"I told my wife 'I don't even know how we're going to afford this,'" he says recalling a conversation back in 2014. "That was the first time we really had to decide were we going to carry insurance or not."
In 2014 Dillinger says the out of pocket costs from a routine hip replacement surgery soaked up nearly 40 percent of his annual income. Paired with the rising premiums he was already paying, Dillinger says the costs were too burdensome.
Dillinger eventually decided to enroll in an insurance plan through the Affordable Care Act or ACA.His yearly salary made him eligible for a subsidy to help make the plan more affordable.
"We joined it the very first year it became available. We were on private insurance before that and it was just eating up our costs so much."
Dillinger admits he was hesitant though. He lived in Europe as a child, and says he saw lengthy procedure wait times. That and critiques grounded in politics aren't uncommon in Rochester—a small, markedly conservative community about 100 miles north of Indianapolis. 
Study Points To Declining Number Of Insurance Providers
But the problems associated with the Affordable Care Act aren't limited to just perception. 
A study from the Rural Health Research and Policy Centers along with the Rural Policy Research Institute shows in the past four years there's been a noticeable shift in the way the healthcare marketplace functions.
The study authors write data began to show signs of weakening insurer participation, especially in rural counites and in states that did not implement Medicaid expansion.
While every Indiana county has at least one provider, rural communities generally have fewer options and that can leader to higher average premiums for residents.
Indiana's Office of Insurance declined an interview for this story stating plans from two providers, CareSource and Celtic, were available in all 92 counties. But that's not the full story.
Many insurance providers haven't expanded their networks to include local hospitals.
CareSource for example offers a plan in Fulton County, but the local hospital and many local physicians are not in their coverage network. 
The company, which functions as a non-profit, says "When deciding to offer in a particular county we look at the overall network adequacy and that may include providers and facilities inside and outside the county."
Insurance companies say offering plans in small, rural communities can be difficult. The first problem is density. Smaller, older populations make it more difficult for an insurance company to spread the risk across their pool.
"Historically if you look all across whether it be commercial, Medicare, Medicaid or marketplace when you get in those rural areas of the state, it's higher cost," Steve Smitherman, CareSource Indiana's President says. 
But some of what drives costs up is not related to population, rather access.
"You also have in those areas a shortage of providers. So what do people do? They run to the emergency room. You're having a lot more facility costs in those portions of the state versus some of the professional costs that you'd see in an urban setting because people are going to specialists that aren't readily available in some of those rural settings," he says.
Higher Premiums, Political Divisions Define Conversation
But those who write ACA policies say situations like those above are not uncommon. Fulton County used to have several insurance providers. But, in recent years those providers have left often without much notice.
Kendra Chudzynski was born and raised here. While she doesn't make much—if anything—writing these plans, she says she continues to write polices as a public service.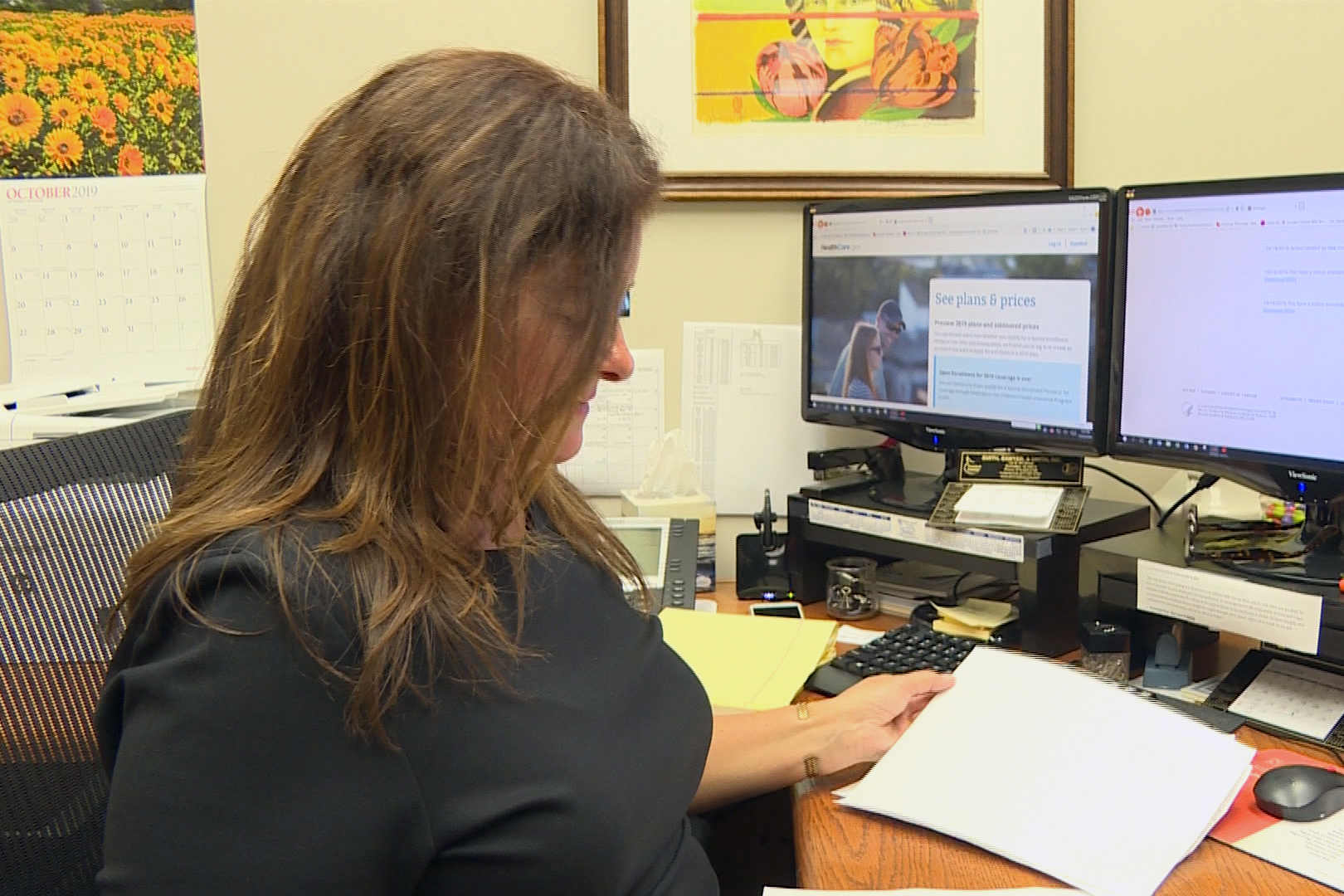 "I see people at the grocery store, people text me on the weekends or at night and say 'I need to come in and see you,'" she says. "I like helping people and I like them knowing that they can count on me."
Chudzynski says the process can be complicated and the majority of people struggle to understand which policy best fits their needs.
"I have a lot of people say to me 'I don't want that Obamacare, I hope this isn't Obamacare.'" She admits. "I have to say that's not what we call it, but that's what's you're getting and if it wasn't for this you wouldn't even be able to get health insurance."
That's why many proponents of the Affordable Care Act say while the marketplace might not be functioning as originally intended, it's better than the alternative. Hospitals for example receive more compensation for services under the ACA than they do for patients on Medicaid, but it's still less than private insurance plans.
While crafting the right health care policy can get complicated, there's one point nearly everyone can agree on—the system can be improved.
"People shouldn't have to go broke paying for medication and they shouldn't have to go without [healthcare] in our society," Dillinger says. "I think we can do better than that. The trick is figuring out what is that better."
The open enrollment period runs from now until December 11.