Bloomington-based Terran Robotics has a creative solution to the affordable housing crisis: 3-D printed homes made out of mud and other earthen materials.
Zach Dwiel, a Co-Founder of Terran Robotics said, "We knew we wanted to solve it. My background is in AI and robotics, our co-founders background is in construction, and we just tried to figure out how can bring these two together and solve this problem?"
To achieve this, Terran has created a cable-driven robot that scoops up to 20 pounds of material at a time and places it to build walls. The machine is then fitted with a linear hammer to compact the material into the proper shape.
Terran says that homes made in this way are naturally fireproof, soundproof, bullet proof, insulated and non-resource intensive. Jacob Bower-Bir, the Lead Designer at Terran Robotics, said there are a couple of reasons we as a society have moved away from once traditional building material.
"The reason these materials are not used in much of the global north anymore, is because they require tremendous amount of physical labor, and it's often backbreaking labor," he said. "And of course, in America and the western industrialized world, labor is expensive."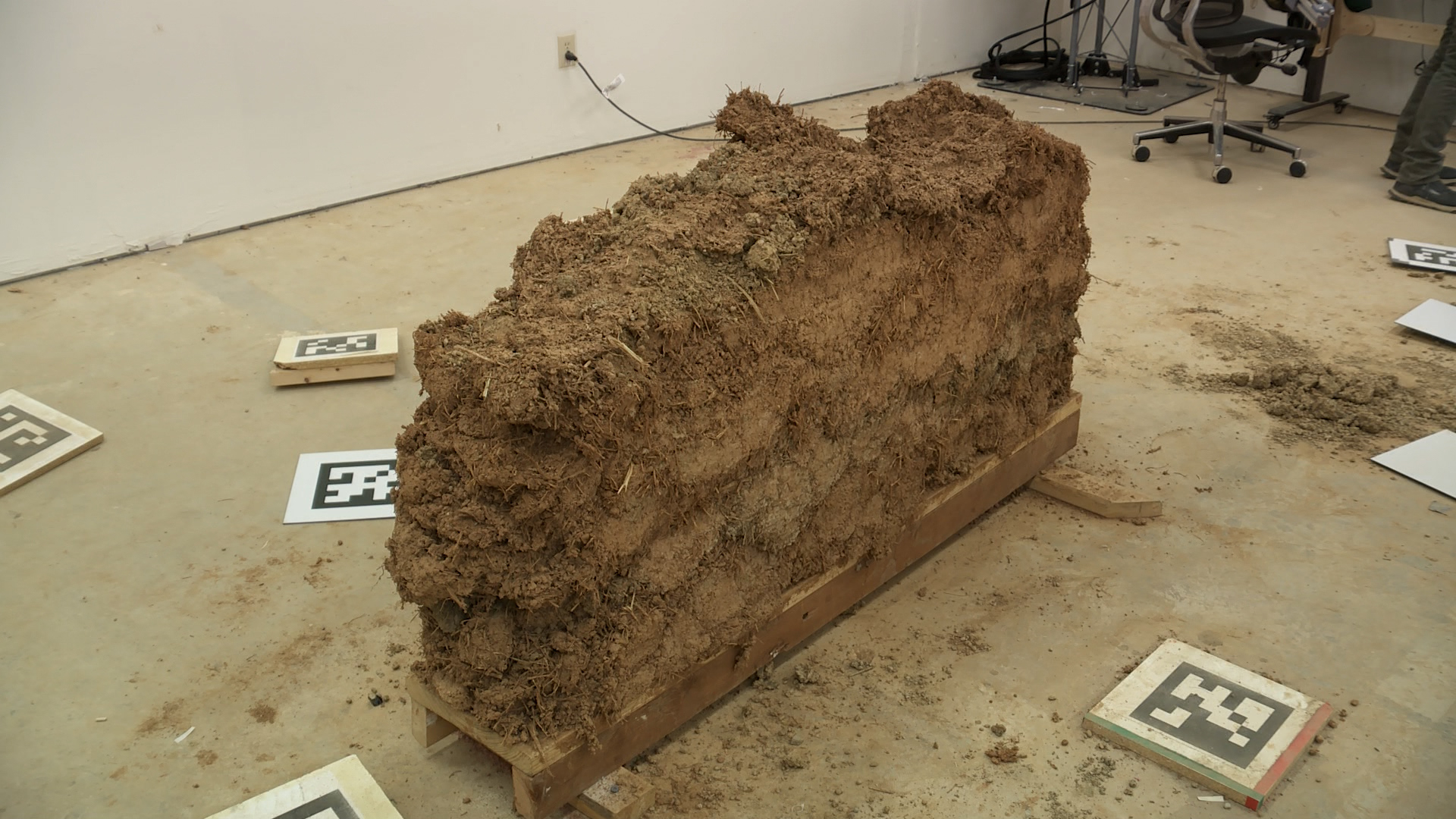 The robotic machine runs autonomously via AI, ultimately lowering labor costs. The material can be made to look similar to drywall or painted directly for a more organic look.
"We honestly like it when it's just kind of raw earth," he said. "Here in Indiana we've got beautiful clay."
Daniel Weddle, the chief design officer at Terran said earthen materials are a greener, more affordable material than ones traditionally used in 3D printed homes, which is often a mixture of concrete and water.
"If you have the cheapest material to start with that is incidentally, also the most automatable because it's a, non-discrete, fluid material that you can shape, then you have like a pathway to building very affordable wall systems," he said. "Beyond that, you can start talking about the carbon cost of printing cement, the financial cost of printing cement.  "Those things are like at a really high price point right now, in both regards."
Weddle said that one of the challenges the company faces is battling the public perceptions of homes created in this way.
"The term Adobe, which is like the most accurate way to describe this material, comes very charged for most people," he said. "If you say Adobe to them, they start to think like, it's this type of house in the southwest, or it's this type of house in like England, which is usually a pub that they're imagining, and it's not a desirable thing for most people."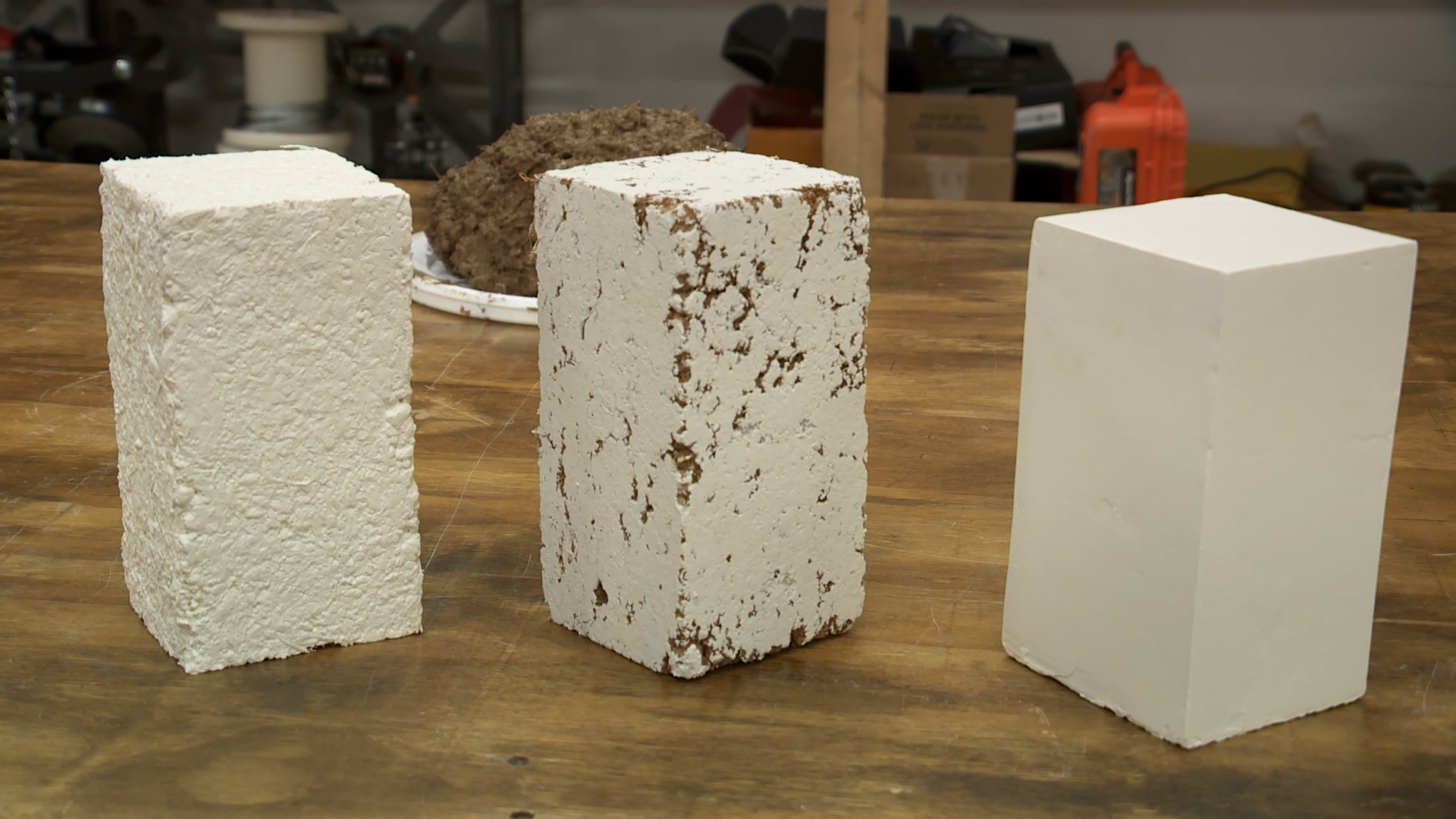 Ultimately, Weddle said he would like to see the robot creating dense, multi-family homes.
"How do we do really dense urban environments that use a material that's well suited for, like, a high quality of living," he said. "You know, separation from sound and other things that make density difficult. How do you deploy this to get the most people together in a space and then leveraging or hacking the ownership structures in society so that those people can build equity, if that's the best path, or live cooperatively if that's the best path."
The team noted that being based in the Midwest is a huge plus for them. It keeps the company near major manufacturers and Weddle said if they can get this process to work in Indiana's varied climate, they can get it to work anywhere.
"We are proudly Midwestern. And think we're hoping to show that the Midwest is still doing some forward thinking progressive stuff," Bower-Bir said.
Terran has permits for two projects and three houses coming under contract in Columbus in the next.