Shortages of nurses throughout the pandemic have been well documented. 
Hospitals are shelling out more cash to pay higher premiums for clinical staff from agencies, but many are dealing with other labor shortages that are even harder to fill.  
It's easier now for Crystal Jeffries to look back on the impact COVID-19 has had on her and her team at Columbus Regional Hospital. 
"The first time I heard about COVID was on the news," she said. "It was hitting China and I thought that's never going to reach here." 
In a matter of weeks, it was tightening its grip on the community.
She's been an environmental service worker for years. What would follow was well documented. Hospitals across Indiana and the nation endured short staffs—in part due to quarantines and the new demands of working in healthcare during a global pandemic. 
Environmental service staff are responsible for cleaning and transitioning patient rooms.  In many hospitals they spend and interact with patients as often as doctors and nurses. As you can imagine, COVID-19 upended long-established protocols.  
"We've had a lot of turnover, because people are frightened to come in here and work," Jeffries admitted. 
Her coworker, Denise Hodnett, agrees. 
"[The] last year has been hectic. I mean, workload has been like a double, if not more."
Jeffries, her EVS coworker, agrees, and admitted the pandemic's effects are still present.  However, she and other administrators admit some of the public are still apprehensive to work in clinical settings.
"They shouldn't be," she said. "We use our precautions, you know, we're safe."
Those precautions include consistent masking, donning a full ensemble of personal protective equipment when entering infected patient areas, and vaccines. Many experts say those changing procedures have led workers to seek employment elsewhere—not vaccine mandates. 
Sam Freidman, a professor at Indiana University, believes those procedural changes and employee compensation have more of an impact on workers than vaccine mandates.
"It's affected the work environment," he said. "It's changed the stress level of jobs, I think that's probably a bigger picture reason than the vaccine requirements themselves." 
But not everyone agrees. 
Hodnett believes mandates have impacted staffing across all services lines.
"I do. Yes, I do. Because everybody has their own outlook on things," she said. "I think that has a whole lot to do."
Chris Wood, who manages the team at Columbus Regional Hospital, says all her staff members have either been vaccinated or applied for an exemption for the COVID-19 vaccine.  
"That's something that we do ask a potential new hire their feelings on it, "she said.
Wood has been asking that question a lot lately.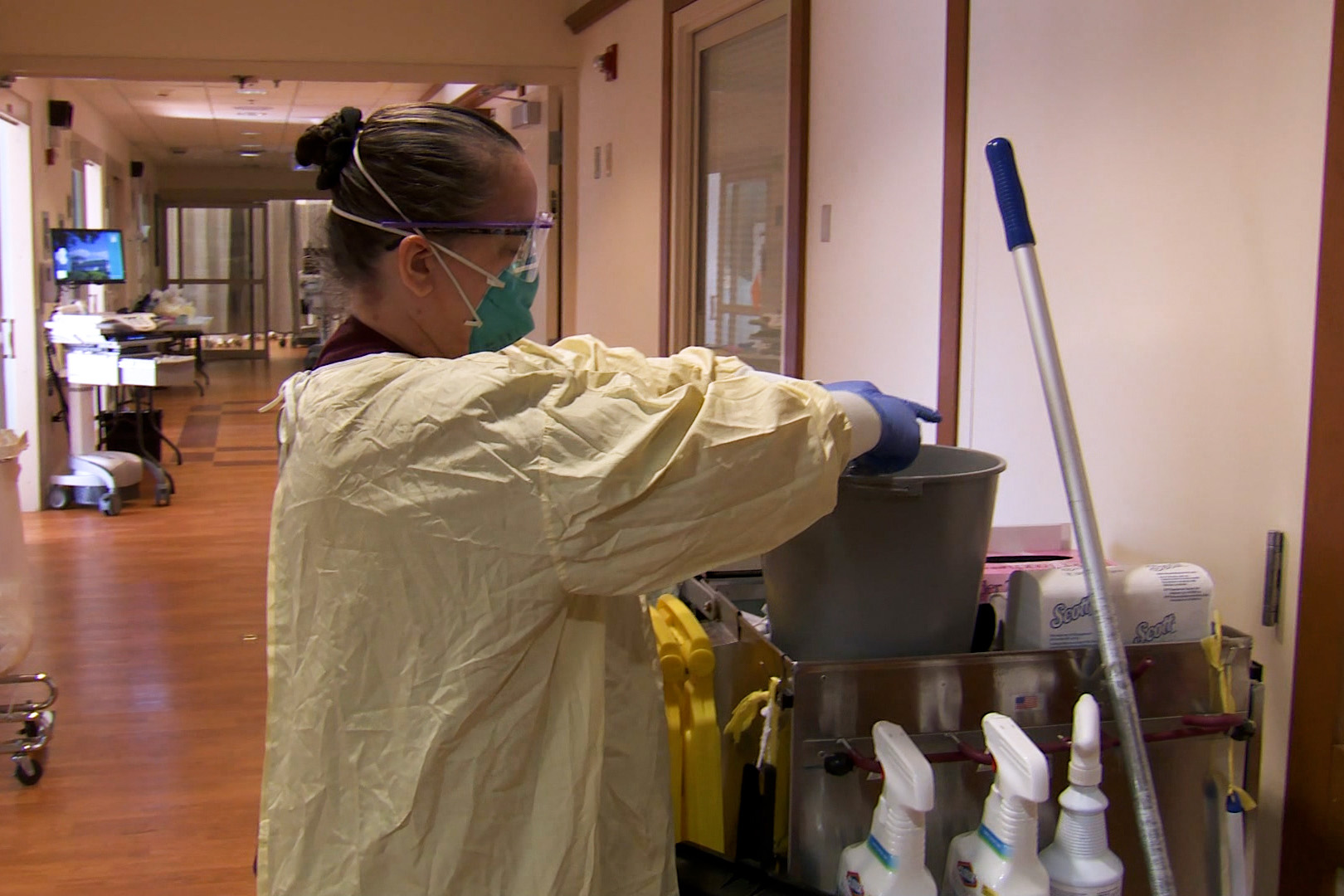 Around a third of her staff either recently started or still needs to be hired. While similar labor challenges are present throughout the economy, the prerequisites in hospitals are unique.  
"During the pandemic, we really had to take a step back and reevaluate their [environmental service staff] wages." Brad Smith, the CEO at Rush Memorial Hospital in Rushville, said. 
"We accelerated their wages a couple times during the pandemic, just to make sure that we could keep that turnover really low."
While the shortages of nurses, doctors, and physical space dominated much of the conversation, behind the scenes other staffing challenges were present. 
Smith says his greatest challenge is hiring non-clinical staff because the competition for those employees is so great. 
"When it comes to EVS or other non-clinical positions, we might lose that position to, like I said, the courthouse, or the school systems, or maybe even the nearest Amazon distribution center," Smith said. "That's where we lose those positions to." 
Gretchen Smith, the VP of Operations at Rush Memorial Hospital, said her EVS staff more than tripled at the peak of COVID-19, absorbing employees from other service lines to deal with all the increased cleanings. 
"There has definitely been a new focus a new light put on environmental services," Smith said. "The importance of the role is crucial, and I think that has been brought to the forefront more so than ever during this pandemic."
Despite all of the changes—and challenges—neither Jeffries nor her coworkers say they ever thought about leaving the hospital to find work elsewhere. They say the service and desire to help their community keeps them cleaning.