It was March 14, 1951. Americans opening their newspapers had just met young Dennis Mitchell, Perry Como topped the charts with his hit song "If" and former IU Foundation President Howdy Wilcox was putting together the finishing touches for his new way to raise scholarship money for working students.
A article from The (Munster) Times detailed the event: an intramural bike race, the first of its kind. The headline reads, "Indiana University Students Will Stage 'Little 500' Bicycle Race."
While walking through the IU Bloomington campus one day, Wilcox saw a group of students racing bikes around Hickory Hall. To Wilcox, son of the 1919 Indianapolis 500 champion, it was a perfect way to raise funds for the new IU Student Foundation.
"So the IU Student Foundation was sort of born out of this idea that Howdy had to do a 'Little 500' race on bicycles instead of cars up in Indy," said Andrea Balzano, current director of the IU Student Foundation.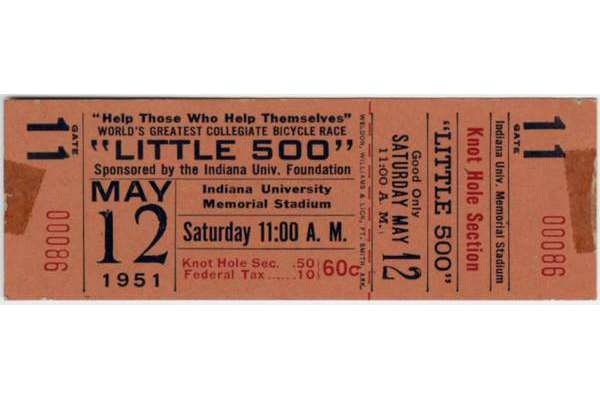 The inaugural race took place two months after the March article, billed as the "Greatest College Bicycle Race In The World." It would be 200 laps, just like the big race in Indianapolis, but only 50 miles as opposed to the standard 500.
"There was a men's race only; the women's race started in 1988," Balzano said. "And it's really turned into an incredible tradition since then."
The race became so popular it earned the designation of "World's Greatest College Weekend." It was immortalized in the 1979 Oscar-winning film "Breaking Away," and then-Senator Barack Obama even made a stop at the 2008 women's race during his initial run for president.
Balzano said the race had been postponed before because of inclement weather, but had never been canceled until last year.
"I think it's going to give people something to look forward to watching and I hope that it really instills a sense of excitement moving into the next school year," she said.
There won't be any fans in the stands this year due to COVID, but those who want to watch the race this Saturday will be able to livestream it on the IU Broadcast website or the Student Foundation Facebook page.
Since its first running 70 years ago, the Little 500 has raised over $2 million in scholarship funds for students.