The inauguration of President Joe Biden this week officially brought an end to the 2020 election saga. Former President Donald Trump's wave of lawsuits over results put the Electoral College in the spotlight once again.
But there'd be no Electoral College if one Indiana senator had his way.
It was Nov. 7, 1968.
The first season of "Mr. Rogers' Neighborhood" was over, The Beatles' "Hey Jude" was at the top of the charts, and Republican Richard Nixon was elected president in a hotly contested three-way race that included Democrat Hubert Humphrey and segregationist former Alabama Gov. George Wallace.
A New York Times headline read: "Close Contest Points to Need for Election Reform." 
After losing the 1964 Democratic primary, Wallace launched a third-party campaign for president in '68, and won five states in the Deep South.
"People were very concerned that basically, if he had done a little better or if Nixon had done a little worse, that you would have had an election thrown into the House of Representatives," said Gerald Magliocca, Samuel R. Rosen professor at the IU McKinney School of Law. "And then, you know, Wallace would have more or less been able to extract all sorts of concessions."
So Indiana Democratic Sen. Birch Bayh, who was chair of the Subcommittee on Constitutional Amendments, began rallying support for a project he'd been working on – an amendment that would call for the direct election of the president, eliminating the Electoral College.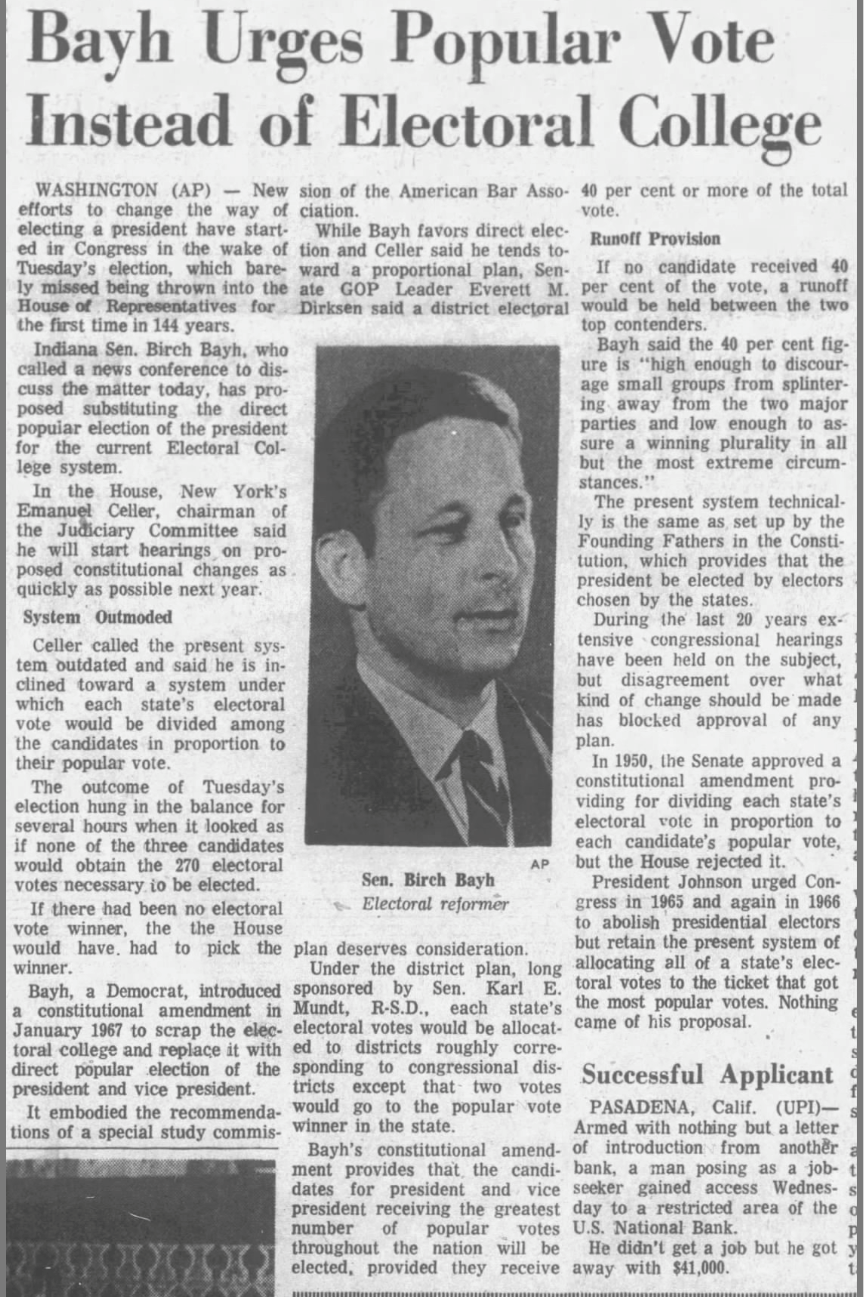 A 1968 Gallup poll showed 80 percent of Americans liked Bayh's proposal, and it passed the House with bipartisan support in 1969 before making it to the Senate in 1970. But Southern Democrats and a few senators from small states filibustered the bill. 
"Wallace was not able to run again, in the way that they were worried about. So then people lost interest in Electoral College reform. You know, until 2000," Magliocca said. 
Bayh would continue pushing to eliminate the Electoral College for the rest of his time in the Senate – and after –  but 1969 is the closest he'd get.