Bloomington Mayor John Hamilton announced his plan Wednesday to raise the Monroe County local income tax (LIT) 0.855 of a percentage point. The current LIT is 1.345 percent, so the proposed rate of 2.2 percent is a 64 percent increase. 
During the Bloomington City Council meeting Wednesday, Hamilton said the proposed increase would generate about $18 million in annual revenue for the City of Bloomington, $11.4 million for Monroe County, $1.4 million for Ellettsville, and $44,000 for Stinesville.
Hamilton suggested the additional city revenue be invested into four categories:
About $4.5 million for public safety, including $1.5 million to fund the new police union contract
About $6.5 million for climate change, including $2.1 for a Bloomington Transit East-West express line and $1.75 million for the Climate Action Plan
Almost $4 million for equity and quality of life, including $2 million to improve housing access
About $3 million for essential city services, including $1 million for city staff recruitment and retention
"Our county LIT is low now, lowest among our seven contiguous counties, low statewide," Hamilton said. "We have not raised the basic LIT for 30 years."
The proposed increase would move Monroe County into the middle of the pack among its neighboring counties, behind Morgan, Brown, and Owen counties.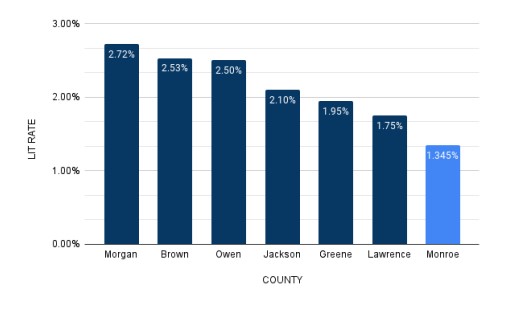 Monroe County currently ranks 67th for the highest income tax of Indiana's 92 counties. The proposed increase would move Monroe County into the 22nd position on the IRS Tax App list.
According to the U.S. Census Bureau, Bloomington's median household income is $41,354. This means the median city household pays about $556 in local income tax each year. Under the proposed increase, these households would pay about $354 in additional taxes. 
READ MORE: Monroe County income tax hike: looking ahead to Hamilton's 'new revenue' package  
Hamilton previously proposed a 0.5 percent LIT increase in January 2020, but the pandemic delayed the process. He tried again in fall 2020 with a lower 0.25 percent but failed to gain city council support.  
The LIT increase is part of Hamilton's new revenue proposal, which also includes two $5 million bonds. City council is scheduled to discuss the proposal April 13 and take a final vote April 20.
How to raise the LIT 
To raise the local income tax, Hamilton needs a majority of votes allotted to the fiscal bodies in Monroe County, including Bloomington, Ellettsville and Stinesville councils, as well as county council. However, the demographic makeup of the LIT council is based on population and gives Bloomington City Council a majority of the 100 votes available: 
Bloomington City Council- 56.7 votes

Monroe County Council- 38.4 votes

Ellettsville Town Council- 4.75 votes

Stinesville Town Council- 0.15 votes
This story has been updated.