Stay at home orders and bans for non-essential travel have kept people in their homes and grounded business travel. While experts say there is little doubt those safeguards have saved lives, the effects have been devastating for airlines.
And those like Tim Simpson, a Senior Maintenance Manager at Republic Airways, who's spent decades in hangers at the Indianapolis International Airport says aircraft can be heard taking off and landing every five minutes or so on a normal day. This time is far from normal.
Airfield Silence Makes Workers Sick
Airport officials say traffic is down at Indianapolis International up to 95 percent. They're expecting lower than normal activity for at least the next three years. The airport's marquee nonstop to Paris, France cancelled.
The silence on the airfield makes him sick. The hiss of jet engines have been replaced with chirping birds. An hour can pass without seeing--or hearing--a jet.
While it's quiet in most places, one previously vacant ramp is seeing it's fair share of activity.
Indianapolis-based Republic Airways is parking numerous aircraft at what used to be a US Postal Service ramp.  Republic Senior Vice President Matt Koscal says parking a multi-million dollar aircraft is far more complicated than a car.
"It's not only that to ensure that when you park an aircraft for a period of time that you're doing so that is consistent with the maintenance requirement programs for that aircraft," Koscal says. "It's also ensuring that wherever you're parking those aircraft that you have the availability to life that fleet back up in an efficient manner once it is time to return those aircraft into service."
Regional Carriers Face Different Turbulence Than Partner Airlines
Republic is a regional airline you've likely flown and not known it. They connect hubs in large destinations--primarily on the east coast--to smaller cities for Delta, American, and United. They're one of the country's largest regional airlines.
Thanks to the CARES Act, Republic hasn't had to lay off employees yet, but some employees have reduced work schedules. With these planes on the ground instead of the air, fewer workers are needed.
An added challenge for Koscal and his team is that Republic doesn't control the booking for their partners. The airline with its livery painted on the side of the each plane controls the booking, so each of the aircraft he chooses to park need to be ready on short notice.
"When you get to a point when you're flying less than 20 percent of what your original schedule was, folks probably don't realize those schedules are a fine-tuned orchestra of aircraft and people moving across the country," he says. Not only do aircraft need to be in specific cities at specific times, but also the crews that man each flight. To make matters even more complicated, Koscal's schedulers then must ensure "that we're capturing the aircraft at that maintenance center at the end of the day to provide the required maintenance service and cleaning."
Experts say this process is costly and can quickly tap resources for airlines.
Mike Suckow is a professor at Purdue and pilot with 8,000 hours of flight time. He says re-entering aircraft into service is extremely expensive.
"That's where the expense comes in, so if you have it parked you have service folks and mechanics come out and look at the airplane, fire up and turn on the systems, push the airplane and rotate the tires now when we're going to return it to service after its been sitting out for 60 or 90 days, now you have to do a full systems check."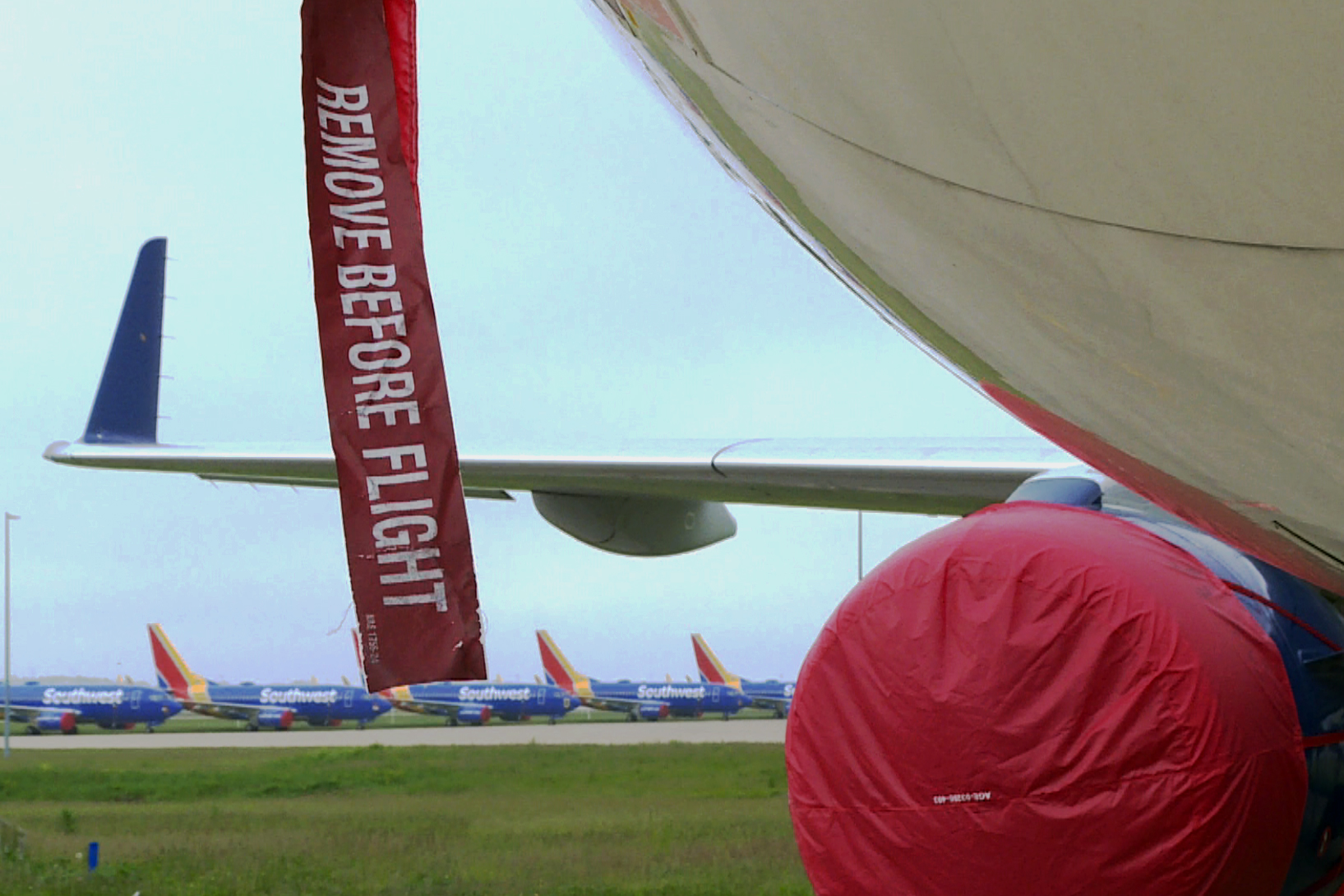 Suckow says full systems checks include starting engines, checking fluids and flight systems, and even requires the aircraft to be put on jacks and have the landing gear retracted.
"That's what takes time, because you need hanger space, you need a lot of the specialized equipment to position the airplane so they can be worked on," he says. "Then depending on if it's a really extended period of time you would have to do a test flight."
Today, Republic maintenance crews are checking in on the planes. They're hoping to get a few back into the air in the coming weeks. It takes the airline two days and multiple employees to get one of these Embraer 170's out of storage.
Yet for now, these aircraft, like the rest of the world remain grounded.
For the latest news and resources about COVID-19, bookmark our Coronavirus In Indiana page here.