State legislators, local officials and representatives from Churchill Downs Incorporated broke ground on the new Queen of Terre Haute Casino Resort on Tuesday.  
The $240 million investment will include 1,000 slots, 50 table games, 125 luxury hotel rooms, five restaurants and bars and TwinSpires sports betting according to the Churchill Downs Incorporated website.  
The Indiana Gaming Commission selected Churchill Downs Incorporated's (CDI) application for a casino license in Vigo County in November 2021.  
 Bill Carstanjen, CEO of Churchill Downs Incorporated, said CDI has been looking for opportunities in Indiana for years.  
 "We've looked at opportunities as they come available, and we finally found one that that fit for us." Carstanjen said.  
The bidding process was very competitive, he said. He added that if a company is an out-of-town company, such as Churchill Downs, it must work especially hard to build relationships with the community.  
He said CDI is going to focus on regional and local contractors and find team members from the Terre Haute community.  
"Community first, and everything we do, from construction, to team members, to relationships." Carstanjen said.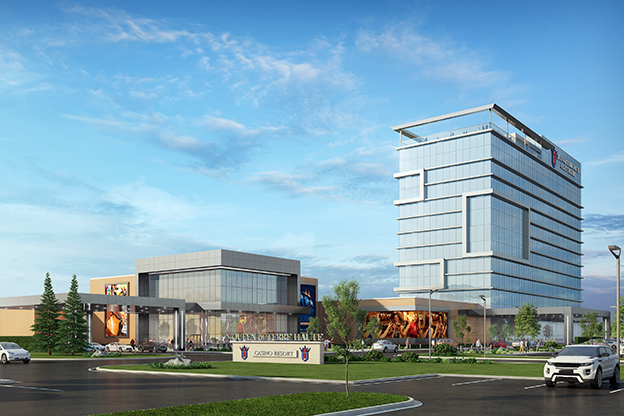 Terre Haute Mayor Duke Bennett said the city has been involved in casino discussions since back when licenses had started to be issued but nothing worked out.  
"When the existing casino operator down the Ohio River wanted to do a satellite casino in Terre Haute, it's like, maybe there's an open door here, we'll see."  Bennett said.  
Bennett said as discussion began to occur in the state legislature, there was interest but the legislature didn't like that particular idea.  
 "I thought, there's some life to this, there's an opportunity, and I think, just rallying the community behind it saying, 'we really want this, we support it' helped it get it to the point of that discussion to get a vote." Bennett said.  
Bennett said the casino's immediate impact will put 1,000 local people to work for almost two years to build it. The casino will hire 500 full-time employees, he said, which will be huge for city employment.  
 "The $190 million of annual impact is just kind of, you know, that's estimated, but it's going to be in that ballpark," Bennett said. "Every year, they're going to have that kind of an impact."  
Bennett said small businesses that serve the casino will need to hire additional staff and that additional growth will occur in the area.  
"It leads to lots of economic development opportunities," Bennett said, " It's a huge shot in the arm."  
Bennett said Terre Haute will be able to invest the money it receives back from the casino into the community.   
"We're gonna be able to do some really great things for the citizens of our community, whether you gamble, or you don't you're gonna benefit," Bennett said.  
State Sen. Jon Ford said Indiana only allows gaming for economic development and that the goal of casino dollars is to use them to grow communities.  
"My hope is, we'll use it here for quality-of-life things like arts and trails, and we'll use it for housing and other grant opportunities to really draw people to Terre Haute to grow," Ford said.  
Ford said the community drove the effort for the casino.  
"They came and advocated at the Statehouse, they got the referendum passed" Ford said, "It was really a community project that we were able to get done."  
Carstanjen said CDI is hoping to open the casino in about 18 months.