When word came that golf courses were staying open during the coronavirus pandemic, Cascades Golf Course in Bloomington had to make a few safety adjustments to better protect its golfers.
"We wanted to make everything more hands free," facilities manager Aaron Craig says. "We removed all the bunker rakes and removed the golf ball washers at each hole."
Craig says they also had to prevent golfers from touching the flagsticks. He says they inserted a small piece of foam that stops golf balls from going all the way down the hole, so players can grab their ball at the top without having to remove the flag. 
"All the golf courses are doing the same thing," Craig says.
Cascades is a public course owned by the city, which means there were some discussions amongst city officials on whether or not to keep the course open.
"The governor's directives never did terminate golf," the city's sports services director John Turnbull says. "It was specific that outdoor activity remain with social distancing."
Turnbull says they also studied what the Indiana Professional Golfers' Association (PGA) was doing with other courses in the area.
"Then we went to best practices of not touching flags, distance at the retail counter to pay, limiting people in the building, limiting people gathering outside the door and making tee times required with increased times between them," Turnbull says.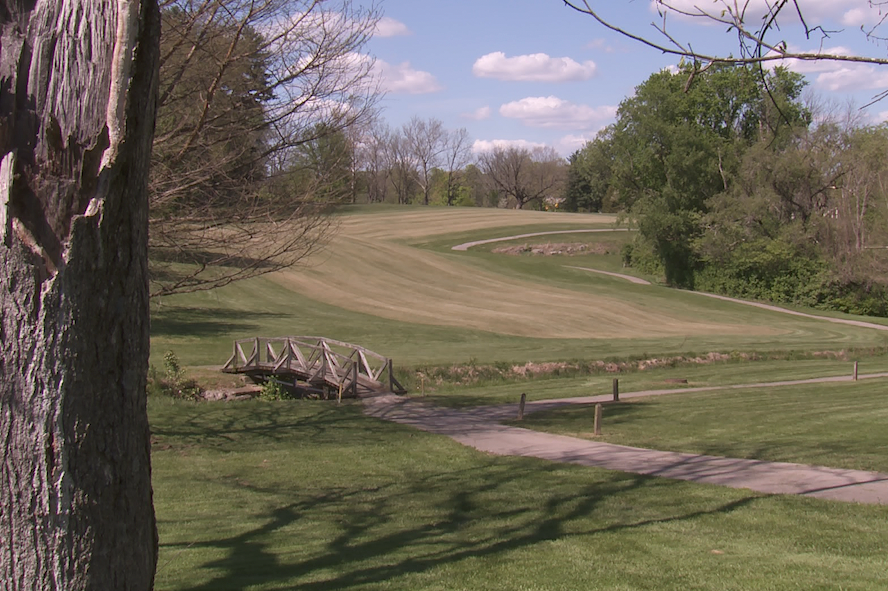 Another looming issue was the use of golf carts on the course. Turnbull says they banned carts and limited players to walking only to protect golfers.
"It was also employee driven as they expressed some discomfort with cleaning carts," Turnbull says. 
Craig says they're going to begin easing some of the restrictions this weekend. They're starting with bringing back the use of carts, but with limitations.
"Carts will be single use unless you're in the same household. So obviously spouses can ride together or a father-son or father-daughter," Craig says.
Craig says the governor's plan to start reopening the state also led to this decision.
While many businesses felt an immediate burden when the pandemic began, Craig says the course didn't slow down, and even saw a slight increase.
"I feel like people have a little more time on their hands and instead of being cooped up, they're able to come play golf in a safe manner because of social distancing," Craig says. "We have over 130 acres here. It's easy to spread out."
For the latest news and resources about COVID-19, bookmark our Coronavirus In Indiana page here.