Over her career, actor and producer Glenn Close kept her costumes in a storage unit in Bedford Hills, New York.
"It became just too unwieldy and too expensive for me to maintain. So I looked all around the country frankly, the first place I looked was the Met in New York," Close said.
The opera company told her it doesn't collect theater or movie costumes, so her search continued until she toured IU facilities.
"No one literally that I know of, or I could find out, had the kind of facilities that Indiana University has and already had," she said.
Close's connection to IU originated a couple years earlier when she was forming her mental health nonprofit, Bring Change To Mind. Close invited IU Sociology Professor Bernice Pescosolido to be part of an advisory council.
That led to visits to the Bloomington campus and her relationship with current IU First Lady Laurie Burns McRobbie.
"We have world-class facilities for objects of all kinds and collections of all kinds. And we have the [Elizabeth] Sage [costume] collection. So we already have a collection of historic fashion primarily," McRobbie said.
Close donated her 800-piece costume collection to the Sage Collection in 2017. The exhibit now open at the Eskenazi Art Museum features 56 costumes, including pieces from "Fatal Attraction," "101 Dalmatians," and "Guardians of the Galaxy."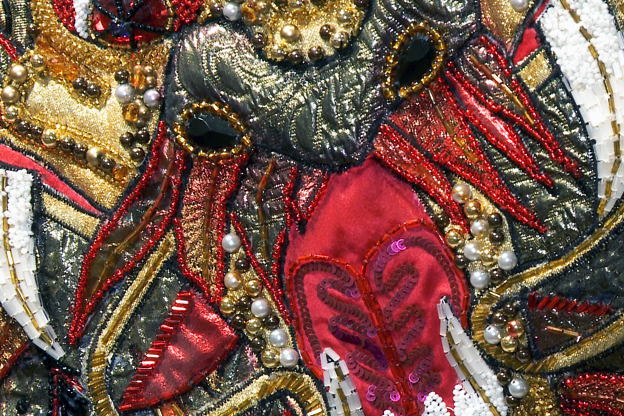 Close says her favorite costume moment is parading through the workroom so the workers could see their finished products.
"Those women in the back room at the tables, cutting, sewing, beating, they're the people that that we should be celebrating as well," Close said.
Actors don't normally keep their costumes. McRobbie says costumes typically get recycled, pulled apart, or given away and Close couldn't bear the idea of those works of art being thrown out.
So Close says it's now automatically in her contract that she keeps her costumes.
"It really started with '101 Dalmatians' and I had it written in my contract and nobody thought anything of it until Disney realized how expensive all the costumes were," Close said.
McRobbie says the collection relates to many different fields. She says the black leather jacket from Fatal Attraction was the first costume used from the collection by the Department of Gender Studies.
"Universities have been the most consistent form of preserving human knowledge. So this is an example of preserving human creativity," McRobbie said.
"The Art Of The Character" exhibit is open at the museum through mid-November and then will travel.
McRobbie says she hopes Close will be able to come to Bloomington in August to see the exhibit.
"I cannot wait to see the look on her face when she does."