The site of the now-closed Great Wall Chinese restaurant on Bloomington's north side could become home to an eight-story, student-oriented apartment building.
That's according to a proposal by architecture firm DLR Group at a Bloomington Plan Commission work session last week detailing plans for the development at 2038 N. Walnut St. The group is collaborating with Core Spaces, LLC on the project.
Read more: City board rejects downtown 'All Lives Matter' mural
The building would have more than 170 dwellings, which would include a mix of studios and one-to-five-bedroom units.
Also included in the proposal are amenity areas on the lower level, ground floor and rooftop levels. The roof terrace would house a pool, hot tub and other exterior amenities. Residential units would sit above a fully-enclosed parking garage with 268 vehicle and 86 bicycle parking spaces.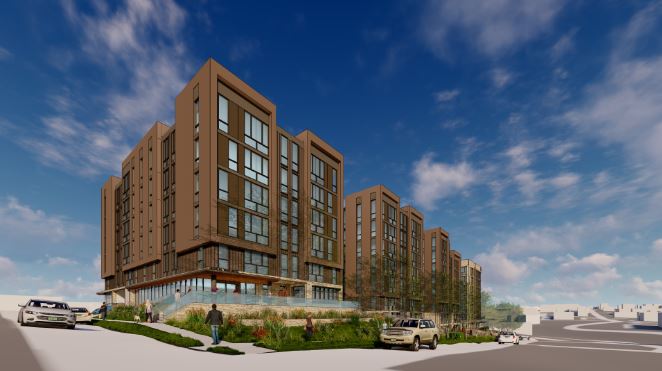 The development, on about 2.04 acres of land, would be adjacent to the Hampton Inn just south of the State Road 45 bypass on North Walnut Street. The site is also near the Walnut Knolls and VERVE Bloomington apartment complexes.
Read more: Bloomington utilities, public works update city council on HQ relocation request
According to the city's zoning districts map, the site is zoned for mixed-use student housing. The purpose of the district is to provide "an adequate supply and mix of housing opportunities for students in areas adjacent or within easy walking distance to campus and along nearby commercial corridors and with easy access to campus-serving public transit and to university-provided parking," according to Bloomington's Unified Development Ordinance.
The proposal is scheduled to be heard at the plan commission's April 10 meeting.