Sunset Skatepark Phase II from Timothy Jagielo on Vimeo.
It's blisteringly hot out, and Hunger Skateparks Co-Owner and Macro Manager Bart Smith and employee Logan Trenum, are measuring to find the right spot to build the forms for an outlying structure of the Sunset Skatepark in Evansville.
The site had appeared deserted since late April, when Deig Brothers Construction completed Phase I of the project. All the grass that made the site look neglected was placed intentionally to slow erosion.
Now the site is strewn with hardware and heavy equipment. Smith said the park, when completed, will cater to myriad interests.
"There's a wide range of kinds of terrain that people want to tread on," Smith said. "So we're trying to get a little bit of something for everyone, including roller skaters, transition skaters, street skaters, rollerbladers, bikers, it's kind of including everyone."
The skatepark is right on the Ohio Riverfront next to Mickey's Kingdom playground. It will be 23,000 square feet hailed as the largest in Indiana by the city.
Smith said Garmong Construction is handling the "periphery" of the park, while Hunger builds the park itself.
The final design includes an oval track and two different bowls among other features. The budget of about $1 million is funded by public and private means and began as a grassroots effort.
Smith said he's enjoyed working with the community. "They got a loud voice, and they're pretty eager, and it's been great to work with them."
This week, his crew is focusing on "dirt work" — further building up the ground to actually construct the various features.
"We're just doing grading work, dirt work, basically, we haven't done any forms or concrete yet."
Trenum is running a heavy duty plate compactor, a flat-bottomed hand operated machine pummeling a large crushed limestone disc.
It's going to become a "manual pad," an obstacle from a few inches to a foot tall, made of concrete and is for wheelies, or "manuals."
A few days later, a large tubal metal circle is laid around the base of the manual pad. Such hardware is all over the future skatepark, hinting at the shapes of the features to come.
"You see the steel edging on the ledges — we're going to set steel and get some forms up," Smith said. "That's what we're doing this week. And do some more dirt work we're shaping the dirt up there kind of bouncing around and that's what's unique to skatepark building is it's all trades are represented.
You got dirt work, you got steel work, carpentry, of course, you got concrete, and they all kind of come together. And we're do all all those trades, basically, in any given day."
Smith said that's one unique thing about skate park construction — all the trades it requires to take it from plan to reality.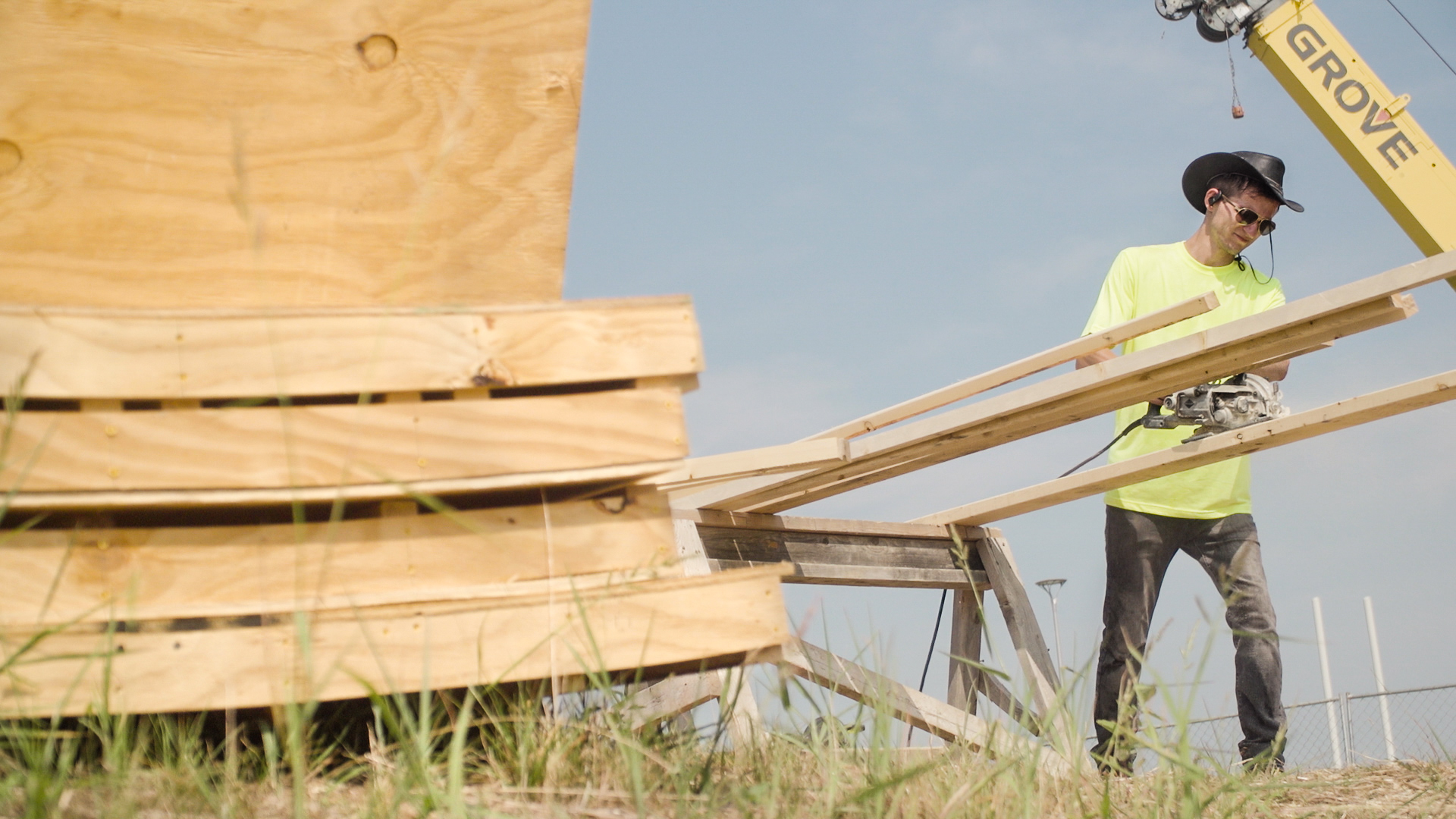 Included in the crew is Robert Zimmerman of Evansville; he's running a skillsaw in the hot sun, ripping two-by-six planks into thin pieces to make stakes.
"Then we'll just drive it into the ground and then that will hold the concrete form panels in place that will eventually hold the poured concrete that's coming in the coming weeks," Zimmerman said.
He's referring to a process called shotcrete, which Smith describes as "intense," because his crew will balloon from three to 10 and the process will happen quickly. A high pressure hose apparatus literally sprays the concrete on the forms, which are shaped by Hunger Skatepark's specialty tools.
That'll be happening in a couple weeks. Bart said the goal is to finish December 1, just under a year from the groundbreaking.