Headed west on State Road 46 through Spencer, drivers pass by landmarks typical of a town of 2,400 people; small local businesses such as Main Street Coffee and Kitchen and chain staple grocery stores and gas stations.
IU grad Molly Cunningham calls it home. You can't find her address yet on Google Maps, but she moved into a budding neighborhood being built by Cook Medical for its employees. She's excited to have space to spread out and a yard for her dog.
She's one of several employees to move into the subdivision being built by Cook. The company said last year it would build 300 homes in south central Indiana.
She's worked with the company since 2019, when she finished school. She and her husband rented an apartment in Bloomington. But rent was going up each year. 
"It was getting really frustrating," Cunningham said. "Paying that much money and not really understanding where it was going to other than just to the property management company." 
She started looking for houses, but thought she'd have to get an older home to stay within budget.
"We knew our next step would be owning a home," she said. "But just couple years ago it just didn't seem very attainable. Just with a pandemic and everything, the housing market going crazy because of it. It just was a pipe dream."
She heard about Cook's plans to create worker housing about a year ago. She and her husband applied and got preapproved for a mortgage. They closed on their house over the summer.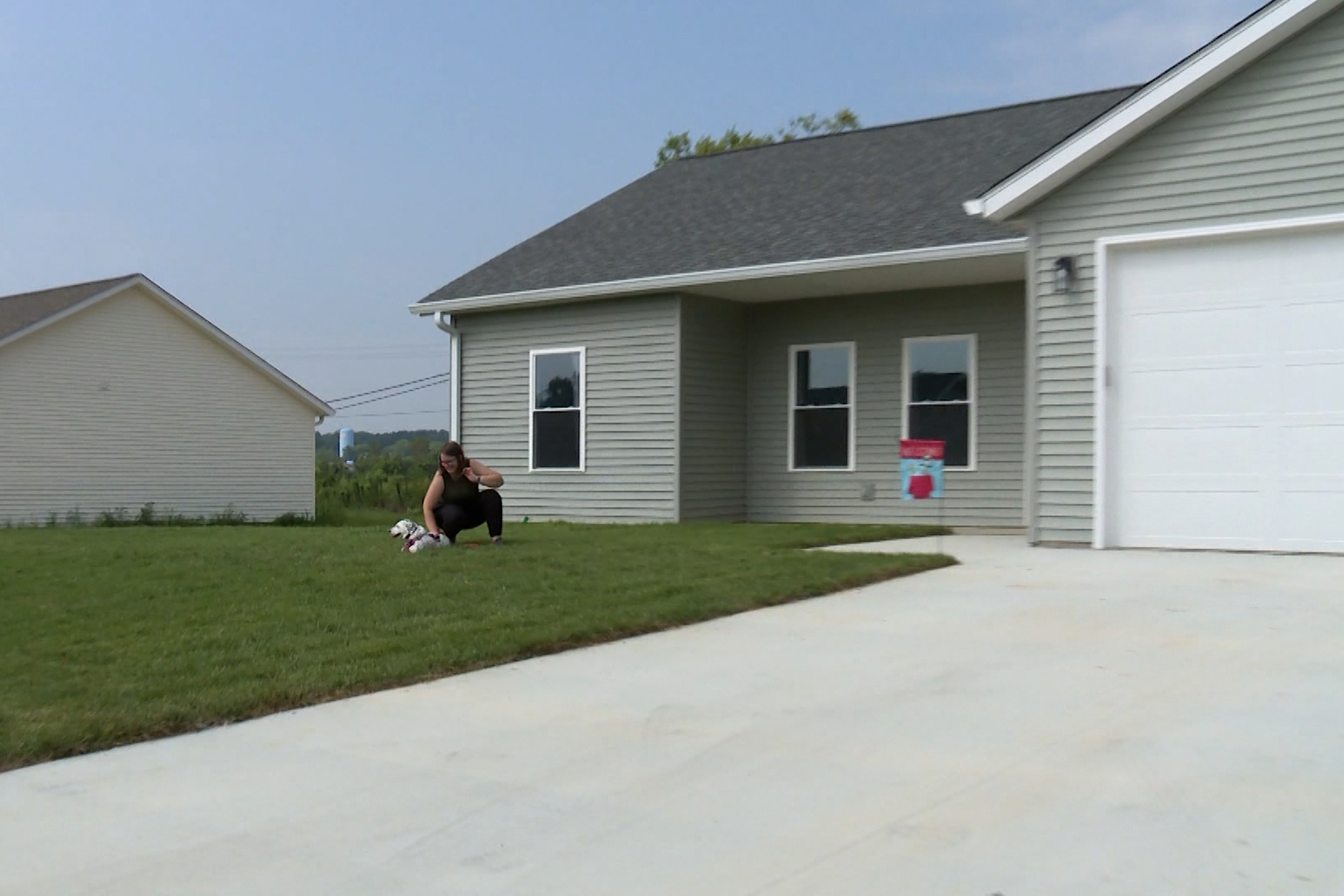 The president of Cook's workforce housing Ron Walker said housing is a challenge for company recruitment and retention. Cook heard similar concerns from a spectrum of employees– from single income households making around $40,000 a year to dual income households making $120,000.
"That was kind of our target group, because that's a group we thought has the ability to own a home, many of them have expressed an interest in owning a home," he said. "But yet with the wage levels compared to the way the housing costs and prices have gone up, it's just becoming more and more difficult." 
Cook's houses in Spencer cost about $200,000. The company's built 14 so far and sold seven – one being the Cunningham's. The idea is to take the money made from one house and put it into the next.
Walker said the project received READI Grant funds for the project. The development's been done in an unofficial partnership with the town of Spencer, which brought water treatment infrastructure to the development. Cook voluntarily annexed its 62-acre development into the town.
Richard Lorenz, the town of Spencer's lawyer, said the town used READI grant funds and the state revolving fund to pay for the infrastructure. He said Spencer's population was aging, and not seeing much migration in­, causing economic troubles for the town. 
"The contractors were tending to work in the Monroe County area and other high density locations rather than here," he said.
Cook, located largely in Monroe County, needed space for its employees. Lorenz said Spencer, just a county over, was able to provide that.
In Monroe County, 60 percent of renters are cost-burdened. Median rent is $1,500– almost twice the state median. And Monroe County's median home value is $60,000 more than the state.
Indiana Housing and Community Development authority's director of real estate strategic initiatives Samantha Spergel said issues of affordability and availability are common statewide. But needs and solutions vary by region.
"Persons really should be paying no more than 30 percent of their income on housing" Spergel said. "And that is becoming increasingly more difficult to do."
Statewide, 40 percent of renters are cost- burdened. Median home value statewide went from $160,000 to $227,000 in the last four years.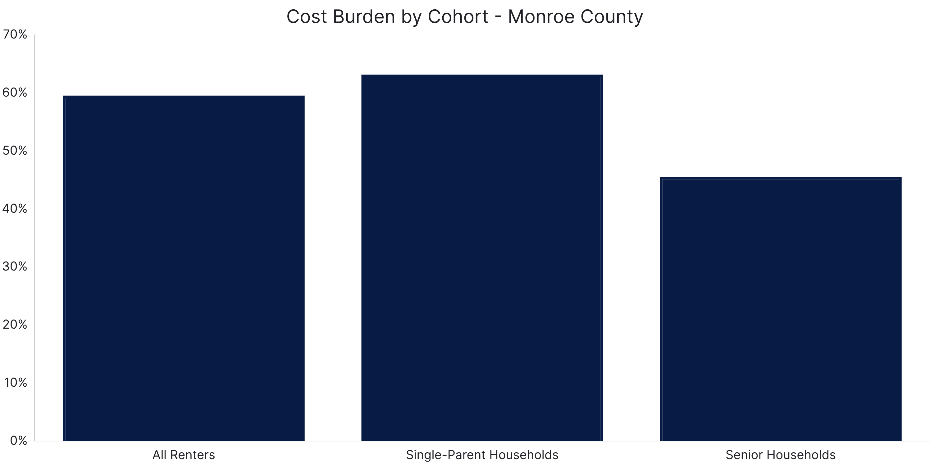 Spergel said economic and housing policy are connected. People need opportunities to increase wealth through wage growth and education. But if production of affordable housing doesn't keep pace with demand, prices go up for everybody.  
"The needs in urban population may vary greatly from rural, there may not be the need for the same level of production in a more rural area" she said. "There may be need to address existing housing stock in a rural community."
Read more: Workforce housing underfoot in Orange County, local employer footing the bill
Spergel added Cook's initiative to build in Spencer will have long-term benefits for its employees and the town. 
Cunningham said the months-long process of getting her home will be worth it to feel settled.
"So to actually feel settled and decorate a little bit, figure out how to manage this yard situation" Cunningham said. "It's going to be quite the process to figure out how to do yard work. And getting used to Spencer and discovering what's here.
Though the state housing authority didn't support this development specifically, it's partnered with four employers since 2019 to support workforce housing initiates. That includes one for the French Lick resort in Orange County– which is also owned by Cook.