Update:
Survey teams are reporting another tornado in Owen and Monroe counties from Friday night's severe weather outbreak.
National Weather Service officials say that brings the total to nine tornadoes for the Indianapolis office region.
An EF-3 tornado touched down in McCormick's Creek State Park and continued northeast into Owen and Monroe counties at 11 p.m. Friday. Peak winds reached 138 MPH. The tornado was on the ground for four miles with a width up to 400 yards – the length of more than three football fields.
Two campers were killed and two more were injured. Many trees were snapped and a few homes destroyed.  
A storm system is expected to move through the area Tuesday night to Wednesday bringing more severe storms in multiple rounds. Officials say damaging winds is the main threat, but hail and tornadoes are also possible.
Original Story:
The National Weather Service in Indianapolis is reporting eight tornadoes hit the area during Friday night's severe weather.
In a preliminary report, Indianapolis region survey crews over the weekend identified tornadoes in Clinton, Howard, Johnson, Morgan, and Sullivan counties.
Weather officials say the storm that killed three people in Sullivan was an EF-3 tornado with peak winds reaching 140 MPH.
Meteorologist-in-Charge in Indianapolis Ted Funk says the National Weather Service was only able to give residents about a 20 minute warning.
Read more: Preliminary Review of the March 31 Tornadoes and Severe Storms
"Once we saw the storm and how potent it was we upgraded that tornado warning to what we call a higher end version. It's called a considerable tornado," Funk said.
The tornado traveled on the ground for about nine miles severely damaging at least 200 structures in its path.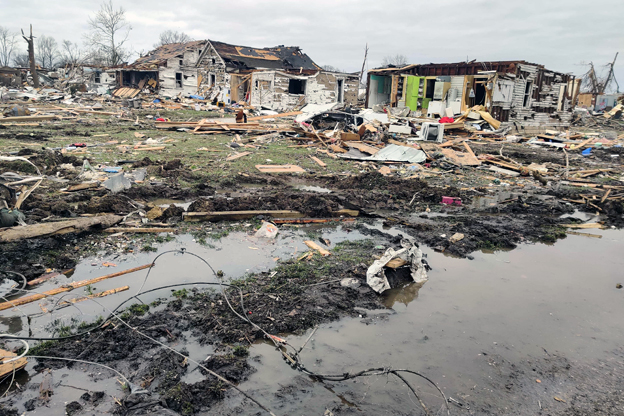 Brandon Dow lives in the southern part of Sullivan. He says he's lucky to be alive.
"I was really afraid that you know that house is not going to stand long enough for me to live through this. I didn't know if it was gonna take the house and me with it. Or collapse on top of me. I was just afraid," Dow said.
The report indicates a possible EF-2 tornado ripped through Whiteland for about 3.5 miles with 135 MPH peak winds damaging homes and uprooting trees. The report indicates the tornado width was 316 yards at one point – almost the length of 2 and a half football fields.
Another EF-2 tornado with winds peaking at 130 MPH touched down for almost 9 miles southwest of Martinsville near highway 37 damaging numerous homes and blowing the top off a grain bin. It's reported the tornado reached a maximum width of 200 yards.
Governor Holcomb declared a disaster emergency for Sullivan and Johnson counties Saturday.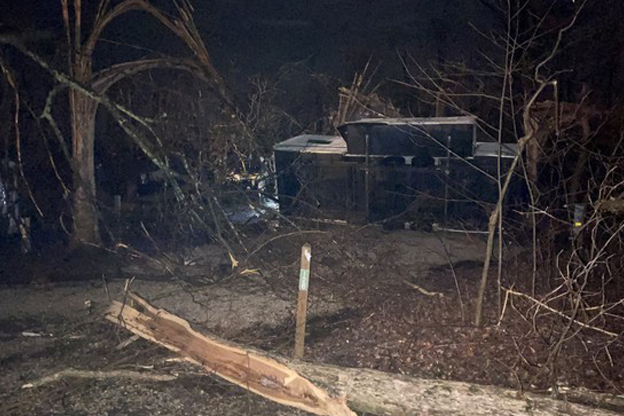 Two campers were also reported dead after storms ripped through McCormick's Creek State Park near Spencer flipping over campers and vehicles being crushed by trees.
Weather officials say more surveys may be needed before the information is confirmed.