Kelli McLaughlin makes her way to the couch in her Carmel living room, using her cane so she doesn't lose her balance.
The strain she's under is written all over her and her husband Ryan's faces. 
"It's been a grueling couple of weeks," McLaughlin said. "Not just with the information and the decisions we've had to make, but that turn of the corner of, 'yes, I'm going to die from this. Yes it's probably going to be in the next six months, maybe eight, and how can we make those months count?'"
Kelli has Stage IV brain cancer. And after surgery a year ago, the cancer is already back. It's the same kind that Joe Biden's son and Senator John McCain died from.
Keli is the heartbeat of her little family. She and her husband share four kids, the youngest in kindergarten.
"I feel like I am kind of the glue that holds all this together," she said. "As I get weaker and more tired, I'm having to let some of that go, and I can't be that person for my kids that I once was. It's hard, and that's just something I'm working through. I know my focus has to start shifting."
Read more: When cancer screenings are free but follow-ups aren't, patients foot the bill
Angela Hershey and Jennifer Foley are here today to listen, provide support and hopefully just help Kelli relax.
Angela lights incense and finishes laying out an assortment of healing stones and flowers on a small table between her and Kelli. She has been on Kelli's care team since August.  
Angela and Jennifer are part of a growing profession called end-of-life or death doulas.
The term doula means female helper and has traditionally been used to identify a non-medical person who helps a woman during childbirth. Angela said you can think of end-of-life doulas as someone who helps you on your journey to dying. 
"As long as we've been living, we've been dying," she said. "Death doulas are really an ancient role."
View this post on Instagram
A national alliance
The National End of Life Doula Alliance provides training opportunities to end-of-life doulas and conducts research on the practice. Its membership has been growing steadily, particularly since the COVID pandemic started in 2020. 
Alliance director Alvin Harmon says the pandemic changed the way people think about death. 
"When you thought about people who were dying and being put in refrigerated trucks, that is not how we want to die," Harmon said. "The doula has always created that space for (people) to die in a peaceful manner. "
Read more: Insurance executive says death rates among working-age people up 40 percent
You can't find an exact number of how many doulas are practicing because it's not something you have to be licensed to do. Anyone can call themselves a death doula, but there are classes you can take and trainings in everything from massage to understanding the grief process.
"I think the consistent part of the training is just to teach people to be non-judgmental in that space, because people have all kinds of things that are connected to them as far as their spirituality, their personal culture, their home culture," Harmon said. "All of these things play a part, and the doula has to make space for that."
Glioblastoma
Glioblastoma is the most aggressive form of cancer that starts in the brain. Kelli is a positive person, but it's been a lot for her to process this diagnosis.
"Nobody knows about it. By the time you get diagnosed and finish up a little bit of treatment, over half the people (diagnosed) have already died from it. The life expectancy for someone with my diagnosis is usually between 10 and 15 months after you're diagnosed," Kelli explained.
"The survival rate at five years is like 3%. So you just do the best you can with what you have, all the while pushing for something more something better. There's promising trials, but people aren't around long enough to get to the trial. It's kind of a Catch 22."
Read more: What's behind the increase in brain cancer in Henry County?
Kelli says as long as she has the gift of life, she'll do everything in her power to raise money and awareness to find a cure for Glioblastoma.
She's helped organize a number of fundraisers, such as benefit runs. So far she's helped raise hundreds of thousands of dollars for research.
Kelli's goal is to keep advancing the ball, and when her time is done she wants someone else to pick up the ball and keep advancing it some more.
The doulas have helped Kelli prioritize the time she has left. She determined her top three priorities this summer – family, friends and raising awareness of Glioblastoma. If something doesn't fit into one of those buckets, Kelli feels better about saying, "No, I can't focus my energy on that."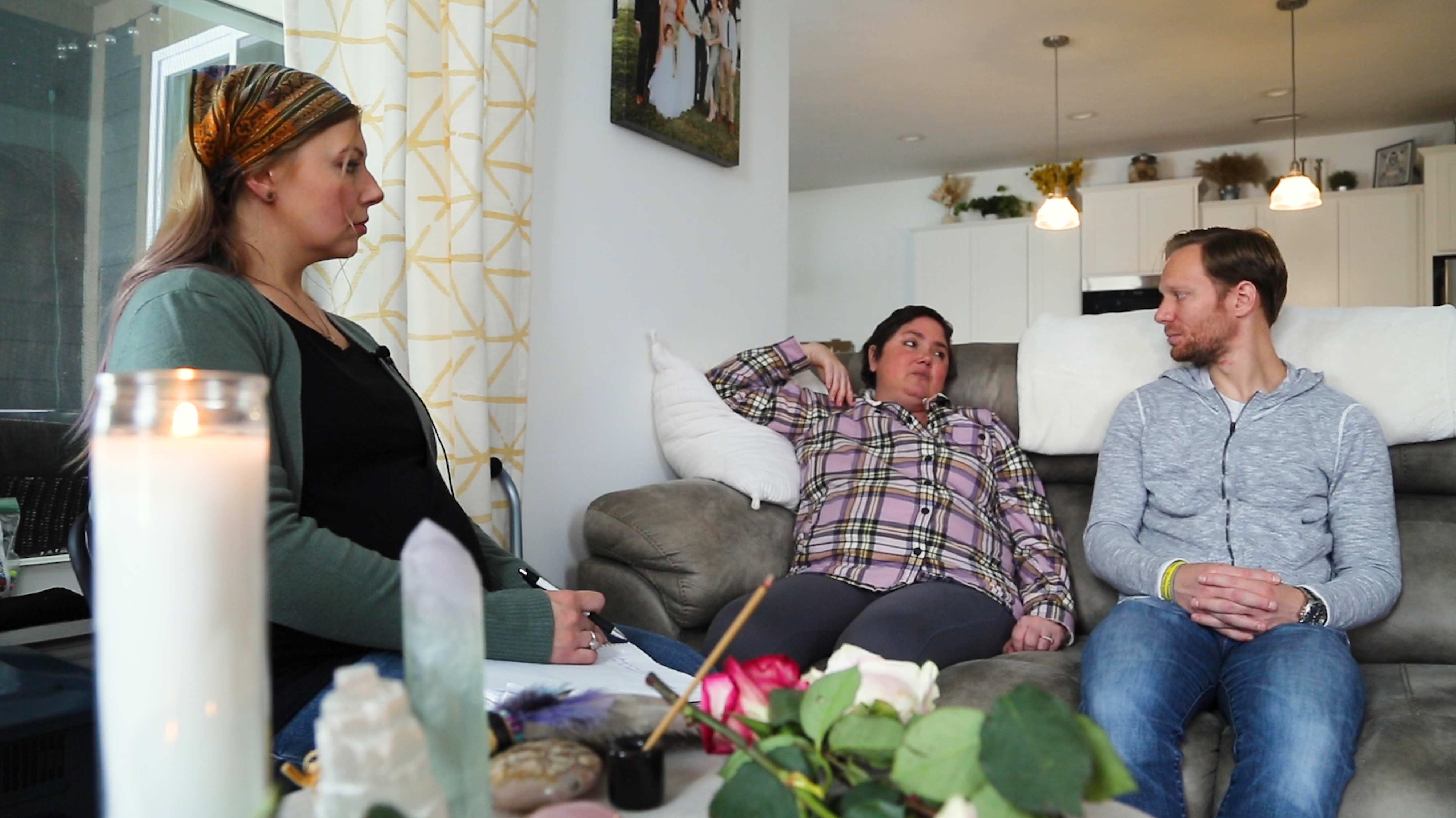 Dying well
Kelli found Angela and Jennifer through her therapist. After meeting virtually, Kelli decided it was a good fit. 
"One thing she told me when we met the first time, and it is stuck with me big time, is that the last gift that you will give your children is teaching them how to die well. She said, 'There's no greater gift you can give them at the end of your life.' And that's my goal."
You can visit Kelli's Glioblastoma research fundraising page here and sign up here for her Kegs n' Eggs fundraiser in May. 
Indiana Public Media's Devan Ridgway and Cathy Knapp contributed to this story.