The Hoosier State Line will make its final trip from Indianapolis to Chicago on Sunday.
It's ending after Governor Eric Holcomb eliminated $3 million in annual funding for the route from the two-year state budget that starts July 1.
Hoosiers will still be able to catch a train to Chicago on the Cardinal Line, but that route starts in New York and only runs three days a week. 
While riders say they're disappointed to see the service end, state officials say the numbers speak for themselves.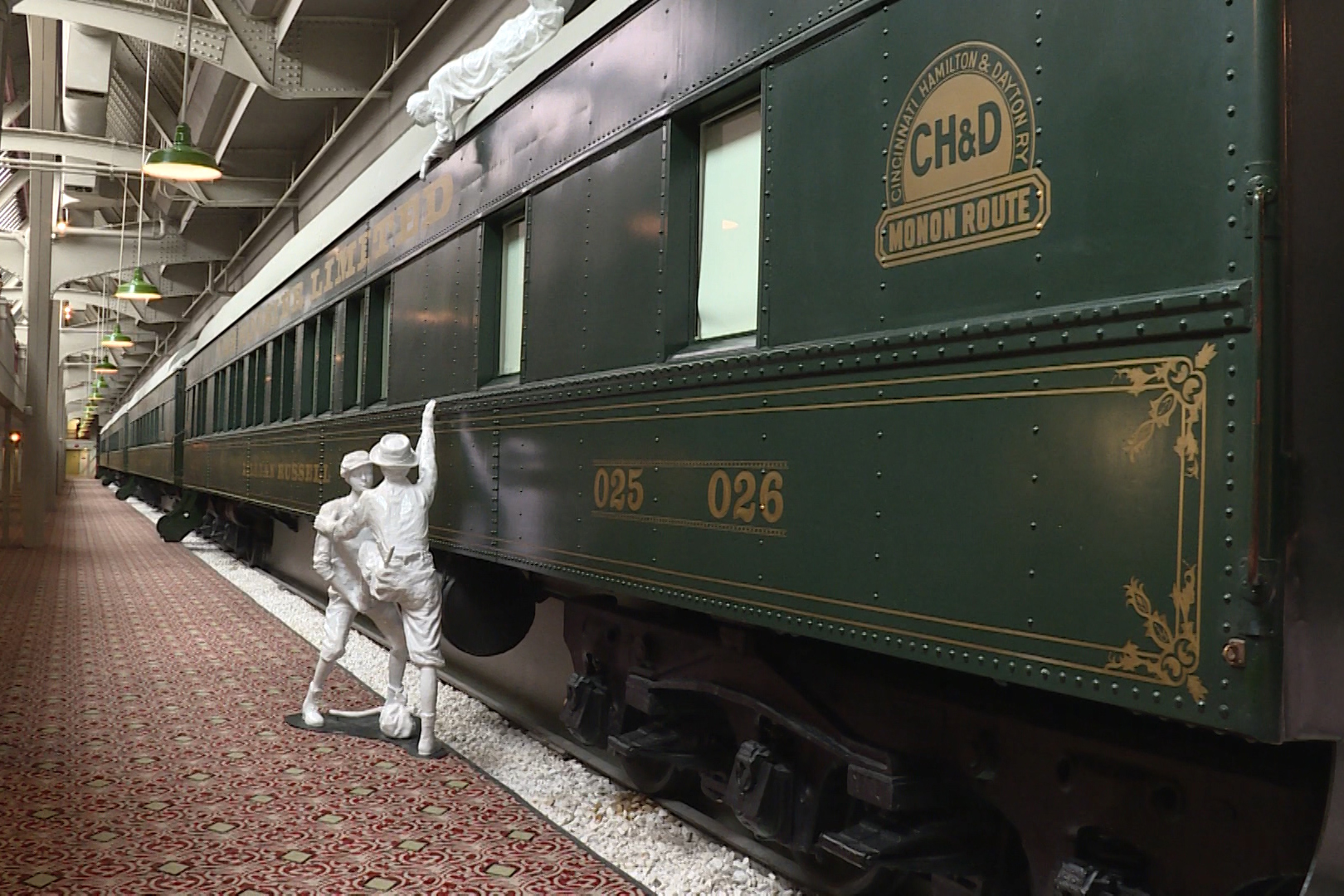 'Glory Days' Of Train Travel Long Gone
Union Station in downtown Indianapolis is unique among other train depots. When it opened in 1853, it was the first Union Station in the country. The central location of the train station made it a natural hub for travel. At one point, more than 150 trains arrived and departed from the station daily. 
"Indianapolis really has something that really few other cities in the United States have," says Demetrius Villa, president and founder of the American Rail Club. "And that's a central location to the rest of the region and also other regions."
But it appears the state isn't capitalizing on that strength, at least not when it comes to passenger rail. 
The Crowne Plaza Hotel occupies historic Union Station's old train shed and pays homage to what train travel used to be in Indiana. The elaborate Grand Hall is now an events venue, and passengers can even stay in an old Pullman car. 
Across the street is a small, gray Amtrak and Greyhound station. 
"Here we are crossroads of America, right in the middle of everything, we really need to pick it up a notch in order to be competitive compared to our neighbors here in the Midwest," says Tod Bassler with the Indiana Passenger Rail Alliance. 
Bassler says there's an increasing demand for alternative modes of transportation, and regional train travel is the logical answer. He says what's been offered in south-central Indiana isn't enough.
"Giving people other options, other viable, pleasant options where you can sit and play on the wifi, interact with your friends, have a meal or just sleep, that option is in need of serious improvement here in Indiana," he says. 
Many say the lack of amenities and frequency of the Hoosier State Line led to its demise. 
Uncertainty Plagued Hoosier State Line For Years
Congress cut federal funding for Amtrak routes shorter than 750 miles in 2013. That included the Hoosier State Line. 
The state reached an agreement with Amtrak and the communities along the route to keep it going. Under the agreement, more than half of the funding would come from communities along the line, including Crawfordsville, Rensselaer, Lafayette, West Lafayette, Tippecanoe County and Beech Grove. The state would fund the remaining portion. 
But a ruling by the Federal Rail Administration threatened to shut the line down in 2015. It said the state would have to be classified as a railroad carrier in order to keep the Hoosier State Line going. INDOT said the state couldn't afford the increased costs and liabilities that would come with such a designation. The state eventually reached an agreement with the FRA that saved the line, at least temporarily. 
Iowa Pacific started providing train equipment and maintenance for the line in August 2015, while Amtrak still operated the train. The deal resulted in more amenities for riders, including a glass super dome and dining car. While ticket sales increased during the first year of the deal, the number of riders still dropped 12 percent. 
Iowa Pacific ended the deal early in 2017 because of a contract stipulation that meant it wasn't making enough money under the agreement. Amtrak took the Hoosier State Line back over. 
While INDOT says on-time performance and service has improved since the state started subsidizing the line, ridership keeps dropping. Amtrak data shows it's down by about 25 percent since 2013.
INDOT Spokesperson Scott Manning declined to do an interview for this story, but released a statement.
"The Hoosier State remains one of the most heavily subsidized passenger rail services currently operating, with about 75 percent of the cost of each ticket sold subsidized by the state and local governments," the statement says. "This financial model is not sustainable long-term and doesn't represent the best value for taxpayers."
Amtrak officials say the Hoosier State Line's fate comes as no surprise. Chicago-based Spokesperson Marc Magliari says they told state officials for years that they needed to invest more money in the service.  "Operating costs are higher on a route that has limitations to it," Magliari says. "We can't draw as many people on a route when the route is an hour or two slower than driving. We've always said the best way to get costs down is to follow the model of other Midwestern states: invest in the route and invest in equipment."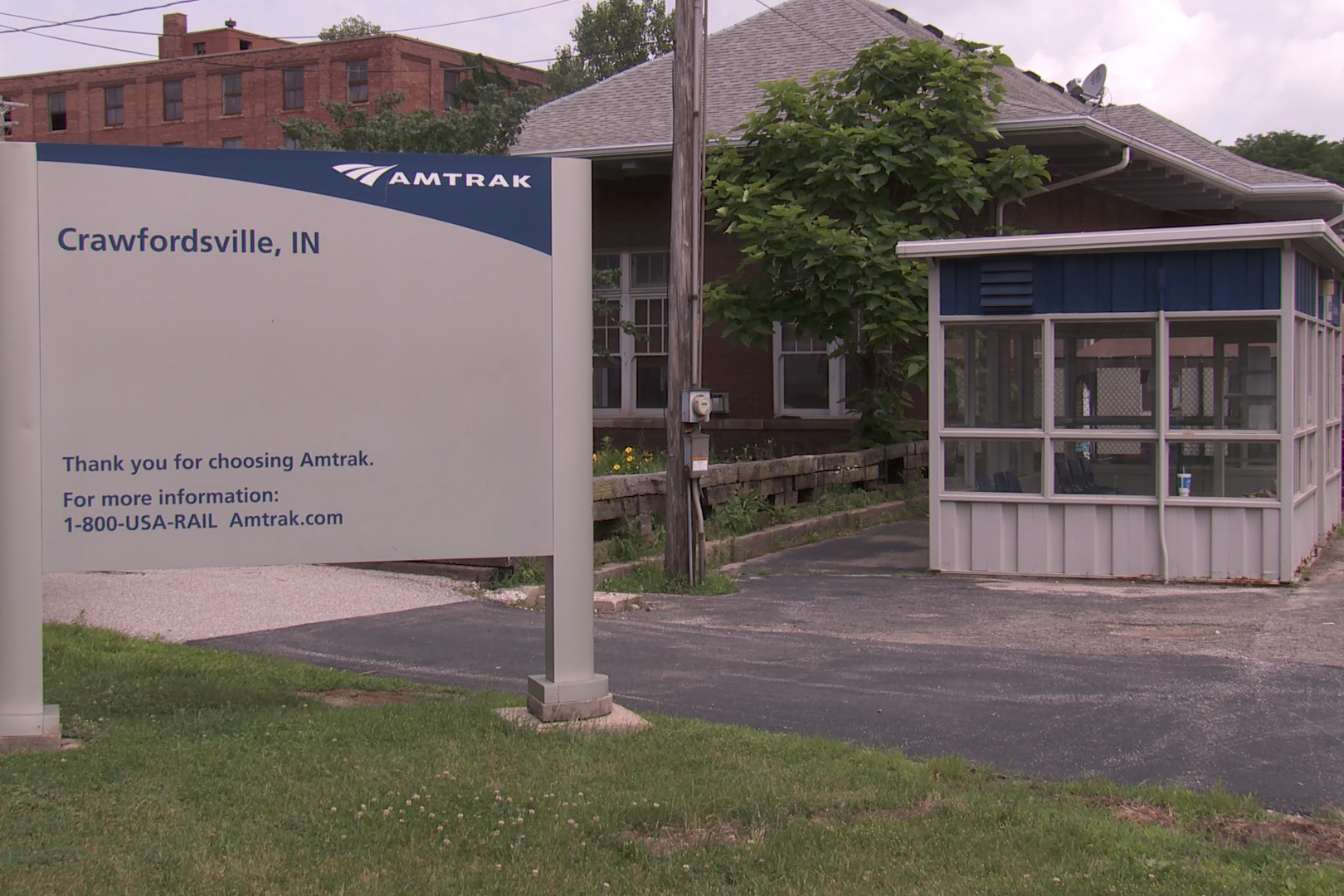 What Happens After The Line Ends?
For smaller cities along the Hoosier State Line's route, the train provided a unique marketing opportunity.
Crawfordsville Mayor Todd Barton says it helped him draw new businesses to the community. That's one of the reasons the city contributed about $4,400 a month to keep the line operating. 
While he understands why the state cut funding for the line, Barton sees the decision as short-sighted. 
"We really have to think in terms of what's going to position us into the future," he says. 
Barton would like to see Indiana follow the lead of some other states that have removed passenger rail from their Departments of Transportation. He says doing so would make train travel a bigger priority. 
"Departments of Transportation are really focused on roadways and moving commerce in that way, and there's really not much of a focus or even a lobbying effort on the behalf of passenger rail," Barton says. 
There are also concerns about how the end of the line could impact Amtrak's Beech Grove Shops, which employ about 500 people. They perform maintenance on and refurbish rail cars from across the country. Amtrak used the Hoosier State Line to transport those cars to the shops, and will now be able to do so less frequently. 
"A contract just went to a shop in Milwaukee that we could have competed for in Beech Grove, but to compete you have to have daily service or more than three trains a week to move rail cars and locomotives back and forth," Magliari says. 
Magliari says the loss of the line puts some Beech Grove jobs at risk, but didn't provide specifics. 
Without a shift in state priorities, many worry the Hoosier State Line will be gone for good. The rail cars currently serving it will be redeployed after June 30. And there's no guarantee the tracks will be available for an Indianapolis-to-Chicago line in the future. Amtrak only owns about 17 miles of rail line in Indiana, so it and the state has to work out agreements with host railroads to run certain routes. 
"Bringing the train back, as it was, is not anything we would suggest," Magliari says. "In order to come back, and come back and be the kind of service we've had elsewhere in the Amtrak Midwest network, it needs to be a better service, it needs to have investment in it."
Passenger rail advocates like Bassler say they're hopeful that could happen. He says he's encouraged by the state's financial committment to improving the South Shore commuter line in northern Indiana.
"What I really want to see here is improvement for central Indiana, and for the south of Indiana, as well," Bassler says. "We've regularly spoke about what we call an 'inverted Y,' which would be a daily, reliable service between Cincinnati, Indianapolis, Louisville, Indianapolis, Chicago."
But a robust expansion is hard to imagine with service from Indianapolis to Chicago getting scaled back.