Editor's Note: Some of the images in this story might be disturbing to some people.
In the early morning of July 20, 2021, Josh McLemore arrived at Padded Cell #7 at the Jackson County Jail. He was arrested for pulling a nurse's hair while getting evaluated in the hospital. He was apparently suffering from an acute mental health episode. 
The episode would persist the entire time he was in jail – 20 days. Court records show in that time, he lost 45 pounds. He rarely ate or drank. He slept a total of about 15 hours out of 480. He spent nearly every minute of his time in jail inside his windowless cell. By the time he was transported from the jail to Schneck Medical Center in Seymour on Aug. 8, he was too weak and frail to lift his own body.    
He died two days later in Mercy West hospital in Cincinnati.  
On Wednesday (April 12), a lawsuit was filed against the jail by Josh McLemore's estate, and with that filing comes new information detailing the circumstances of his death. The following information comes from that complaint, as well as information gathered by WFIU/WTIU News. 
This case marks the second for the Jail over the past two years. The death of Ta'Neasha Chappell sparked outrage in 2021 after she died under the care of the Jail only a few weeks before McLemore did. 
Investigations conducted by the Indiana State Police and reviewed by Jackson County Prosecutor Jeff Chalfant resulted in no criminal charges being filed in the case. 
The civil complaint filed this morning seeks to hold Sheriff Rick Meyer, jail nurse Ed Rutan, jail commander Chris Everheart, and others liable for deliberate indifference and gross negligence. 
Civil suits, like the one filed today, give only one side of the case.   
McLemore's History  
As a child, McLemore moved homes with his mother Rhonda, who was part of the Navy.  She remembered him as a caring soul who constantly carried a smile, according to her Facebook.   
Other friends and family flocked to Facebook following the news of his death, some asking for answers for what happened, others remembering his kindness as a friend and young boy.   
He grew up in Long Beach, Mississippi, where he received a full ride to Mississippi State University. He enjoyed reading and playing chess.   
Starting in high school, McLemore struggled with undiagnosed schizophrenia and drug use. Despite mental health problems, he had long periods of stability in his life, according to the court filing. Eventually, however, his problems would come back.  
On July 20, someone called McLemore's apartment manager in Seymour concerned because he was no longer returning calls. The manager found his tenant naked, confused, and incoherent. He called an ambulance.   
The complaint states that McLemore was barking like a dog and required coaxing to get into the ambulance. Nurses determined he was erratic because of a drug-induced psychotic episode. The nurse described his mood as hostile, anxious and suspicious. At one point, he pulled a nurse's hair, prompting a security guard to call the Seymour Police Department.  
Four officers arrived, cuffed McLemore, and took him out of the hospital, naked except for his underwear, according to the court filing. He was transported to the Jackson County Jail about 10 miles away.   
At 3 a.m. on July 21, four officers walked Joshua directly from the police car into a padded cell without following inmate processing procedures. He was not fingerprinted, medically evaluated, or given a mental health check-up, according to both the complaint and the prosecutor's report. 
Security camera footage shows McLemore crowded by the four officers in the cell with his underwear – his only article of clothing – removed from his body. They placed him down in the corner of his cell facing the wall and shut the door. Inside, the cell was empty, except for a jail smock and blanket.     
Time in Jackson County Jail
Over the next 20 days, McLemore's physical well-being would continue to deteriorate within the confines of Padded Cell #7.   
The complaint states that McLemore was in a constant state of psychosis while incarcerated. As seen in security footage from inside his cell, he regularly rolled on the floor, ate trash from his food trays, screamed, and muttered incoherently to himself. In the first few moments he spent inside, McLemore can be heard asking himself, "Where am I?" 
The prosecutor's report states that jail commander Everheart spoke with McLemore's mother on July 27. He learned that McLemore suffered from drug induced manic episodes, had mental health issues, and was admitted to a mental institution four times.  
"Unfortunately, jails are mental health facilities in Indiana, as they are in most of the United States," said Ken Falk, legal director of the Indiana ACLU. He said he can sympathize with jail workers who lack advanced training. "The question I always have is, what sort of structure is in place to help people who don't have… advanced training, who are somehow put in charge of the life of these prisoners?"   
The jail put McLemore on "Medical Observation" for the duration of his stay. The filing states that despite this, McLemore received virtually no medical monitoring or care, even as his condition worsened. Logs were held at 15-minute intervals only for the first seven days. They were vague, only stating that he was sitting, standing, or "active." No notes were kept regarding his physical or mental condition.   
The complaint also states that jail nurse Rutan did not call appropriate medical services. It states that Rutan, who is a licensed practical nurse, is limited in what he can diagnose and treat. The jail contracts with a private third-party healthcare provider, American Correctional Healthcare, to provide more advanced services.   
The complaint states that Rutan never called ACH's representative, and the jail never tried to determine if McLemore was fit to be in the jail in the first place.   
Civil Rights Attorney Dan Canon called that inexcusable. 
"In the majority of the cases like this that I've seen, they're at least calling somebody at some point and not just leaving somebody to waste away and die naked in a cell," he said.  
The restroom attached to his cell was always locked and required a vocal request to open. On the 14th day into his stay, jail workers attempted to make him aware of the restroom, according to the complaint. "Even if Josh had known about the bathroom earlier, it is likely he would not have understood its purpose, remembered how to access it, or been able to communicate his needs due to his constant psychotic state," the complaint says.  It states because of this, he regularly defecated on the floor of his cell.  The complaint states his blanket and smock were perpetually urine soaked.  
The complaint also charges multiple instances of unnecessary force and restraint. These instances include placing him in restraints to shower him or clean his cell, pinning him down to the ground, and placing him in a restraint system called a WRAP for over four hours.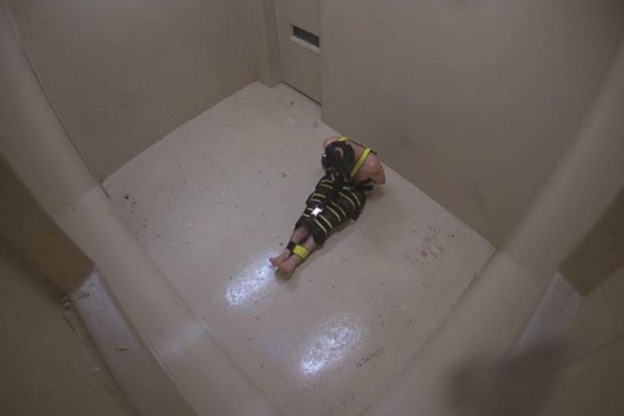 McLemore only was able to leave his cell four times, for showers and cell cleanings, during his 20 days in jail. As the days went by, he moved and spoke less and less.  
His cell was directly outside the book-in area where officers regularly congregated.  
"If you were properly monitoring an incarcerated person, they don't lose 44 pounds, they don't lose a quarter of their body weight in 20 days," Canon said.   
Lack of accountability
 There is a lack of formal oversight over the jail system in the United States. Canon said this creates a legacy of no accountability for jail systems. 
"The folks that are responsible for the worst things that happen in those jails, know that they'll never be held accountable in any meaningful way," said Canon. "There's just no one who cares."  
"We're not managing any of this, but we are incarcerating at higher rates than any other nation on the globe," said IU criminal justice professor Miriam Northcutt Bohmert. "If we're going to use incarceration at such high rates, we need to develop a system where there are skilled, trained people to care for the people behind those walls."   
Bohmert said there are a host of reasons for systemic issues within jails. "We haven't decided as a society how we want to regulate or make sure people are safe there."    
At 4:42 p.m. on Aug. 8, officers took McLemore by the arms into a restraint chair and took him to the shower. He couldn't bear his own weight. They then took him back to his cell and covered him with a blanket. Nurse Rutan took vital signs but did not record them. An officer decided McLemore needed medical attention and called for an ambulance, which arrived about 6 p.m.  
At Schneck Medical Center, it was determined that McLemore's needs were beyond the hospital's capabilities. He was airlifted to a hospital in Cincinnati, where he would die from multiple organ failure. The official cause of death stated it was due to refusal to eat or drink because of his untreated schizophrenia.    
 "These are things that happen in American jails with some regularity," Canon said. "But the reality of the situation is that the courts throw out most of those claims, and no one is ever held accountable, even in the cases that make it to court." 
Nearly one year after McLemore's death, his mother, Rhonda McLemore, unexpectedly died from a heart attack. She was in her mid-50s. His aunt now represents his estate in court. 
Editor's note: The claims made in a lawsuit give only one side of the case. We have reached out to the Jackson County Jail but as of publication have not gotten a response.
This story will be updated. 
Mclemore 1 by Indiana Public Media News on Scribd