Bloomington Mayor John Hamilton said trails are one of the city's most treasured assets. That's why he promised to fund four new routes with the 2018 Bicentennial Bond.
One of them is the 7-Line, a protected bike lane along 7th street that will connect the B-Line trail and Indiana University campus.
"Just think about how the B-Line revolutionized the way we get around Bloomington," Hamilton said. "On foot, or bike, wheelchair, stroller, skates, scooter, basically north to south. And now, an idea recommended in our 2019 Transportation Plan, an east-west route." 
The city began construction on the project Thursday, and hopes to complete the first segment between Woodlawn Avenue and Indiana Avenue before students return in August.
Construction will continue west along 7th Street toward College Ave. The eastbound lane of 7th will remain closed throughout, with periodic closures in the westbound lane.
Once finished, the path will be almost three-quarters of a mile long and the first two-way protected bike lane in the city.
"A protected bicycle lane means that there will be physical barriers between the bicycle part of the street and the motor vehicle part of the street," planning services manager for the City of Bloomington Beth Rosenbarger said. 
The barrier will have trees and bus islands at its widest points, and a two-foot-tall curb at its narrower points.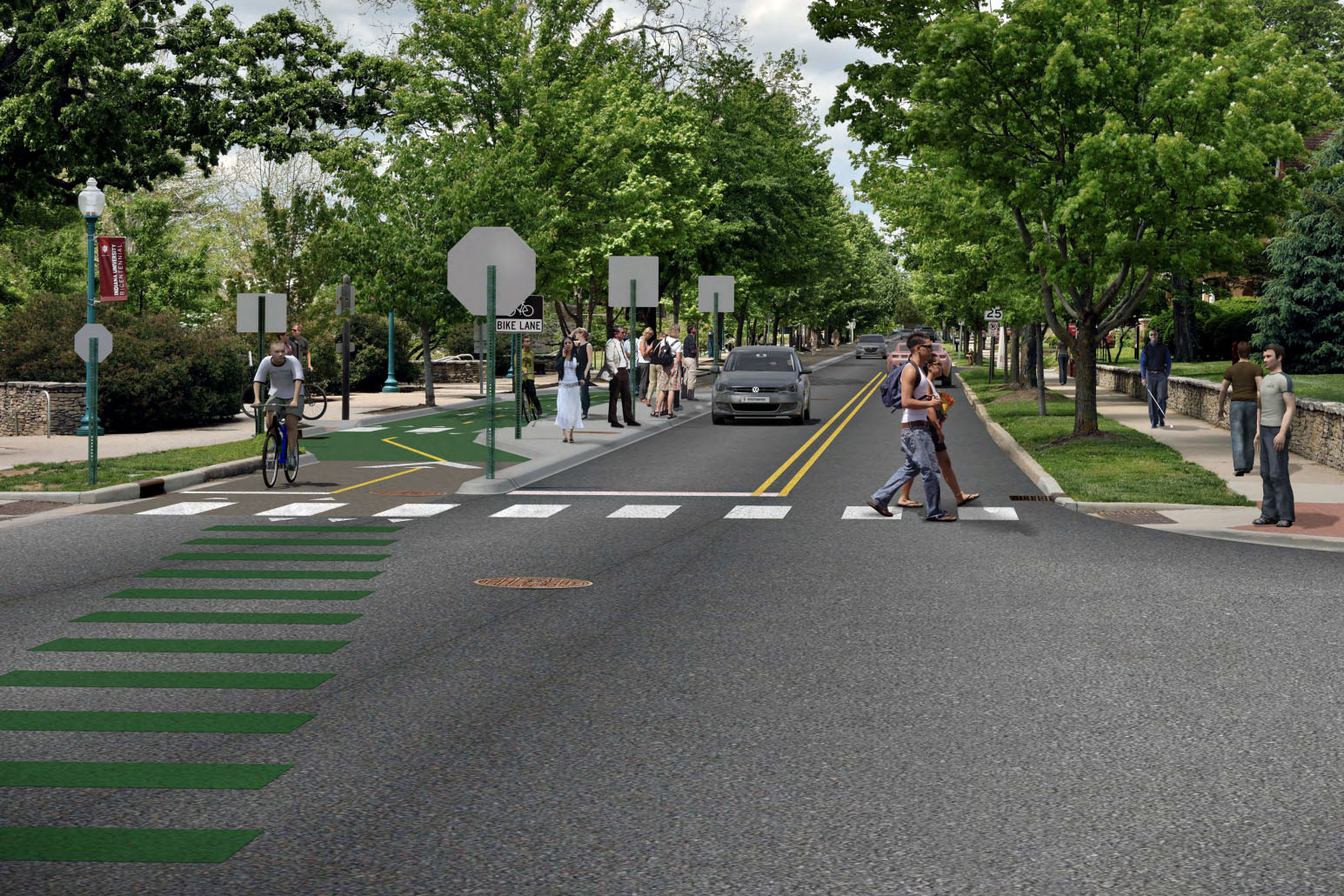 The project is taking place between the already existing curbs on 7th Street. That means that between two-way traffic, bikers, and on-street parking, something wasn't going to be able to fit. However, city planners are hopeful the loss of parking will inspire new modes of transportation."
The goal of the 7-line is to create a safe extension of the B-Line. And according to city research, two thirds of the population does not feel safe biking anywhere else. 
"The more we build facilities of that caliber, the more people will feel welcomed in those spaces I think to make different choices," Rosenbarger said. 
The project is just one phase of the city's transportation plan, which aims to support efficient and sustainable public right-of-ways.
"Our public rights of way are still changing," Hamilton said. "The urgency of climate change emphasizes the urgent need to reform our built environment to reduce our transportation carbon footprint." 
The trail network is scheduled to expand east and connect Union Ave. to State Road 46 via the E. 7th Neighborhood Greenway. The trail is still being designed, with initial feedback anticipated later this summer.