Sections of Fourth Street and Walnut Street will close temporarily while the City of Bloomington installs artwork on the Fourth Street Garage. 
The eastbound lane of Fourth Street and the south sidewalk between College Avenue and Walnut Street will be closed from 7 a.m. to 7 p.m. through Thursday.
Starting Friday, the left parking lane of Walnut Street and west sidewalk between Third and Fourth streets will be closed from 7 a.m. to 7 p.m. through Dec. 17.
The garage artwork, called Urban Fabric, is a work by Project One Studio with fabrication by Ignition Arts. The work features almost 9,000 aluminum panels and draws inspiration from the art of quilting. The budget for the project is $385,000.
Trades District Parking Garage 
Additionally, the city is dedicating the Aurora Almanac art installation at the Trades District Garage at 5 p.m. Friday. Mayor John Hamilton and Nick Blanford from the Bloomington Art Commission will speak, and Windfall dancers will perform near the south entrance of the garage.
The Almanac features seven panels of three-dimensional tiles. The panels are lit in alternating colors and spread across the garage's north and south stairwells. 
The city commissioned the piece from Esteban Garcia Bravo, in partnership with Weber, Inc., as part of the approved garage plan in 2018.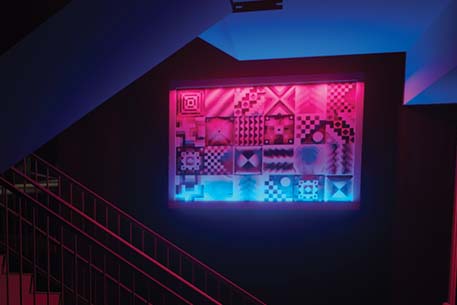 Funding for both art installations was provided through the One Percent for the Arts Ordinance, which says at least one percent of the cost of construction for capital projects is to be used for public art.