Bloomington was ranked the best city in the Midwest to view fall foliage by rockethomes.com. The website said it "found some of the top (and lesser-known) destinations for taking in the natural beauty of fall." 
The real estate site used the following criteria to rank 12 cities: 
Square miles of metropolitan area covered in deciduous trees 
Percent of metropolitan area covered in deciduous trees 
Freezing temperatures relating to plants (plant hardiness zones) 
Latitude of metropolitan area 
Elevation (feet above sea level)
In the Midwest category, La Crosse, Wis., ranked second and Carbondale, Ill., ranked third. Other first-place cities included State College, Pa., for the northeast, Charleston, West Virginia, for the south, and Ogden, Utah, for the west. 
Rocket homes cited Dunn Meadow, nature preserves and wetlands, and Bloomington's 59.7% deciduous tree coverage as reasons behind the ranking. The website also said the best place for viewing the changing foliage is at the Hickory Ridge Fire Tower in the Hoosier National Forest.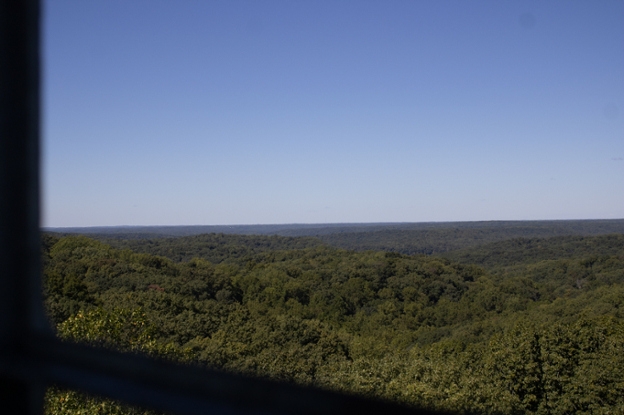 Marion Mason, public affairs specialist at Hoosier National Forest, said the forest is a huge attraction for "leaf peepers." The term is slang for people who enjoy going out in the fall to watch as nature changes the color of the leaves. Mason said fall is when the forest experiences the heaviest visitation. 
"Number one, the weather is typically cooler so it's nice to be out," said Mason. "And two, you get to see the beauty of our hardwood trees, our native hardwood species that are constantly changing throughout the fall." 
Different trees in the area will change color at different times. Mason said maples are the first to turn, and they tend to be the brightest. But it all depends on the local weather, which is the main trigger for changing colors.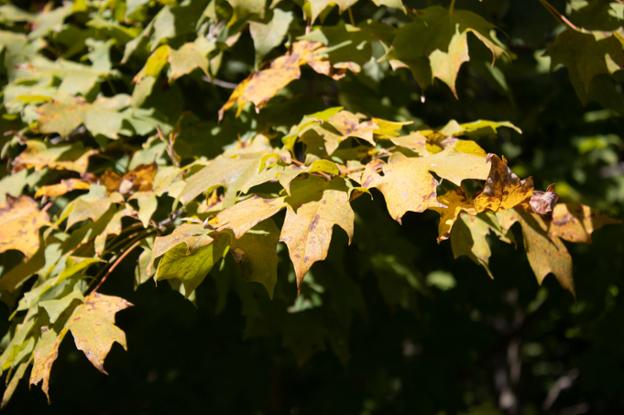 Typically, warm, sunny days and cooler nights are the perfect conditions for the change. 
"We expect based on the warm days and cool temperatures that we've been experiencing, if that continues that this year will have an average to above average intensity for leaf color," said Mason. "Last year was much warmer and so the leaf color was diminished a bit." 
Mason said that locations like the fire tower and the Charles C. Deam Wilderness can get crowded.  
"If you're planning on going to those areas we would recommend that you come during our non-peak times, so maybe during a weekday when it's less busy or earlier in the morning on a weekend," said Mason. 
In addition to the changing leaves, the forest also has changing fall wildflowers and fall fruits such as persimmons. Popular fall activities include hiking the over 260 miles of trail, camping, horseback riding, and mountain biking. 
Travis Swaim, forest silviculturist, said the peak for leaf change will be somewhere around Halloween this year. He said he's predicting average to above-average intensity for leaf color in southern Indiana this year.  
For more information on the science of fall leaf color visit: https://www.fs.usda.gov/visit/fall-colors/science-of-fall-colors