Bloomington Parks and Recreation unveiled its final design for Goat Farm Park Monday evening.
The design incorporates feedback from a public meeting in April, and features paved walking trails, new seating, and a restoration of the middle third of the prairie with native plants. The parks department previously restored the northern third of the prairie closest to Winslow Road.
"We don't have any other properties that have this amount of native prairies, native species, and areas for people to really intersect with and interact with nature in this a particular fashion," Tim Street said, operations and development division director for the parks and recreation department.
To preserve the park as a passive, natural space, the department is not adding lighting. Street said the department is looking to improve the existing barn and silo with a new layer of paint and new roof.
Additionally, the design includes 10 permeable parking spots off the roundabout at E Winslow Road and S High Street. Four parking spaces will be handicap accessible, and the entire lot will be blocked off with a secondary access gate to prevent people from driving further into the park. There will be direct access to Goat Farm Park and the Jackson Creek Trail from the new parking lot.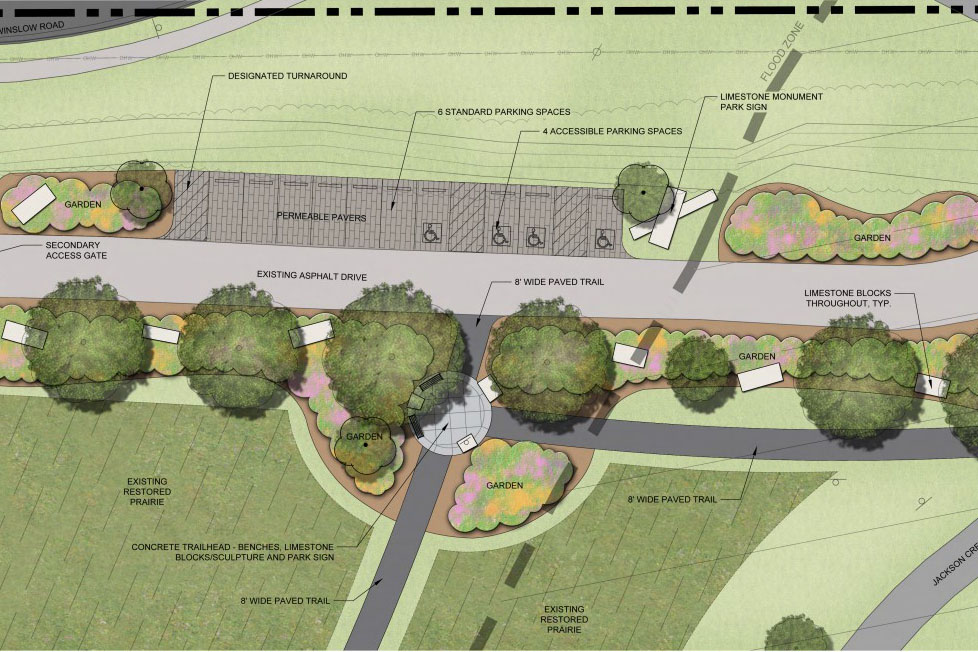 The Sherman Rogers family donated the 33-acre property to the Bloomington Parks Foundation in 2007, and it was deeded as a city park in 2009. The deed limits development on the site to public recreation and accessible greenspace. In 2007, the property was valued at $870,000.
The parks department began a redesign plan for the park with Mader Design in 2013. However, the plans were set aside until Sherman and Meredith Rogers donated to the project in 2020.
Street said the department will prepare construction plans this winter and open bids to potential project developers. There is no construction date set, but Street said the department hopes to get started in 2022.